A Woman's Life | Blu-ray Review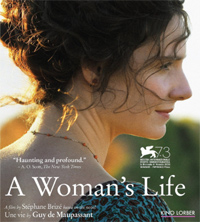 Winning the FIPRESCI Prize at the 2016 Venice Film Festival, and snagging two Cesar nominations (for actress Judith Chemla and costume designer Madeline Fontaine), Stephane Brize's A Woman's Life sadly received an extremely limited theatrical release in early May of 2017 from US distributor Kino Lorber. Taking in less than forty-thousand at the US box office, two-thirds less than Brize's previous film, The Measure of a Man (also distributed by Kino), his latest, a period piece adaptation of Guy de Maupassant, is still awaiting the celebration it deserves.
Although cinematic adaptations of French writer Guy de Maupassant still occur with some regularity, few contemporary Gallic auteurs have successfully tackled the naturalist who was a protégé of Flaubert and a contemporary of Zola. Frequent adaptations of his famed short story "Boule de Suif" and Bel-Ami are resurrected regularly, and his stories have inspired auteurs like Robert Wise, Jean-Luc Godard, Marcel Ophüls, and Jean Renoir. However, de Maupassant's seminal first novel, Une Vie (1883), has been adapted several times outside of France, while previously its most definitive mounting was the 1958 End of Desire headlined by Maria Schell.
For his seventh feature, Brizé persuasively reflects the subjugation of women's agency with the fragmented A Woman's Life, and is perhaps the most auspicious transformation of the author since the handsome productions of the 1950s with this astute period piece featuring an exquisite ensemble of character actors.
After returning from convent school, Jeanne (Chemla) takes joy in assisting her father (Jean-Pierre Darroussin) in the garden and perambulating with her mother (Yolande Moreau), a woman who spends most of her free time scrolling through the contents of letters she received throughout her life. With only the young family maid Rosalie (Nina Meurisse) as a friend and confidante, Jeanne soon finds herself courted by the handsome Viscount Julien de Lamare (Swann Arlaud). Swept into what she's made to believe is romance, the marriage soon sours when Rosalie is found to be with child after having been raped by Julien. Thus begins Jeanne's initiation into a world more harrowing than she had anticipated as her ideals and dignity are slowly stripped away.
Judith Chemla, who has starred as a supporting player in a number of period productions for noted auteurs (Tavernier, Techine) comes to the fore as the passive, frustrated center of Brizé's film. Oblivious to the tendencies and behaviors of those around her, A Woman's Life gently ushers her from a frivolous young woman of privilege to an increasingly fraught wife forced to contend with a debauched husband.
Brizé's film has all the potential of a tawdry soap opera, and yet is distilled into fragmented reflections of her escapist tendencies. As we rush through defining moments of her life, time slows as Jeanne disappears into the bright, sunshiny memories which brought her to such a brooding standstill. Chemla is tasked with revealing Jeanne's persona through inscrutable moments, an object acted upon despite meager efforts to gain control of her life. When escape presents itself upon learning of her own pregnancy at the same time as her husband's philandering with Rosalie, her own mother confirms her fate by forcing Jeanne to forgive rather than return home.
Yolande Moreau gives a subversively droll performance as a cold maternal figure who has several major secrets of her own. As her counterpart, Jean-Pierre Darroussin nearly disappears within the period garb as Jeanne's mild mannered father, while a mousy Swann Arlaud is sufficiently unpalatable as her cheating husband. Clotilde Hesme surfaces in a brief subplot which yields shockingly violent results, while rising young actor Finnegan Oldfield (Nocturama; Les Cowboys) shows up in the third act as Jeanne's selfish teenage son, the specter haunting her golden years and sending her into protracted anguish.
Much like Brizé's last lauded feature, 2015's The Measure of a Man, the narrative revolves around distilled, refracted moments informing its protagonist's mind frame, a person once again trapped by economic necessity in an unfavorable role which whittles away at their resolve.
Collaborating once more with scribe Florence Vignon (who scripted his superb 2009 film Mademoiselle Chambon), they achieve a striking portrait of a woman of certain means as equally weighted down by her expectations and limited control. Brizé also taps DP Antoine Heberle (who worked on Chambon and A Few Hours of Spring, as well as Ozon's Under the Sand) who transforms the film into a constant visual juxtaposition of stark, contrasting palettes, ranging from the brooding grays of Jeanne's present to the golden, sparkling vivaciousness of happy times she can never return to. With stunning finality, a drastic situation boils down to bittersweet reality— "Life is never as good or as bad as you think it is."
Disc Review:
Kino presents Brize's title in 1.33:1, and picture and sound quality are dependable in this initial transfer. Several bonus interviews are also of interest.
Stephane Brize:
This twenty-seven-minute interview with Stephane Brize took place in Paris, January 2017. The director discusses his first contact with the novel and his continual attraction to the character of Jeanne.
Antoine Heberle and Pascal Jasmes:
DP Antoine Heberle and Sound Designer Pascal Jasmes are on hand for this eighteen-minute segment, discussing their involvement on the project, which they began prepping as soon as The Measure of a Man had been completed.
Final Thoughts:
Brize's most accomplished, and perhaps darkest film to date, A Woman's Life remains one of 2017's unheralded gems.
Film Review: ★★★★/☆☆☆☆☆
Disc Review: ★★★/☆☆☆☆☆