The Long Riders | Blu-ray Review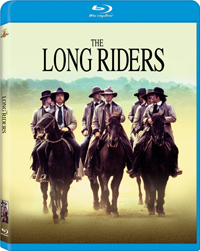 Having conspicuously professed that every film he's ever done has been a western, genre revivalist auteur Walter Hill's own observation can perhaps be applied nowhere in his filmography more literally than with his 1980 fourth feature, his most prolific and explicit western, The Long Riders. Starring four sets of famous male siblings (three Carradines, two Keachs, two Quaids, and two Guests), this was Hill's solo foray into prolific festival competition, where he competed in the main competition at the Cannes Film Festival.
A cold, unromanticized portrait of the brutal and formidably selfish parties who made up the Jesse James gang, this languidly fatalistic rendering of the oft lionized bank robbers is one of the few revisionist westerns to equal the gritty poetry of Hill's predecessor Sam Peckinpah. Its grimness and lack of empathetic appeal, however, may explain why the title is less well-remembered than Hill's groundbreaking adult action films, like 1982's 48 Hours or 1988's Red Heat.
Shortly after the end of the Civil War, an unholy union of men began to rob banks and trains in the Midwest, led by infamous brothers Jesse (James Keach) and Frank James (Stacy Keach) alongside the Younger brothers, including Cole (David Carradine), Jim (Keith Carradine), and Bob (Robert Carradine). When Mr. Rixley (James Whitmore Jr.) of the dogged Pinkerton Agency begins to close in on the gang, their foothold becomes compromised, which leads to a falling out with their colleagues, the Miller brothers, when Ed (Dennis Quaid) is barred from the troupe. Meanwhile, his brother Clell (Randy Quaid) suggests the gang head up to Northfield, Minnesota in September of 1876 to take down a bank they've heard stockpiled an abundance of cash. The decision proves to be their undoing, as the Minnesotans are aware and prepared for the James-Younger crew.
Arguably, there's no real focal point in The Long Riders, but the script (which was co-written by Hill, Bill Bryden, Steven Smith, James Keach, and Stacy Keach) tends to gravitate towards David Carradine's Cole Younger and James Keach's Jesse James. In varying degrees, it ends up being Cole's diluted romance with Pamela Reed's prostitute which begins to wear down his allegiance to the James brothers (and allows for one of several major stand-offs when Carradine must fight Reed's half-breed husband, played by James Remar, to the death).
Thwarted romance and compromised relationships provide the backbone of The Long Riders, as men lashing out in vengeance rob trains and banks while they're hunted down by the Pinkerton agency. Mistakenly killing innocent family members of both the Younger and James clans enhances their gang's status as heroes of the working class, many who provide the gang with refuge. A long, slow-mo shoot-out in a barn sets up the famous Minnesota bank raid which goes awry and finds most of the gang maimed or killed. In these moments, Hill's film most resembles Peckinpah in his near-lascivious penchant for highly detailed, expertly choreographed displays of violence.
In the wake of the critical and financial wreckage of Michael Cimino's earlier 1980 western epic, Heaven's Gate, it's easy to imagine Hill's revisionism seemed a sudden leery prospect. As it stands, an essence of unbridled, out-of-control working class white patriarchy breeds the eventual unrest which allowed for this union of brotherly bank robbers. Where Hill seems to cut corners is the late introduction of the last set of brothers, the Fords, who don't really get utilized here (and would have to wait until Andrew Dominik's 2007 The Assassination of Jesse James by the Coward Robert Ford to get their cinematic due), which segues into an ending as coldly anticlimactic as their rise to infamy and bloodshed was lubricious.
Disc Review:
Kino Lorber resurrects this Walter Hill classic (labels like Twilight Time and Shout Factory have also been restoring the auteur's extensive back catalogue) in 1.85:1 with 5.1 Surround Audio. This brand new 4K restoration arrives in a 2-Disc set from the label, a far cry from the dwindling availability of the title's last Blu-ray presentation from MGM back in 2011. Loaded with extra features, including a horde of new interviews from cast and crew, this is one of the most substantial releases in Kino's Studio Classics library to date.
Interviews:
Kino includes new interviews with Keith and Robert Carradine, Stacy and James Keach, Randy Quaid, Nicholas Guest, Walter Hill, composer Ry Cooder, and producer Tim Zinnemann (each ranging between eight and twenty minutes).
Outlaw Brothers – The Making of The Long Riders:
An hour-long feature exposes the making of The Long Riders, featuring cast and crew discussing their reflection on the film and the idea of making a western.
The Northfield Minnesota Raid – Anatomy of a Scene:
This fifteen-minute feature examines the making of the climactic snafu scene in The Long Riders.
Slow Motion – Walter Hill on Sam Peckinpah:
Director Walter Hill talks about his inspirations from Sam Peckinpah in this six-minute segment, speaking about their initial collaboration on The Getaway, which was penned by Hill.
Final Thoughts:
From an era of neglected but influential genre items by maverick director Walter Hill, The Long Riders is the sterling chapter which kicked off his most abundant decade of dusty rebels and steely dames.
Film Review: ★★★★/☆☆☆☆☆
Disc Review: ★★★½/☆☆☆☆☆