The Dinner | Blu-ray Review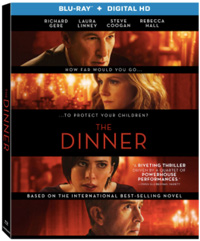 Premiering in competition at the 2017 Berlin International Film Festival, Oren Moverman's The Dinner went on to receive a successful return at the box office. US Distributor The Orchard saw returns surpassing a million, surpassing the directror's 2009 debut, the Oscar nominated The Messenger. Compared to Moverman's last outing, 2014's Time Out of Mind, which also starred Richard Gere and netted just over one-hundred and fifty-thousand at the box office, this serves as a major return for the writer/director, despite some mixed reviews.
Susan Sontag once famously wrote, "The white race is the cancer of human history," an epithet which dangles like a deadly albatross throughout the fourth film by Moverman — a drama about morality based on the novel by Dutch writer Herman Koch. Once meant as a property for the directorial debut of Cate Blanchett, Moverman swoops in for a heady, Pinteresque examination of WASPish mentality one would expect from A.R. Gurney if he were searching for an infinitely fouler disposition of his favored subject. However, Moverman elevates and refines this material for his own particular purposes of skewering white affluent folks intent on wielding their inherent privilege to protect the virtuous futures of their troubled broods in what stands as the third cinematic treatment of the novel (following a 2013 Dutch version and a 2014 Italian adaptation).
The Lohmans are a tense bunch as of late. Ex-high school teacher Paul (Steve Coogan) and wife Claire (Laura Linney) have opposing feelings about meeting Paul's brother Stan (Richard Gere) and his second wife Katelyn (Rebecca Hall) for dinner. With Stan in the middle of a troubled run for governor, the importance of the dinner seems odd during such a touchy period. Until we learn both sets of parents have come together to decide what to do about their kids, who recently committed a monstrous act, something which could go unpunished…as long as no one says anything.
Moverman expands upon the stagey theatricality of the narrative scope, beginning with its troubling, lavish opening credits, highlighting frivolousness amidst colorful splashes of gourmet cuisine, as the credits of a high profile cast and crew (including Moverman's reunion with DP Bobby Bukowski) march over them. This time around, we become manipulated to sympathize with several of these characters' perspectives only to be flayed by dismay when it sinks in—the quartet of well-bred, wealthy, emotionally stagnant white people we have been watching, are without a doubt, highly flawed, incredibly unlikeable beings. But how Moverman manages to trick us into making them seem compelling is where the absolute power of his version of The Dinner lies.
Initially, we gravitate towards Steve Coogan's withering, Civil war enthusiast, who sets a tone of trenchant sides, one against the other. Breaking the fourth wall in narration, he's the snide, withering voice of reason, or so we assume, leading up to the eponymous, cryptic meal he will be sharing with his brother, a suave smooth talker (or as he's described, a "deal maker"). Until we get a clearer composite of his psychological background, and Moverman's film takes pains (and delights) in stomping on our initial understandings of each of these surely good people. Gere is as exceptionally believable as Coogan is superbly dour, and there's a definite switch at a certain point, where we're led to abandon the side of one and root for the other.
Their wives are defined in more troubling, murky terms, particularly Laura Linney (who steals a handful of sequences with resplendent facial expression). Rebecca Hall, looking fantastic, has the less dynamic role as a trophy wife who desires to be rewarded for her saintly efforts by becoming the wife of a governor. But what exactly happened to Barbara, the socially conscious first wife of Stan, who fled the marriage and her children for an ashram in India? Chloe Sevigny delights in her two flashback sequences as the opinionated, arguably ideal character. The audience becomes complicit in this game of shifting alliances, where family becomes collapsed as another ideation of the political arena.
And Moverman perhaps spends a bit too much time in these flashbacks, revolving between past periods of the adults' lives, while reenacting the terrible act committed by two insensitive young white boys against a homeless, racial other. Although these continual snippets of the heinous act are there for a purpose, meant to slowly inform us of what kind of people we're spending an unusually expensive dining experience with, they are also greatly at odds with the formal hustling and bustling of the dinner, to the degree where these Bunelian interruptions from the topic at hand take on a tone of artificial comedy. At one point, a teary Hall gets an aside where she clutches at Linney and Coogan, informing them they're all blessed (she doesn't have to spell out she means white and wealthy by such a statement), but these devoted moments eventually seem like a belabored way to cement the callousness of all.
Although not about race, per se, the trio of racial others on the periphery of this narrative irrevocably inform and trouble the proceedings. The black son Beau (Miles J. Harvey), whom Barbara adopted with Stan (before she abandons him) is particularly interesting, because it is both Paul and his son Michael's relationship with the boy which explain their hardwired disdain for the current state of affairs. Coogan gets a particularly telling tirade when he accuses the eight-year old Beau of playing the 'race card' when he's terrorized by his son, claiming his views are not racist because he's a teacher who sometimes educates black students.
When the boys are teenagers and on the eve of their defining moment, Moverman pads an exchange pertaining to Michael's internalized racism a bit too directly just prior to what they do to their unfortunate victim. And then, there's a curious role for Adepero Oduye (Pariah, 2011) as Gere's valiantly tireless assistant, a character who likely informs is own approach to the scenario, but only to a point. Moverman's dinner is certainly barbed, and often venomous, but in spending two solid hours with such unlikeable company is an ordeal in itself, even one as handsomely crafted and executed as this.
Disc Review:
Lionsgate offers up The Dinner in 1.85:1 High Definition with 5.1 DTS-HD Master Audio. Picture and sound quality are serviceable in this transfer, although the frequent and often unnecessary flashbacks are even more ungainly on the smaller screen. Extra features are limited to a photo gallery with optional audio commentary with Oren Moverman and Laura Linney.
Final Thoughts:
Third time may not be the charm for the best-selling Herman Koch novel, but for better or worse, Oren Moverman has managed to make a toxic vintage with this starry adaptation.
Film Review: ★★★½/☆☆☆☆☆
Disc Review: ★★★/☆☆☆☆☆