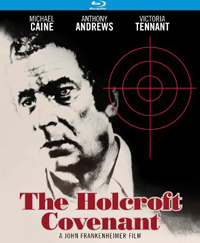 Prior to the success of the Jason Bourne franchise, which kicked off with Doug Liman's The Bourne Identity in 2012, (a fifth entry in the series arrives in 2016), cinematic adaptations of thriller writer Robert Ludlum hadn't been well-received. Richard Chamberlain played Bourne in a 1988 television mini-series, but two notable auteurs tackled obscure Ludlum novels earlier in the decade, the first being Sam Peckinpah with his final film, 1983's The Osterman Weekend. The other was John Frankenheimer in 1985 with The Holcraft Covenant, one of the director's several less acclaimed efforts from one of his least successful decades of filmmaking (arriving between 1982's martial arts oddity The Challenge and 1986's 52 Pick-Up, an Elmore Leonard adaptation). Famously dissed by lead star Michael Caine, who professes to have signed on for the project not having read the script due to his reverence for the director, he was also a last minute replacement for James Caan, who walked off set as production began. Belonging to a popularized tradition of requisitioning Nazi exploits for genre, the loosely defined basis for this convoluted, gamey narrative, succeeds in creating a rather bewildering thriller (albeit one happening to feature an impressive score from Stanislas).
New York architect Noel Holcraft (Caine) is approached by a Swiss banker (Michael Lonsdale) and told he's inherited 4.5 billion from his deceased German father, an ex-Nazi who created a covenant with two other members of the Third Reich to have their progeny use stolen Jewish funds to aid Holocaust survivors. His mother (Lilli Palmer) is wary of her ex-husband's intentions and advises her son to leave well enough alone. But immediately, Noel is thrust into a strange conspiracy, and it seems someone is determined to stop him from utilizing the funds as his father intended. Meanwhile, the remaining descendants of the covenant are located, including a mysterious brother and sister (Victoria Tennant, Anthony Andrews), who seem to be on board with Holcraft's good intentions. But he soon finds looks can be deceiving.
Considering the pedigree of the trio of thriller inclined screenwriters (George Axelrod of The Manchurian Candidate, Edward Anhalt, and John Hopkins) who retooled Ludlum's novel for the screen, one would've have expected something a bit more worthwhile than this overly elaborate revenge thriller capitalizing on sensational Nazi atrocities from exactly forty years prior. Caine, who stepped off the set of Dick Clement's adventure comedy Water to take over for James Caan, never seems quite invested (as he confirmed after the film was released), and DP Gerry Fisher (Wise Blood; Running on Empty) appears to be overcompensating with frequent use of extreme close-ups of the bored star.
French actor Michael Lonsdale stands out from a cast of stiff British supporting characters, playing a catalyzing bank manager who announces Caine's doomed inheritance, which supposedly sets in motion a chain of events leading to his dead father's revenge and the creation of the Fourth Reich. Improbable and hackneyed, especially considering the list of one thousand names Anthony Edwards carries around in his breast pocket (wouldn't the Nazis have learned to not keep lists in a forty year sulking and plotting period?), the narrative is never dramatically effective. Glaringly miscast is Victoria Tennant, a romantic foil who seems unusually disinterested, including in sequences suggesting an incestuous dalliance with her nefarious brother. The inclusion of Lilli Palmer as Caine's mother remains a point of interest, even if she's not given much to do.
Disc Review:
Kino Lorber (notably, the label has recently released Frankenheimer's The Challenge and 52 Pick-Up) adds the forgotten title to its Studio Classics lineup, presented in customary 1.85:1. Thanks to an expressive score from Polish composer Stanislas (who scored Andrzej Zulawski's L'amour Braque the same year, and also Ken Russell's 1988 The Lair of the White Worm) the film has a decidedly unique vintage flavor, though it isn't enough to salvage the film from silliness.
Final Thoughts:
Fans of Frankenheimer or Caine should find something to appreciate in The Holcraft Covenant, although it stands as the least successfully cinematic rendition of Ludlum, to date.
Film Review: ★★½/☆☆☆☆☆
Disc Review: ★★★/☆☆☆☆☆