Criterion Collection: love jones (1997) | Blu-ray Review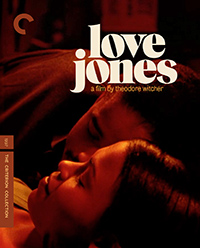 An under-appreciated diamond in the rough which arrived during an explosion of Black indie cinema in the 1990s, love jones, the directorial debut of Theodore Witcher, remains a distinctive time capsule, as well as being the director's sole offering to date. Starring budding luminaries such as Larenz Tate, Nia Long and Isaiah Washington, the power of Witcher's film lies in its intelligence and simplicity—a well-written, beautifully presented snap shot of 1990s Chicago and the inherent difficulties of navigating relationships in an ambivalent cityscape.
Like a precursor to the romantic entanglements further compromised by the arrival of social media and online dating, Witcher's film plays like a nostalgic portrait in many ways, in how we appreciated and consumed culture, where young adults were forced to be wiser than their years, and when technological deficits contributed to miscommunication. Sharp and sophisticated, Witcher's perspective feels ahead of his time despite his immersion in a specific period.
Amidst the burgeoning boho chic of 1990's Chicago, where a Black creative scene created a defining platform for the twenty somethings coming of age, Darius (Tate), a talented poet, and Nina (Nia Long), a budding photographer, meet at a club they both frequent, an aptly named venue called The Sanctuary. A meet cute turns into a hot and heavy romance, but neither of them feel comfortable defining what they have as a commitment to one another. It's not long before this reluctance sweeps away their tenuous bond, and both play foolish games with one another's feelings. When Nina takes a high profile job in New York, the time and distance allows for them both to reflect. When she visits her hometown and reconnects with Darius, perhaps they've acquired the wisdom of reaching out for the love they want to hold onto.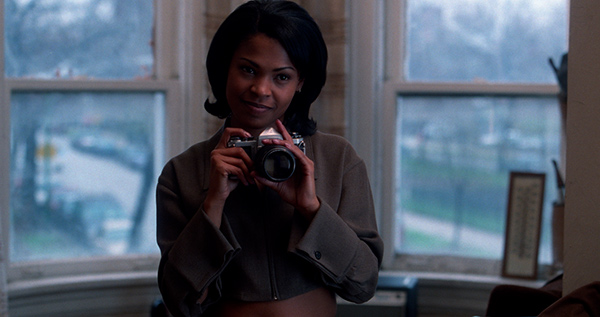 Considering the remarkable curation that is the love jones soundtrack, it's no surprise to learn Witcher was a tenor saxophonist before becoming a writer/filmmaker. And while the influence of the soundtrack is a representative sampling of the decade's R&B plateau, it's a misfortune the film itself wasn't a bigger hit and remains, thus far, underrated. Having won the audience award out of the Sundance Film Festival before it was quickly ushered into theaters, love jones is 'arthouse as a vibe' filmmaking.
Ahead of its time and how it was simply a love story among upwardly mobile, single Black young adult Chicagoans before gentrification became a detrimental eradicator of culture, audiences weren't likely steered toward films like love jones. Neither frivolous nor overly dramatic, Witcher's anomaly is merely a snapshot of 90s youth defined by their generation's inability to communicate their desires, yet a generation removed from their parents' trauma in a world ripening for progression (of sorts).
Witcher's title now feels quintessentially retro, a love addiction with intelligence and swagger resisting expectation, especially compared to other films categorized as being about Black (heterosexual) love before and after—a quick comparison to something like Rick Famuyiwa's Brown Sugar (2002), for instance, should be all one needs to see the difference between Witcher's distinctiveness and expected rhythm of a quickly developing, well-grooved norm.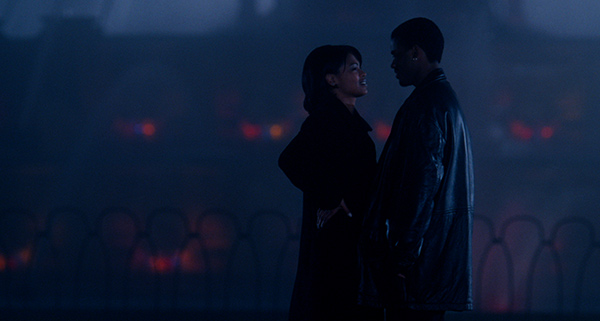 Tate and Long are luminous, already having appeared in defining films of the 90s (Menace II Society and Friday, respectively), and yet, love jones remains relatively under appreciated in their filmographies perhaps because it's difficult to clearly explain it's merits. After all, it's a film which conjures a mood more than anything else, using once anointed reference points who are no longer standards outside of retro homage, like Al Green, or readily available clubs boasting popular amateur poetry nights.
An impressive, low-key supporting cast pads out this milieu of friends and frenemies who sometimes dabble in one another's lightly incestuous love games. Isaiah Washington is on hand as the lone married friend, unable to see a reflection of his own life in his friend group. Eventually, this has a detrimental affect on his relationship, with Witcher underlining how friend groups are bolstered by matching ideals and predicaments, eventually growing out of one another according to life's demands.
As Danielle Amir Jackson points out in her essay on the film's restoration re-release, Witcher's film has energetic similarities to Kathleen Collin's 1982 Losing Ground, the first feature directed by an African American woman, though unfortunately denied a theatrical release (a decade later, Julie Dash would usurp this distinction with Daughters of the Dust). Looking back, Issa Rae's Insecure feels like the logical progeny of Witcher's sentiments reflecting contemporary Black realities, where despair might be in the background, but goals are pursued, lives unfold, heartbreak's a given, but love and camaraderie abound.
Disc Review:
Criterion presents love jones with a brand new 4K digital restoration with 5.1 DTS-HD Master Audi soundtrack, supervised by Witcher, who also provides an audio commentary track. Film scholar Racquel J. Gates interviews Witcher, while music scholars Mark Anthony Neal and Shana L. Redmond are also interviewed regarding the film's soundtrack. Cast and crew are also featured in the extra features on a panel discussion.
Film Rating: ★★★½/☆☆☆☆☆
Disc Rating: ★★★★/☆☆☆☆☆