Disc Reviews
This World, Then the Fireworks (1997) | Blu-ray Review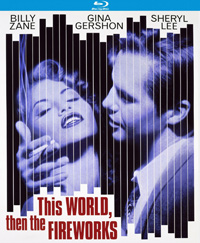 Had American culture not been subjected to the neutering forces of the Catholic Legion of Decency and the Hollywood Hays Code (enforced stridently from 1934 to the 1950s, finally abandoned in the late 1960s for contemporary censorship known as the MPAA rating system), a name like Jim Thompson would have towered over the film noir forefathers Raymond Chandler and Dashiell Hammett. True, Chandler and Hammett crafted the iconic private dicks Sam Spade and Philip Marlowe, equipped with calculated prowess, withering snark, and formidable swagger—but neither quite live up to the brute force of Thompson's prose.
Neglected by the cinema throughout his prolific era of the 1940s and 1950s, when noir was experiencing its oblivious peak, many of Thompson's more tawdry tales were published posthumously. Stanley Kubrick was the first to utilize the author, hiring him for some of the dialogue for 1956's The Killing (you can probably bet on which lines) and penning the script for 1957's Paths of Glory. But it would be Sam Peckinpah who re-popularized the author's prose with 1972's The Getaway (adapted by Walter Hill and remade by Roger Donaldson in 1994), followed by Burt Kennedy's 1976 version of The Killer Inside Me (which Michael Winterbottom famously remade in 2010, the last realization of a Thompson novel to date). The French were also inspired by Thompson, including Alain Corneau with the underrated and obscure Sere Noire (1979) and Bertrand Tavernier's masterpiece Coup de Torchon (1981). Several other auteurs tackled Thompson as well, including Maggie Greenwald, James Foley, and perhaps most famously of all, Stephen Frears with 1990's The Grifters.
But nestled in betwixt all these starry cinematic legacies is a minor work of Jim Thompson's which arrived in the B-movie mania of the late 1990s and early 2000s. Without a doubt, director Michael Oblowitz isn't quite in the same league as the aforementioned predecessors, but the South African born filmmaker showed considerable promise with his 1997 tackling of Thompson's salacious short story This World, Then the Fireworks. Adapted by early Walter Hill collaborator Larry Gross (who scripted 48 Hours and Streets of Fire), the padded screenplay takes the neo-noir notion of hardboiled and launches it right into a soupy camp stew.
Headlined by those late 1990s B-movie sirens Billy Zane and Gina Gershon, the perversely plotted wtf factors run fast and loose in this saga of incestuous, murderous killer twins who set out to swindle a nymphomaniacal cop played by none other than Twin Peak centerfold Sheryl Lee. Ultimately not as great as its moving parts would suggest, there's much to gawk at in this fascinating slice of obscured weirdness. Unfortunately, following a premiere at the 1997 Sundance Film Festival, MGM dumped Fireworks into a limited theatrical release in July of that year, where the title barely cracked fifty-thousand at the box office.
During one formative July 4th, twins Marty and Carol Lakewood witnessed their father murder his mistress and then kill himself in front of them and their mother. Thirty years later in 1956, Marty (Billy Zane) has purposefully locked himself into a marriage with an unattractive hausfrau and works as a questionably successful private detective. His sister Carol (Gina Gershon) takes care of their sickly but devoutly Christian mother (Rue McClanahan) and supports herself via prostitution. When Marty's complicated con games sour, he returns home after three years to visit mom and sis, with whom he as an overtly sexual relationship. Quickly, Marty gets caught up in his sister's plight by murdering the private investigator on her tail. Desperate for a way out of their tightening noose, Marty finds a meal ticket in police officer Lois Archer (Sheryl Lee) a blonde beauty with a beach front bungalow who falls head over heels for Marty. But jealousy between the two women in Marty's life eventually reaches a sickly climax.
Where This World, Then the Fireworks ends up hanging itself is with a rather convoluted, poorly placed narrative. Marty and Carol's two-timing never feels as fully fleshed out as, say, the overpowering strangeness of their V.C. Andrews styled fraternizing. Zane's omniscient narration exemplifies Thompson's cynicism, yet Oblowitz's direction and Gross' script tend to get heavy-handed (perhaps best exemplified when Gershon awkwardly handles an amorous potential client-to-be in over-the-top cartoonish fashion).
The presence of Sheryl Lee adds a fascinating dimension, particularly with her uncomfortably violent and aggressive sexual moments with Billy Zane—the cherry on the cake, though, is Rue McClanahan as a scar-faced reformer who knows exactly what her naughty children are getting up to alone in the bedroom. While Thompson wrote the tale originally in 1955, it wasn't published until (surprise) 1983. The extreme tawdriness, which is otherwise beset by an elegant and jazzy ambience from Oblowitz, still doomed this to the dust bin archives of direct-to-video fare despite several elements which maintain some noteworthiness. A slew of notable character actors also pop up in this milieu, including Will Patton and Seymour Cassel.
Disc Review:
Kino Lorber releases the 1997 title as part of their Studio Classics in 1.85:1. DP Tom Priestley (who spent a larger part of his filmography as an operator, and then a cinematographer of studio comedies) does a fine job of vamping up the late 50s seedy noir vibe, and succeeds in looking less cheap than the film's narrative or the eventual marketing materials. Picture and sound quality are serviceable, and some surprise extra features are included.
Michael Oblowitz:
Director Michael Oblowitz is on hand for this fifteen-minute interview, discussing his introduction to Jim Thompson (after reading The Killer Inside Me), who he originally described as Philip K. Dick all mixed up with William S. Burroughs.
Larry Gross:
Screenwriter Larry Gross discusses his career in this sixteen-minute interview, beginning with his introduction to Walter Hill.
Final Thoughts:
Bizarre and certainly imbued with enough strangeness to make this more of a cult item than it is, This World, Then the Fire Works is a striking outlier in the pantheon of Jim Thompson's creations.
Film Review ★★½/☆☆☆☆☆
Disc Review ★★★/☆☆☆☆☆