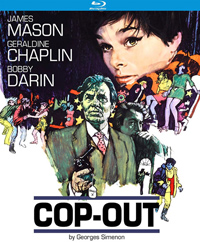 Belgian film-noir staple Georges Simenon remains a genre stalwart thanks to his enduring status in his native country and France, where his indefatigable detective known as Maigret has known as many on-screen incarnations across film and television as Agatha Christie's Hercule Poirot or Miss Marple.
French film noir of the 1940s is littered with Simone's thumbprint, perhaps most notably with 1946's Panique, which was famously remade by Patrice Leconte in 1989 as Monsieur Hire. His works have provided the basis for auteurs such as Jean-Pierre Melville, Claude Chabrol, Pierre Granier-Deferre, Cedric Kahn, Bela Tarr, and most recently, Mathieu Amalric. One of his most enduring cinematic inspirations is his 1940 novel Strangers in the House, which was first adapted in France in 1942 by Henri Decoin, and later in 1992 as Stranger in the House, headlined by Jean-Paul Belmondo. While alternate versions also exist (including a 1997 Canadian edition), its ungainliest mounting is a 1967 British version known as Cop-Out, which remains the only directorial effort of Bulgarian born Pierre Rouve, best remembered as a producer of Blow-Up (1966) and several Peters Sellers films. Strangled by its swingin' sixties aesthetic as an attempt to juxtapose antiquated England with what is repeatedly referred to as the 'younger generation,' James Mason and Geraldine Chaplin star as a father and daughter at odds who are brought together by her possible involvement in a homicide. Simenon's motifs are completely obliterated by the film's desperation to appear 'modern,' and is an embarrassingly directed and acted endeavor.
John Sawyer (Mason), a once noted attorney, now resides as an alcoholic recluse whose only real contact with the outside world is his daughter Angela (Chaplin). Severely resentful of her father and his failed career, Angela treats him with vehement contempt and disobeys him by cavorting with a group of rambunctious peers. Dating Jo (Paul Bertoya), a foreigner, Angela lives a freewheeling existence suddenly interrupted by the smarmy Barney Teale (Bobby Darin), a sailor aboard a boat her friends break into one day. Soon, her crew becomes thick as thieves with Barney until one day, his body is found in the Sawyer attic. When Jo is arrested for the murder, John announces he will defend the accused man, and sets off on his own investigation of the matter.
If there's any solace to sitting through a tedious piece of twaddle like Cop-Out, it's for a campy turn by a bleary and befuddled James Mason starring as an alcoholic barrister who's gone to pieces. There is perhaps no better soundbite than when, during the film's woefully ludicrous climax, Mason's suddenly animated John Sawyer niftily explains it all for us. The murderer's motive? "Insane hatred triggered by impotent jealousy." Before the audience can even really begin to unpack such silliness, it ends with Mason reading a passage to the culprit and his jet-setting entourage out of Dostoevsky's Crime & Punishment, then idiotically claiming these words to be the finale of the famed Russian novel (they aren't) before striding off into the end credits. But despite the favorable camp value of a delirious James Mason, Cop-Out has little to offer.
Rouve opens his film prophetically, zooming in on the shirt of a party monger which reads "I hate you all," which more or less sums up his approach to every aspect of the film. Tony Woollard's production design is mangled by sheer desperation, struggling valiantly to be kooky and cool (and all a bit older than the characters they're playing). Watch with gritted teeth as Chaplin and her band of bland misfits flail awkwardly in flaccid shenanigans, their garishly designed wardrobes (designed by none other than Felix Evans, who would be responsible for more eyesores on the iconic series "The Avengers" and another swinging sixties mishap, The V.I.P.s, 1963) make more noise than they do.
While Chaplin cuts a striking androgynous figure, Rouve's failure to direct her properly results in a particularly bratty, annoying performance (a bit like the Gene Tierney character in The Shanghai Gesture, 1941). She's forced to somehow mount a romantic campaign with ruddy Canadian actor Paul Bertoya, whose character is Greek and seems to alight instead from the same planet native to Tommy Wiseau.
If all of these elements weren't enough to sink the ship, Bobby Darin suddenly appears as the roguish cad whose eventual murder is meant to cull all the dramatic tension. It's hard to believe the famed crooner was an Academy Award nominated performer after witnessing his turn as American sailor Barney Teale (he'd only appear in two more film productions, one of them being the laudable The Happy Ending from Richard Brooks). A belabored performance, to say the least (think contemporary John Cusack trying to play a small-time mobster), Darin supposedly rakes Angela and her crew into his mischievous web and perverts their banal innocence so aggressively, it leads to his murder.
Disc Review:
Kino Lorber presents this forgotten oddity for the first time on Blu-ray or DVD as one of their Studio Classics, presenting the transfer in 1.66:1. Picture and sound quality are serviceable in this garish rendering of late 1960s London. Perhaps wisely, no extra features are included on the release.
Final Thoughts:
Those presuming Cop-Out to be a resurrected Georges Simenon gem will be sorely disappointed, but may prove entertaining for fans of Mason, Chaplin or Darin.
Film Rating: ½/☆☆☆☆☆
Disc Rating: ★★★/☆☆☆☆☆