Disc Reviews
Tuesday Blus: Billy Wilder's The Apartment & Lindsay Anderson's The Whales of August
This week's edition of Tuesday Blus includes the following titles: The Apartment (1960) – Arrow Academy / The Whales of August (1987) – Kino Lorber / Sayonara (1957) – Twilight Time /  Brannigan (1975) – Kino Lorber
The Apartment (1960) – Film Review: ★★★★½/☆☆☆☆☆ Disc Review: ★★★★½/☆☆☆☆☆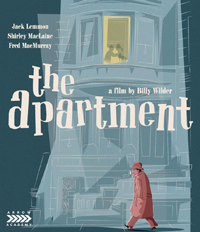 Billy Wilder's The Apartment is one of those quintessential American masterpieces which evokes a complex pattern of feelings, especially if revisited at different times in one's life. Many younger audiences may come to the Best Picture Oscar Winner (which also won Wilder his second Best Director Academy Award, which he also took home for The Lost Weekend, 1945) expecting something along the lines of the madcap subversive screwball comedy Some Like It Hot (1959), which famously paired Marilyn Monroe with Tony Curtis and Jack Lemmon in drag.
His follow-up, which reunites Wilder with Lemmon, who plays a rather sycophantic Manhattan paper pusher who loans his swank apartment out to company bosses at a moment's notice so they can canoodle at their leisure with their mistresses, is as adult a black comedy as they come, especially for 1960 audiences, who weren't even allowed to hear the word 'homosexual' on screen during the period. Perhaps the most maudlin romantically themed holiday film since It's a Wonderful Life (1946), Lemmon's resulting romance with the sweet and kindhearted elevator operator played by a perfectly performed Shirley MacLaine, becomes something of a tearjerker when a suicide attempt on Christmas is the result of a being poorly treated by her married lover, Fred MacMurray (also well cast), the man runs the company they both work for. Unfortunately, MacLaine lost the Oscar to Elizabeth Taylor for Butterfield 8 (which many saw as a compensation win for a politically related lockout for her 1959 loss for Suddenly, Last Summer), but it remains a controversial, heavy-hitting classic from an auteur whose filmography is filled with them.
Arrow Video's sublabel Arrow Academy walks away with one of the best Blu-ray releases of 2017 during the last week of the year with their unveiling of The Apartment. A limited-edition release (2700 copies), Arrow includes a hardcover 150-page book featuring selected writings on The Apartment, which also includes illustrations, stills, and behind-the-scenes imagery. The film itself is presented in 2.35:1 with optional 5.1 remix in lossless DTS-HD Master Audio—it's a beautiful presentation of Wilder's classic black and white film (the last title to win Best Picture until 1993's Schindler's List). The original screenplay from Wilder and I.A.L. Diamond is available as BD-ROM content and a bevy of other notable features are included.
The Key to The Apartment: Film historian Philip Kemp provides this new appreciation for The Apartment in this ten-minute feature recorded exclusively for Arrow in 2017. The Flawed Couple: A new twenty-minute video essay from filmmaker David Cairns explores the collaborations between Billy Wilder and Jack Lemmon. A Letter to Castro: Actress Hope Holiday, who appears in one sequence as a potential mistress for Jack Lemmon, relates her experiences in this new, somewhat emotional and touching thirteen-minute interview. An Informal Conversation with Billy Wilder: Included is this twenty-three-minute archival interview from the Writers Guild Foundation's Oral Histories series. Archival Features: Two archival segments, "Inside the Apartment" and "Magic Time: The Art of Jack Lemmon" are also included on the disc.
***
Brannigan (1975) – Film Review: ★★/☆☆☆☆☆ Disc Review:  ★★★/☆☆☆☆☆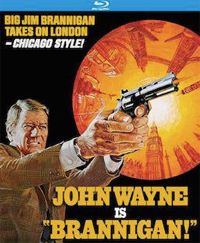 It's hard to imagine a scenario more ill-fitted for John Wayne than 1975 London, but there he is in all his ripened glory in Douglas Hickox's Brannigan. Hickox, who helmed a 1970 film version of Joe Orton's play Entertaining Mr. Sloane, has trouble reigning in Wayne's usually domineering swagger as the actor headlines (or chokeholds, rather) as a Chicago police lieutenant who is charged with escorting an organized crime boss (John Vernon) back to US soil. When the mob boss is kidnapped, Brannigan must work with local law enforcement (Richard Attenborough, Judy Geeson) and the man's lawyer (Mel Ferrer) to solve the mystery of the kidnapping before the ransom is collected. Wayne, who is allowed lecherous leeway with co-star Geeson (who appears to have been cast simply so he can have someone to leer at), is way too gone to seed to be more than a caricature of himself. Christopher Trumbo (son of Dalton) is credited as co-writer on this minor escapade, which also features Ralph Meeker, Brian Glover, and Lesley-Ann Down in the cast.
Kino Lorber presents the film in 2.35:1, although beyond a rather flaccid chase sequence through Piccadilly Circus doesn't quite utilize its 1970s London settings. Besides an original theatrical trailer, an audio commentary track by Steve Mitchell, producer of the film King Cohen, and film historian Nathaniel Thompson is available.
***
The Whales of August (1987) – Film Review: ★★★½/☆☆☆☆☆ Disc Review: ★★★/☆☆☆☆☆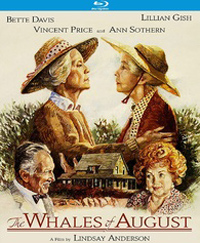 British director Lindsay Anderson's final film The Whales of August (1987) is notable for several reasons, mostly as it unites a quartet of cinematic icons, several of whom are also making 'final' distinctions.' Starring Bette Davis in her first theatrical feature since 1980's Watcher in the Woods (she would infamously walk off the set of her last feature, 1989's Wicked Stepmother before filming was completed) as the blind sister of Lillian Gish (also in her last appearance), it's a melancholic rendition of two sisters who live in their ancestral summer cottage in Maine. Davis' Libby is a hard-headed woman set in her ways, while the livelier Sarah, played by Gish, entertains the possibility of romance with a recently displaced Russian count played by Vincent Price. Ann Sothern scored her first and only Oscar nomination as an old-time friend (and meddler) of the sisters. Harry Carey Jr. and Mary Steenburgen also make minor appearances in this title which premiered out of competition at Cannes in this mellow adaptation of David Berry's play, which is a long way from Anderson's infamous collaborations with Malcolm McDowell, such as 1968's If…. Gish rules the day as the more empathetic sister, but Anderson brings them to a masterful finale as the two sisters wistfully reminisce about those whales who no longer appear off the coast in August.
Kino Lorber presents The Whales of August as one of its Studio Classics, presented in 1.85:1. Although it can't quite escape the feeling of a staged play (thanks in part to DP Mike Flash, making one of his few theatrical ventures in a career which spanned from 1973 to 2000), a black and white flashback opening sets up the briefest introduction to a few days over a languorous, transitional summer of two elderly sisters on the verge of change sets the correct melancholy tone. Kino surprisingly adds a number of extra features to the disc, including audio commentary from producer Mike Kaplan moderated by film critic Stephen Farber.
The Peer Talk: The Raw September 1986 Interviews: Five weeks into the eight-week shoot of The Whales of August, the cast were interviewed about their experiences, included here in this hour-plus segment. Vincent Price, Lillian Gish, Ann Sothern, Harry Carey, Jr., and Bette Davis are all in appearance. Behind the Camera: Raw September 1986 Interviews: And just as the cast were interviewed, so were director Lindsay Anderson, DP Mike Flash, and production designer Jocelyn Herbert in this twenty-eight-minute segment. Interviews: Mary Steenburgen, Margaret Ladd, Tisha Sterling (daughter of Ann Sothern), and executive producer Shep Gordon are all on hand for interview segments. Mike Kaplan: Producer Mike Kaplan appears in three separate, short vignettes to speak on Bette Davis, Cliff Island, and a significant cab ride when he returned for a twenty-five-year anniversary. Never Apologize – Malcolm McDowell on Lindsay Anderson: Also included on the disc is this nine-minute excerpt from Malcolm McDowell's performance piece on Lindsay Anderson, Never Apologize which relates specifically to The Whales of August (which recalls Princess Di attending the premiere at Cannes).
***
Sayonara (1957) – Film Review: ★★½/☆☆☆☆☆ Disc Review: 3/5 ★★★/☆☆☆☆☆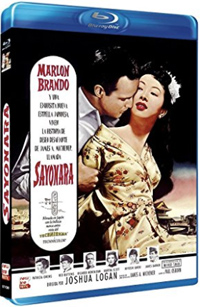 Hollywood productions dealing head-on with racism in the 1950s was something of a rarity, and Joshua Logan's adaptation of James Michener's novel Sayonara is a full decade before something like Guess Who's Coming to Dinner? in its depiction of the trials and travails members of interracial relationships face. To be honest, Samuel Fuller's noir-tinged The Crimson Kimono, which premiered two years later, manages to be a lot sincerer, couched as it is in genre elements in its deliberation on racism involving a white and Asian couple.
Method man Marlon Brando, donning an inexplicable Southern accent (based on his character's background), stars as a US air force major in Kobe who is at first opposed to forbidden interracial romance (as evidenced by his demeaning attitude towards his colleague Red Buttons' marriage to Miyoshi Umegi, who won a Best Supporting Actress Oscar for her performance) but then falls in love with a discreet theatrical diva (Miiko Taka). Conflicts are about as expected, particularly from the parents (Kent Smith, Martha Scott) of Brando's dullard of an ex-girlfriend Eileen (Patricia Owens), white people who have no problem pillaging Japan's high-society cultural offerings but otherwise approaching them as subhuman. Meanwhile, Eileen becomes something of an ally thanks to her attraction to male theater star Nakamoto (Mexican actor Ricardo Montalban appearing in Yellow Face as the film's greatest misstep—only outdone several years later by Mickey Rooney in Blake Edwards' Breakfast at Tiffany's, 1961) while a Naval captain played by James Garner is also a friendly perspective of dissent.
Twilight Time's limited edition offering (3,000 units) presents a transfer in 2.35:1 with 2.0 DTS-HD Master Audio. Picture and sound quality are vibrant in this Technirama and Technicolor picture (DP Ellsworth Fredericks scored the only Oscar nod of his career) while the score by Franz Waxman is available as an isolated music and effects track. Besides the theatrical trailer, no other extra features are available.