Criterion Collection: Election (1999) | Blu-ray Review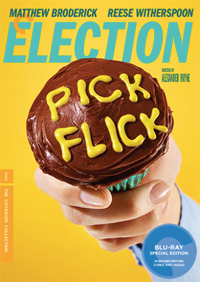 During the final throes of the 1990s, as the last vestiges of Generation X began to crown into adulthood and the budding millennials were on the eve of defining a new era, American director Alexander Payne's 1999 sophomore feature Election would deliver a seminal contemporary portrait of female ambition in the form of the now iconic character Tracy Flick. Arriving at the tail end of Reese Witherspoon's indie career (which included the underrated Freeway, 1996) before becoming a mainstream star with 2001's Legally Blonde, Payne was in the midst of his most provocative phase as a purveyor of conservative Mid-western American values examined via acerbic satire.
The mid-section of a dark-hearted, yet poignant trio of titles which included Citizen Ruth (1996) and About Schmidt (2002), Payne's adaptation of Tom Perotta's (the author of Little Children and The Leftovers) novel scored an Oscar nod for Best Screenplay and a Golden Globe nod for its leading lady. And yet, one of Payne's most psychologically perverse ventures remains something of a cult classic—a microcosm as harbinger of a warped American political system and the extreme misogynistic tendencies which dominate and define the parameters of entertainment and government.
Jim McAllister (Matthew Broderick) is the kind of happy-go-lucky Nebraskan high-school teacher most students seem to gravitate towards. Having resorted to a child-less and seemingly pleasant but banal marriage with wife Diane (Molly Hagan), he's rather surprised when his friend and colleague Dave Novotny (Mark Harelik) confesses to a passionate, romantic liaison with overachieving student Tracy Flick (Witherspoon). However, once news of the relationship spreads amongst the staff, Novotny is discreetly fired, which upsets McAllister's little universe.
When Tracy next sets her sights on becoming class president as an unchallenged candidate, McAllister convinces injured football jock Paul Metzler (Chris Klein) to run against her. Matters are complicated when Paul's angry younger sister Tammy (Jessica Campbell) also joins the political arena as way to wreak vengeance on her brother after he decides to date the girl who was previously sleeping with her. While the unwarranted competition sends Tracy off into an overzealous frenzy, McAllister, repressing his own sexual desires for Tracy by engaging in an extra-marital affair of his own, begins to make more and more questionable decisions which will prove to have irreparable consequences.
In retrospect, Payne's Election approaches a certain sense of irreverence which wasn't quite possible in 1999, an artifact of a bygone era as progressive (even prescient) as it is archaic. Certainly, its portrait of teenage sexuality, particularly Jessica Campbell's lesbian character Tammy, is one of several daring portraits from a period of American indie cinema, albeit as a provocation within a heteronormative paradigm aiming to pierce the veneer of WASP-ish social mores which trickled down into the bedrock of middle-class values and ideas. At the same time, Election's statutory rape scenario, which informs (but does not define) Tracy's high-school experience (as well as providing the catalyst for Mr. McAllister's animus), bolsters the quaintness of a simpler time—both perpetrator and victim are allowed a sense of anonymity which would hinge on the impossible in the digital connectedness which defines human life twenty years later.
Witherspoon's performance as Flick is one of the most dynamic of her career (defined even by how she holds her face, her nostrils defiantly flared in nearly every sequence), at the end of a spectrum she would later switch to full throttle cynicism as the unhappily married bourgeois elitist in 2017's "Big Little Lies." And Broderick, decked out with his scarlet letter of a bee sting (inflicted during his attempt to engage in round two of extramarital intercourse), also manages one of his more defining moments for the actor is also on the opposite end of an iconic see-saw, which started with his rise to prominence as the 1980s wild child Ferris Bueller, now ordained as a milquetoast progenitor of banality (which Payne perhaps best realizes in his procurement of Russell Stover's chocolates with which McAllister hopes to woo his mistress).
And yet, Election seems like the perfect pre-9/11-time capsule, arriving a year before the fateful 2000 Presidential Election, and perhaps most unsettling of all, a still relevant portrait of how patriarchal tendencies balk at the brazenness of female agency to such a degree that it will engender a confluence of lying, cheating, and stealing just to keep her in her (sunken) place. To revisit the valiant, if overzealous determination of Tracy Flick in today's climate, including the reaction of her elders and peers, conjures the specter of Hillary Clinton.
The deciding factor in McAllister's downfall all comes down to the explanation for his sabotage, which was born from a feeling of hatred inspired by 'just something about her face.' And beneath the coiled, acerbic humor of Payne's Omaha, there is a strident cord of pain which culminates in the film's (and Tracy's) grand epiphany – "If you're going to be great, you're going to be lonely." Compared to the delectable button pushing of Citizen Ruth, Payne's Election may not appear as incendiary (although everything since 2004's Sideways has found Payne on a somewhat increasingly sentimental downslide), but what remains after all is said and done, and its titular event has passed, is a nagging kernel of disappointment in its revelations about the limitations and predictability of human behavior.
Disc Review:
Criterion presents Election as a newly restored 4K digital transfer, supervised and approved by Alexander Payne. Presented in 2.35:1 with 5.1 DTS-HD Master Audio, picture and sound quality are superb in this restored version. Payne's initial audio commentary track recorded in 1999 is available, as are several recent extra features (and Payne's 1990 UCLA thesis film "The Passion of Martin."
The Passion of Martin:
Alexander Payne's forty-nine-minute UCLA thesis film The Passion of Martin screened at the 1991 Sundance Film Festival and is included in its entirety.
Reese Witherspoon:
Criterion sat with the actress for this ten-minute 2017 interview as she recalls the casting process, working with Payne, and the effects Tracy Flick has had on her career.
Truinside: Election:
truTV's documentary series truInside featured an in-depth look at Election in their March 7. 2017 episode, which includes interviews with cast and crew, such as author Tom Perotta, Alexander Payne, and actors Matthew Broderick and Chris Klein.
Local News:
CBS's Omaha affiliate KMTV-TB aired behind-the-scenes footage of Election in this 1997 report which aired on the station.
Final Thoughts:
A remnant from the provocative period of Alexander Payne, Election is as deviously potent now as it was at the time of its release.
Film Review: ★★★½/☆☆☆☆☆
Disc Review: ★★★★/☆☆☆☆☆