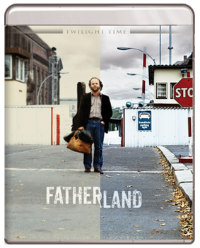 The 1980s were a quiet period for British auteur Ken Loach, at least as far as film features were concerned. Though he directed six documentaries during the decade (nearly all of them for television), he'd only complete three narratives, none of which were as celebrated as his early works or the prolific period which would follow through the 1990s and 2000s. As the insert essay on this re-release from Julie Kirgo points out, this was a direct result of Thatcher's government shutting down avenues for Loach to maintain funding for his features. Of the items he managed to get off the ground, his first and only foray (to date) into European filmmaking is 1986's Fatherland (aka Singing the Blues in Red), a film about an East German musician defecting to the West to escape the political repression of his music. Written by Trevor Griffiths (best known for writing Warren Beatty's Reds, 1981) and based loosely on the life and experiences of its lead star, Gerulf Pannach, Loach's low-key portrait of capitalism as merely the lesser, better dressed evil of communism subtlety paws at the shifting cultural values and intergenerational conflicts of the period. However, it's difficult to become invested in Pannach's ordeal when he's curiously dispassionate and irritatingly casual as the film's central subject.
East German singer Klaus Dittemann (Pannach) writes and performs significant songs of protest in his home country, but the communist government bans him from engaging in his art. In a response to this repression, Klaus leaves behind his wife, child and mother for West Germany, welcomed by a large record company more than happy to exploit his talent and infamy for their own gain. Klaus' father was also a political dissident and musician, but no matter how much the media attempts to align him with his father's struggles, he resists contact with the aged patriarch. But as pressures mount in the West, Klaus abandons the contract in favor of following a blithe young journalist (Fabienne Babe) to England, who claims to have located his exiled father in Cambridge.
Curiously, Loach's fashioning of the period specifically around the actual events in Pannach's own life is a similar move to something like Curtis Hanson's 8 Mile (2002), starring rapper Eminem as a basic template of himself. To his credit, Loach and screenwriter Griffiths deliberately avoid potential melodrama, instead focusing on Pannach's struggles to avoid becoming a mouthpiece for the West, where freedom is merely a euphemism for a different kind of control. The film's re-titling to Fatherland stresses its protagonists struggles to distance himself from the doubled histories of both his country and his father's choices to assist the Nazis (to save his own family from threatened deportation), something Pannach's Dittemann can't bring himself to reconcile. Worse, the media in the West insistently aligns the singer with his musician father, also recognized as an exiled, political dissident. It's clear Dittemann has no such qualms about 'sacrificing' his family in order to keep his artistic integrity intact, a move directly opposing the previous German generation's views and their direct responsibility for the Nazi's rise to power.
There's something gentler, and much less caustic about Fatherland than the items from the New German Wave dealing with the same kinds of juxtapositions, and one wonders how someone like Fassbinder would have viewed this 'outsider' perspective. And though its narrative feels like the product of a particular time and place, with a narrative done more provocatively in other films, Fatherland benefits from some beautiful cinematography from two-time Oscar winner Chris Menges (he won his second award for 1986's The Mission, which premiered several months prior at Cannes).
Loach's Fatherland competed in Venice, where it took home the UNICEF Award (the top prize from the Alain Robbe-Grillet jury went to Rohmer's The Green Ray), and it did receive critical praise for its insight into the imperfections of capitalism and cultures lost in their own rhetoric. Four years later, Loach would return with his next film, 1990's political thriller Hidden Agenda, documenting a scandalous incident during the Northern Irish Troubles (also recently released to Blu-ray for the first time courtesy of Kino Lorber). Stylistically, both these Loach features are very similar, focusing on disconsolate protagonists warped by unyielding political systems and exploited as pawns by all sides. Both films begin in the midst of a heated press conference (in Fatherland, the sequence is later returned to for one of the film's most rousing moments) and feature driving sequences where its characters listen to significant news items on the radio.
Disc Review:
Twilight Time resuscitates this obscure title in 1.78:1, and much like their recent release of Neil Jordan's 1982 debut Angel, the package's strengths are enhanced by the excellent work of DoP Chris Menges. As customary for the label, an isolated music and effects track is included (though this is the lone extra feature), and it is a limited edition of only 3,000 copies.
Final Thoughts:
Fatherland is an noteworthy footnote in Loach's filmography, interesting for its objective presentation of flawed social systems.
Film Review: ★★½/☆☆☆☆☆
Disc Review: ★★★★/☆☆☆☆☆