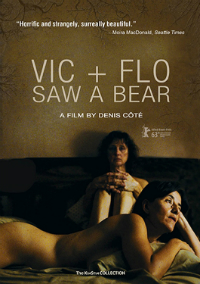 Squeezed between his lavishly received, Sundance preemed docu-portrait of zoo life in Bestiaire, and Joy of Man's Desiring, a genre blending meditation on factory work which had its debut at this year's Berlin Film Festival, Canadian auteur Denis Côté took home the Alfred Bauer Award from the Berlinale last year for his latest work of intricately haunting fiction, Vic + Flo Saw A Bear. It seems the stark visual sense found in Côté's documentary work has carried over to his latest narrative. Squarely framed against spare backdrops within the rural cabin they've shacked up in, Pierrette Robitaille and Romane Bohringer, who play middle-aged lesbian ex-con couple Vic and Flo, respectively, are trying their hand at the monotony of a normal life, but sooner than later they swiftly find that they can not for all their efforts escape the horrors of one's past.
Côté's interests lie in the underbelly of Vic and Flo's new situation, his camera lingering on the unspoken words and body language between the waning lovers. Not interested in exposition, he sees Vic show up at her now mute and paralyzed uncle's abode, needing a place to stay after her apparent release – from what and why is left a mystery, though at one point her parole officer mentions that she's lucky to be out, being that she was sentenced to life. With nothing but time to kill, she takes over the responsibilities of caring for her disabled kin until he's legally removed from the home by her less-than-understanding side of the family who don't appreciate her direct approach and self appointed inhabitance.
This attempt at outrunning the past is a brief and hopeful waypoint on a map plotted by ghosts of days gone by. Not only is Vic being watched like a hawk under the seemingly continuous watch of her hunky parole officer, but eventually a pitiless con from Flo's former life materializes to settle an unknown score through, from the audiences point of view, sheer shock and awe. Time and space does not heal all wounds in Côté's austere world and the as time rushes by, the young, naive and unpolished youth march ever near to a future world where the old and regretful are long dead and gone.
Early in the film Vic observes and ridicules a boy no more than 10 years old whose attempting to play a tune on his trumpet. At the close, the same boy roughly plays the memorable intro Chopin's 'Funeral March', to which Vic remarkably gives sheepish praise. Practice seems to make perfect after all, and the aforementioned bear in the title is revealed to be but a lingering metaphoric ghost that strikes fear, motivation and ultimately regret as the years pass. Vic + Flo Saw A Bear is a stark meditation on what it means to be middle aged and a grizzly genre film trapsing through the wilderness in the misbegotten skins of sexualized hi-drama queer cinema.
Disc Review:
Flying low on the home theater radar, Oscilloscope and KimStim have brought Denis Côté's latest fictional work to DVD with a stirring SD A/V presentation, but lacks the usual flair to comes from the late Beastie's homespun indie label. Mainly shot in squarely framed static shots, the film is visually quite striking and only suffers from a few moments of digital noise in the few shots of camera movement. Colors are sucked dry of reds, leaving behind a blueish/greenish palette that (we'd guess intentionally) makes skin tones look sickly. The disc boasts a Dolby Digital surround track that mainly sticks to the frontal mains, but projects fine. First time film composer Melissa Lavergne's excitingly rhythmic and unsuspectingly edited score is thankfully big and bold in the mix. The disc itself comes in a standard DVD case.
"The Bear"
This short film by Dan Karo is a 'making of' piece on the feature film shot and edited in the starkly intoned spirit of Côté himself. Long static shots galore, Karo captures the mood on the set of Vic + Flo Saw A Bear. 35 min
Theatrical Trailer
Giving the film a down home southern feel that the film generally lacks, the trailer does indeed intrigue with soundtrack inflected dread and a rapidfire edit completely absent from the deliberately paced feature. 2 min
Final Thoughts:
There is a serene sense of mundanity and dread that's mixed into the stew that is Denis Côté's specific blend of cinema. Vic + Flo Saw A Bear strikes a perfect balance of observational apprehension that some of his earlier work seems to overwork in the more formal aspects of his style. Within, the camera, the soundtrack and the slowly unfolding drama at the center seem to dance in unison to the outmoded trumpeting of a boy that announces both the passing of aging worries and the glories that come with such an upheaval.
Film: ★★★½/☆☆☆☆☆
Disc:    ★★★/☆☆☆☆☆