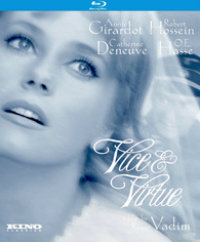 Between his high profile marriages to Brigitte Bardot and Jane Fonda, director Roger Vadim engaged in a notable liaison with Catherine Deneuve, just prior to her ascension to international stardom in 1964's The Umbrellas of Cherbourg. Having brought Bardot to fame with his most notable title, his 1956 debut And God Created Woman, their working relationship would continue across several more titles, even as he married another actress, Annette Stroyberg, who starred in his 1959 version of Dangerous Liaisons and the erotic vampire flick Blood & Roses. Between these flurry of romances, Vadim would return to black and white cinematography (which he seemed to prefer for evoking period) with 1963's Vice and Virtue a loose adaptation of the Marquis De Sade's controversial erotic novel Justine for WWII era occupied France, resulting in his only collaboration with Deneuve as the virtuous member of a pair of beautiful sisters surviving on opposite ends of the oppressive Nazi spectrum.
As it's opening titles from Vadim announce that 'history is but a pretext' to relate this narrative of troubled passions (something which, according to Vadim, had reached their human peak potential circa WWII era), we delve into the tale of two sisters during WWII occupied France. The younger, virtuous sister, Justine (Deneuve) has just had her husband snatched from the court house they've just been married in. She flees into the arms of her cold, distant older sister Juliette (Annie Girardot), who is surviving the war by romancing her way through the ranks of the Nazi party. Currently, she's schmoozing General von Bamberg (Robert Hossein). Refusing to help Juliette, the younger sibling is whisked off to a private chateau so she can be used as a sex slave to the Nazis while Justine becomes the love interest of SS Colonel Erik Schorndorff (O.E. Hasse).
While several of Vadim's collaborations with Bardot and Fonda have received either a semblance of cultural significance or notable infamy, his cinematic union with Deneuve has long been neglected, which is curious because Vadim would go on to cash in on this trifecta of beautiful women by not only writing an autobiography but utilizing their surnames on marketing tools for his later, less celebrated works (like that terrible poster for 1980's Night Games where the names of the three actresses loom with omnipresent saturation over a provocative image of Cindy Pickett). As such, Vadim is credited as 'discovering' Deneuve. Previously, she'd been featured in four other unremarkable features, so Vice and Virtue was certainly a more significant showcase for her beauty, even if she's basically a babe in distress from the opening frames to the very last. Hosed down with glycerin tears after nearly every encounter, Marcel Grignon's camera lingers fastidiously on her beauty at every possible moment.
The juxtaposition of Girardot and Deneuve as representations of the eponymous monikers seems laughable, and we're hit over the head with Vadim's motif as the film often cuts between the sisters, often positioned in such a degree that implies they're on opposing sides of a mirror. Girardot's Juliette rails against Justine when the younger sibling begs for her to use her leverage with Bamberg to release her recently arrested husband, claiming she's sold her body for the survival of the family her entire life and now she'll be looking out for herself, thank you very much. But this isn't really the definition of what constitutes vice, this woman using what little agency she has to parasitically survive war torn France. And considering the source material and Vadim's penchant for cheesy, lascivious sleaze, Vice and Virtue is hardly as tasteless as one might have predicted—this isn't anywhere near the likes of Pasolini's Salo or 120 Days of Sodom, for instance. Vadim favors black outs when anything gets too heavy, utilizing spot lights on certain characters that make the production feel stagey.
Disc Review:
Transferred in 2.35:1 aspect ratio, Kino Lorber's single layer Blu-ray presentation of the neglected title is low key and underwhelming, but the film looks well enough. There's an odd sense of distraction with the stock footage littered throughout the film, however. But otherwise, the visuals often seem impressive, especially considering Vadim's frequent use of close-up, where sweaty face and frenetic facial expressions often eclipse the entire frame. As is customary with these first editions of rare or forgotten titles, no special features are available.
Final Thoughts:
Fascinated with the other 'skin games' that transpire during war time, Vadim actually highlights events often undisclosed in cinematic examples from the period. However, Justine's fate as a concubine for the Nazis actually feels like the lesser tangent when compared to Girardot's conniving moves. In two instances, Vadim plays classical music over events transpiring, both sequences that focus on Girardot. The first instance catches her reactions to George Poujouly's torture, and we focus intently on her emotional reactions as she watches in horror at what's being done, resulting in her attempt to intervene, her eyes welling with tears that spill down her cheeks. It's too bad that Vadim cuts to Poujouly at all, for Girardot's eyes are all we need. Vadim does this again when she's forced to sit on the Nazi's cruel games of judging their prostitutes as being 'fit' or 'unfit' for duty. While the film seems incredibly dated, it's of particular interest for fans of Girardot and Deneuve.
Film: ★★★/☆☆☆☆☆
Disc: ★★★/☆☆☆☆☆