Disc Reviews
The Criterion Collection: Ride the Pink Horse | Blu-ray Review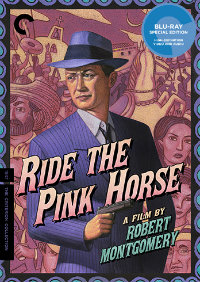 Robert Montgomery's 1947 sophomore film, Ride the Pink Horse is an exciting film noir gem ripe for rediscovery, available on Blu-ray for the first time courtesy of Criterion's digital restoration. Best known as a comedic actor and Oscar nominated for roles in Night Must Fall (1937) and Here Comes Mr. Jordan (1941), Montgomery would eventually direct a handful of titles mostly neglected by the passage of time with the exception of his first directorial credit, the experimental noir Lady in the Lake (as the film is presented entirely from the point of view of its protagonist, as if we're looking directly through his eyes), an adaptation of a Raymond Chandler novel. Lady premiered earlier in the very same year, and though it is often referenced for its structural technique, it's his follow-up title that's more impressive, as unique and off kilter as its enigmatic title.
Former GI Lucky Gagin (Montgomery) busses into small town San Pablo, New Mexico just in time for the town's bustling fiesta. But he didn't come for the party. Trying to find a room, we learn that Gagin seeks the attention of local crime lord Frank Hugo (Fred Clark), a man responsible for killing Gagin's old war buddy. With a score to settle, Gagin happens to have something in his possession that will implicate Hugo, so he attempts to blackmail him. Meanwhile, a federal detective (Art Smith), a beautiful blonde (Andrea King), and a well-meaning psychic girl (Wanda Hendrix) vie for his attention.
Gruff to the point of hilarity, Montgomery's improbably named veteran shoulders his way through rural New Mexico with grim determination and an incredible lack of finesse. We learn very little about him and he's scarcely arrived in town before we discover that he's there to settle a score with the gangster that killed his war buddy. So we assume these friends must have felt incredibly, um, close. His name sounds like some kind of awkward affliction, two hard G sounds meant to stick in your throat just like his name implies. He had a girl back home, but she's left him for another man, and so he heads to New Mexico to shakedown Fred Clark's deaf crime boss for a mere 30,000 thousand dollars, because Gagin's got integrity even when he's playing the avenging angel.
With a speech rhythm that recalls that of Alan Alda, Montgomery takes us to the end of the third act before we get a glimpse of the humanity behind Gagin's hard exterior. Andrea King's faux femme fatale Marjorie Lundeen has no sway whatsoever for he's well versed in the rot underneath the glittery façade of modern 'dames,' all who have dead fish where their hearts should be, as he explains to the naïve Pilar, the mystical, racially ambiguous teenager that haunts Gagin during his short stint in town. The corruption of moral values vs. the humanity of the old world represents this clash of values, with the decadent white characters presented as vacuous, materialistic entities compared to the immigrant population averse to worldly notions.
Yet, even Montgomery's Gagin, who ultimately makes an effort to show his appreciation for the assistance of these 'others,' launches a slew of racial epithets at Pilar, played by a white actress Wanda Hendrix, whose visage recalls the similar use of the white Jeannie Crain in Elia Kazan's Pinky (1949). Gagin's comments tend to assert that Pila is Native American, but she speaks fluent Spanish and could very well be a Mexican immigrant. There's slight comedic relief at her expense, with Gagin telling her she looks like a freak in a sideshow, resulting in a make-over wherein she sticks a large flowering plant in her hair. Nevertheless, her type is a rarity in films often classified as noir, as is the friendly Pancho, a performance which netted Thomas Gomez an Oscar nod for Best Supporting actor (the first Hispanic actor to achieve this distinction, he was up against two other great film noir staples, Richard Widmark for Kiss of Death and Robert Ryan for Crossfire), ultimately losing to Edmund Gwenn playing Santa Claus in Miracle on 34th Street.
As the main baddie, Fred Clark is a curious touch, a character actor remembered for playing rather unlikeable types (his role in Auntie Mame always seems to come to mind), and his inability to hear plays like a metaphor indicating that modernity and materialism have rendered him desensitized to humanity.
The screenplay, written by Charles Lederer and two of Hitchcock's frequent collaborators, Joan Harrison and Ben Hecht, feels like a rougher, vengeful cousin to the protagonists Hitchcock often showcased. Russell Metty's cinematography perfectly captures the slow, methodical reality of a rural area heavily influenced by Mexican culture. The fiesta that's concurrently taking places results in a large parade float featuring Zozobra, the god of bad luck, a figure that appears to be a strange effigy of Clark's character, and a close-up of the bizarre creation dissolves, at one point, treacherously over Frank Hugo.
Disc Review:
Criterion's release is a 2K digital restoration, and there's optional film commentary from film noir historians Alain Silver and James Ursini. Briskly paced, it seems easy to get lost in the striking cinematography of Russell Metty, and much like Lady in the Lake, Montgomery's Pink Horse feels very much like an outlier in the world of film noir, a universe headed in its own idiosyncratic trajectory. Also, note the insert essay was penned by director Michael Almereyda.
In Lonely Places: Film Noir Beyond the City:
A twenty minute interview with author Imogen Sara Smith is not to be missed. Author of In Lonely Places: Film Noir Beyond the City, she gives a highly informative and engaging discussion on the definitions of noir and how Ride the Pink Horse stands in the minority of these classified films for its rural setting.
1947 Radio Adaptation:
A one hour Lux Radio Theatre adaptation of the film from 1947 is included, featuring Montgomery, Wanda Hendrix and Thomas Gomez, and represents an interesting artifact from a bygone tradition of radio play versions of popular films.
Final Thoughts:
Based on the novel by Dorothy B. Hughes, this is one of a small handful of titles adapted from her prolific body of work (the most famous being Nicholas Ray's 1950 version of In a Lonely Place), and Don Siegel would actually craft this into a 1964 television film, The Hanged Man. Montgomery makes for a curiously engaging noir lead, and one has to appreciate his keeping of the title, a reference to the merry-go-round Pancho runs outside his open-faced shack. "Ride the pink horse," he directs Pilar, meant to be a random comment with hidden meaning—no matter where you choose to sit, you're still going to end up on an endless road to nowhere.
Film: ★★★★/☆☆☆☆☆
Disc: ★★★★/☆☆☆☆☆