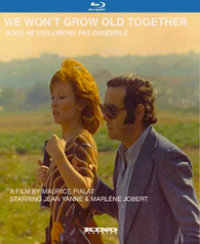 Even after nearly two decades of short films, documentaries and the success of his 1968 feature debut, L'enfance Nue, director Maurice Pialat's celebrated sophomore feature, We Won't Grow Old Together never received a theatrical release stateside, despite also winning a Best Actor award for Jean Yanne at the 1972 Cannes Film Festival. Remastered for an exciting Blu-ray release from Kino Classics, it's a title ripe for reconsideration in the cinematic canon. Pialat's filmography has proven to be a major influence on countless emerging artists, with the likes of Ira Sachs, Alex Ross Perry and a slew of others directly citing the filmmaker as inspiration for their own output.
We Won't Grow Old Together basically features a string of interactions between an aging film director, Jean (Jean Yanne), and his much younger mistress, Catherine (Marlene Jobart). We assume they met when she had vague aspirations to become an actress and became enamored with the older, wiser, and more exciting lifestyle of Jean. Her working class status may also having something to do with her longing and attraction for a man that often treats her so despicably. Jean's wife, Francoise (Macha Meril) seems clearly detached from his daily life, taking extended trips to foreign countries, like Russia, where she attempts a superficial involvement in the culture while perhaps engaging in her own romantic exploits. Scenes are undetermined by a linear narrative, instead unspooling moments of often tumultuous and uncomfortable discord between the two, with Catherine often silently soaking in the vehement, violent rancor of Jean.
Jean and Catherine's relationship isn't exactly a definitive model of what toxic relationships look like, though theirs is certainly an unhealthy dynamic. Exaggerated, perhaps since we're treated to a merry-go-round of interactions that would otherwise be separated by other action in more traditionally inclined cinema, it's not the vicious battle of wills a la Who's Afraid of Virginia Woolf?. There are too many disparities between Catherine and Jean, and the film, based on Pialat's own novel, is really about the allowed volatility of the upper handed male. He's allowed to treat Catherine a certain way, which is why it's important to experience two interactions with wife Francoise, lost in her life that staying married to Jean affords her.
As Catherine, Marlene Jobert, who had previously worked for Jean-Luc Godard and Claude Chabrol, is aggravatingly steadfast in her devotion to Jean. Resembling a blue-eyed Nathalie Baye, she's a captivating presence that seems adept at navigating Jean's vitriol. Macha Meril is an intriguingly cast counterpart, an ice cold blonde that finally reveals the strange dynamic of her union with Jean in a later conversation. Her screen time is limited, but by 1972 she was already a notable player, having appeared in Bunuel's Belle De Jour and Godard's Une Femme Mariee. But it's Yanne's performance that really elevates the film, a miserable man who savagely and sometimes physically berates the very woman he claims to love more than any other. Even Yanne's role as the murderous paramour of Stephane Audran in 1970's Le Boucher is cuddlier than this ball of fury. His cruelty is so shocking it often elicits laughs. But awful troll that he may be, he isn't without genuine feeling. "It's only in films you don't see men cry," comments Francoise as Jean laments the inevitable loss of Catherine.
We Won't Grow Old Together is filled with memorable lacerations and observations of what being in a relationship feels like, how the ability to love and hate coincides uncomfortably. "If you're happy with someone, you think of others less," Catherine explains after she's finally taken leave of Jean. His desperate attempt to reconnect with her after she suddenly disappears culminates in a final meeting where they attempt to sit amicably. It's clear that Jean still very much harbors the same feelings for her, causing tension when he rather awkwardly puts his hand on her shoulder. A scene of simmering tensions that recalls a more recent, explosive reunion of separated lovers in Blue is the Warmest Color, Pialat's We Won't Grow Old Together has an uncompromising rhythm of its own.
Disc Review
It's surprising to note that Luciano Tovoli, the cinematographer of visual masterworks like Suspiria (1977) and Titus (1999) was responsible for the rather prosaic look of Pialat's film. Even in its outdoors sequences, of which there are many, We Won't Grow Old Together feels boxed in, even claustrophobic, with the exception being a vivid aquamarine sequence of swimming in the ocean. The title's restoration enhances this, though, perhaps it's because we're meant to feel chained to the draining and failing relationship of Jean and Catherine. Extra features are slim, but worth a look.
Video Appreciation
Alex Ross Perry, who cites the title as a direct influence on his latest film, Listen Up Philip, delivers a video appreciation where he talks over several edited sequences, about four minutes in length.
Interview: Marlene Jobart
A twenty minute interview with Marlene Jobart is quite engaging, the actress relating many interesting facts about production, including the fact that the film was completely scripted and that Jean Yanne despised the character he was playing. Additionally, she shares how she became involved with the project, an opportunity that transpired because she was living with director Claude Berri at the time.
Final Thoughts
Those familiar with Pialat's volatile explorations of romantic and familial relationships from some of his well-known titles, such as Loulou (1980) or the brilliant A Nos Amours (1983) will certainly be thrilled that We Won't Grow Old Together is finally easily available. For the uninitiated, it's a brilliant piece of filmmaking that's refreshing to experience.
Film: ★★★★½/☆☆☆☆☆
Disc: ★★★★/☆☆☆☆☆