Wild Bill (1995) | Blu-ray Review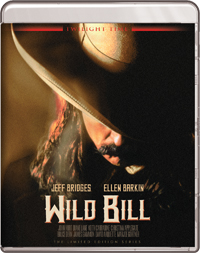 Mid-way through the 1990s, maverick auteur Walter Hill returned to the undiluted Western template mythos (something which underlined nearly all his directorial efforts) with Wild Bill (1995), a highly stylized and sometimes blatantly unsuccessful portrait of Wild Bill Hickok starring Jeff Bridges during the final melancholic days of the lawman's life. Taking great liberties with the sharpshooter's relationship with Calamity Jane, this is a decidedly sentimental version of the same excessive legend Hill so unsympathetically revisited in his 1980 title The Long Riders. Collapsing adaptations of source material, including a book Deadwood by Pete Dexter and the play Fathers and Sons by Thomas Babe, Hill's film unfortunately arrived after several mainstream flavored Westerns recuperated the legend of Wyatt Earp, including Lawrence Kasdan's lazily titled Wyatt Earp (1994) and the cult favorite Tombstone (1993) from (supposedly) George P. Cosmatos, which found Val Kilmer setting a template for the sickly, romantic anti-hero as Doc Holliday (which eclipses the stoicism of Bridges here).
Little does he know it, but thirty-nine-year-old Wild Bill Hickock (Bridges) has embarked on the final days of his life when he drifts into Deadwood, Dakota Territory. Ailing from cataracts and possible syphilitic side effects, the iconic lawman falls back into a casual relationship with old friend Calamity Jane (Ellen Barkin), which sets off a cascade of ghosts haunting the gunman's memory, including contemplations on the love of his life (Diane Lane). When angry stranger Jack McCall (David Arquette) rides into town with vengeance in mind for something Wild Bill did in the past, hubris blinds him to the potential danger of the younger man's intentions.
There are splashes of inspired brilliance in Wild Bill, particularly with the casting of Marjoe Gortner as an over-the-top preacher, made even more effective for those who know the complexities of the ex-religious spectacle and his history. Most of the casting is familiar considering Hill's filmography, uniting him with a host of regular players, from David Carradine in a brief bit as Buffalo Bill Cody (who makes Wild Bill into a laughingstock in his Wild West show) and James Remar as a bloodthirsty assassin.
Appearances by Bruce Dern as a vengeful victim of Wild Bill's bullets and Christina Applegate as a pouty prostitute have passing moments. Hill's two leading ladies are reuniting with the director—Diane Lane (stuck in some unfortunate black and white flashback sequences as the woman who Wild Bill let get away) from Streets of Fire (1984) and a snarly, sassy Ellen Barkin as a glamorized version of Calamity Jane (who appeared in Hill's underrated Johnny Handsome, 1989). The most unnecessary element is the arch omniscient narration from John Hurt, who appears in a handful of sequences as Wild Bill's best friend, an Englishman named Charley Prince, a framing device which now seems clichéd based on the late actor's eventual narrative treatments.
Bridges holds his own in Hill's landscape, particularly in his signature staged action sequences. However, maudlin attempts to show Wild Bill as a romantically inclined, fretfully selfish romantic tends to override the film's attempts to examine the man's 'rock-star' reputation of the Old West.
In retrospect, David Arquette is better than could possibly be expected as the revenge hungry McCall, the cursed off-spring from the Lane/Bridges liaison, but there's no real sense of emotion or urgency created between any of these characters. Instead, too many liberties become dangerous distractions (an interrupted sex scene atop a bar table between Bridges and Barkin seems particularly labored), and a finale which documents a famous murder during an iconic poker game which unfolds like a creaky stage play.
While Hill would go on to tackle a Bruce Willis headlined Kurosawa remake, and eventually usher in the new millennium with the ill-fated studio flop Supernova (the maiden voyage of new Alan Smithee pseudonym, Thomas Lee), Wild Bill arrives at the tail end of an auteur's last real prolific period, a pale echo of what could have been.
Disc Review:
Twilight Time presents this Walter Hill title as one of its usual limited edition (3,000 units) releases in high definition 1.85:1 with 5.1 DTS-HD Master Audio (previous editions of Hill's titles from the label quickly went out of print, such as Hard Times and The Driver). Picture and sound quality are superior (although nothing can be done to smooth over the ugliness of the film's flashback sequences), while the score is featured as an isolate music track as the sole bonus feature.
Final Thoughts:
Considering Walter Hill's formidable filmography, Wild Bill hasn't aged as well as some of the auteur's progressively inclined titles but is still worth a look for the expected technical and narrative proficiencies.
Film Review: ★★½/☆☆☆☆☆
Disc Review: ★★★½/☆☆☆☆☆