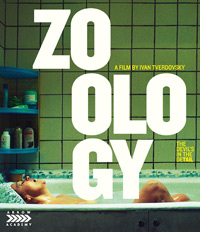 Russian director Ivan I. Tverdovsky became an automatic name in the cult films register with his 2016 sophomore film Zoology, an allegory about a depressed office worker who suddenly sprouts a tail…and then embarks on a liberating romance with a younger man. Winning a Special Jury Prize at the Karlovy Vary Film Festival, as well as Best Picture at Fantastic Fest, it's certainly a rare oddity out of Russia's current cultural climate, fusing elements of the fairy tale and the fantastical with a strong undercurrent of modern social parable. A rare contemporary buy for US distributor Arrow Films, it is a fitting home for Tverdovsky's breakout achievement, which features a moving lead performance from Natalya Pavlenkova (who starred in Tverdovsky's 2014 debut, Corrections Class).
Natasha (Natalia Palenkova) is a lonely, middle aged woman who lives alone with her out-of-touch mother and works in administration amongst a clutch of harpies at the local zoo of her small coastal town in Russia. But her weary existence is suddenly upended when she discovers she has a grown a tale. Alarmed, she seeks immediate medical attention, but her disinterested doctor is more concerned with how their X-ray machinery can't properly capture the appendage because of its involuntary movements. But her frequent trips to the hospital resulted a few leaks from the medical staff and rumors of her mutation (attributed to a possessed woman) has the neighborhood gossip mongers on high alert, including her own mother. Repeated interactions with the handsome radiologist Peter (Dmitri Groshev) blossoms into unexpected romance, inspiring Natasha to embrace the attention and undergo a make-over. Soon, however, she's questioning why Peter is actually attracted to her, and longing once more for a sense of normalcy, even though it might mean retreating into the unremarkable person she once was.
Russian folklore has a rich, fantastical flavor of the bizarre in an extensive cultural back catalogue, which has often resulted in strange cinematic offerings, often as a guise for political metaphor, the only avenue of exploration to avoid communist censorship in the past. But Natasha's predicament doesn't seem specific to her environment, other than she's an office worker engaged in administrative monotony at the local zoo, her only reprieve from her cruel colleague in her chit-chats with the animals as they munch snacks together.
Thematically, this recalls a variety of similar films, particularly Anna Melikyan's 2007 film Mermaid, about a young girl living in her own fantasy in 1970s Moscow. But early on, as Natasha is in denial about her ailment and pops prescription pills, she describes herself as asthenic, which brings to mind Kira Muratova's 1990 masterpiece The Asthenic Syndrome, a dense work which deliberates on a whole culture succumbing to a generalized sort of hypochondria. As it turns out for Natasha, the growth ends up being the best thing ever to happen to her. Sure, locals run screaming when she goes on a bender and lets her flesh toned tail flop out of her panties in a public square for all to see, but she's also experiencing a scandalous May-December romance with her handsome radiologist, which gives her a sort of Mrs. Robinson glow. Not surprisingly, he's attracted to her mutation, which is evident from the beginning of their more intimate correspondences.
Her reaction to his fervor during a sexual interaction is interesting—she obviously loves his attention and affection, but is alarmed at his infatuation with her tale, the reason they know each other and the only thing saving her from fading into the sterile, bitter background of her own life.
It's subtle psychologizing on Tverdovsky's part, assisted mightily by a likeable performance from Natalia Palenkova (who starred in the director's previous film), and this feels akin to the experience shared by many in the queer community who were mercilessly singled out for their extrinsic differences, and whose first sexual encounters are sometimes awkward and painful because the need to be treated as 'normal' and the instinct for assimilation outweighs the notion of self-worth on an individual basis (in other words, initial disappointment when sexual partners remind them of their queerness). Tverdovsky leaves Natasha's fate in potentially violent limbo, which is perhaps the only commendable finale for such a hyperbolic fantasy.
Disc Review:
Arrow unleashes Zoology in high-definition 1.85:1 with 5.1 DTS-HD MA surround sound. Picture and sound quality are well-attenuated in this genre spliced kitchen-sink melodrama. As usual, inspired extra features accompany this surprise Arrow release.
An Appointment with the Doctor:
Actor Dmitry Groshev, who portrays Peter, talks about his role in Zoology in this twelve-minute interview recorded by Arrow Academy in 2017.
The Tail of Zoology:
Film historian Peter Hames discusses Zoology in this twenty-four-minute interview recorded exclusively for Arrow Academy in 2017, who confirms director Ivan I. Tverdovsky is one of the youngest contemporary Russian filmmakers.
Final Thoughts:
While Zoology's genre flourishes are demurer than some of its initial responses may otherwise suggest, Tverdovsky proves to be an innovative and interesting new Russian talent with his sophomore film.
Film Review: ★★½/☆☆☆☆☆
Disc Review: ★★★★/☆☆☆☆☆