Wind River | Blu-ray Review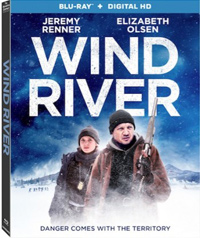 Arriving just in time to have the soured name of its US distributor The Weinstein Company shaved off prior to its awards season screenings and home entertainment release, Taylor Sheridan's directorial debut Wind River managed to stay well ahead of the controversy. Premiering to positive reviews out of the 2017 Sundance Film Festival, Sheridan (whose previously scripted films Sicario and Hell and High Water, directed by Denis Villeneuve and David Mackenzie respectively, both premiered in Cannes) was invited to the Un Certain Regard sidebar at Cannes before an early August release where it raked in a healthy thirty-three million plus at the box office (and perhaps made the producers' buyback from TWC that much more imperative for the title's longevity). Paired with the ensuing critical reception, this bodes well for future Sheridan endeavors despite some shortcomings with his first stint behind the camera.
A handsome cast fleshes out this cliché heavy murder mystery which dances out over the frozen snowscapes of the eponymous Native American reservation. Much like the cinematic flourishes of David Ayer, Sheridan excels at peppering moments of extremely effective violence throughout an increasingly maudlin investigation in which most of the key players have hidden motivations for their fortuitous response efforts in trying to discover who amongst them killed a young Native American woman.
US Fish & Wildlife agent Cory Lambert (Jeremy Renner) is an incredibly skilled hunter. An outsider in the Wind River Native American Reservation in Wyoming ever since he divorced his wife (Julia Jones) after the tragic death of their teenage daughter three years prior, he is stunned to find the body of a young woman in the wilderness, who was best friends with and died under the same mysterious circumstances as his own child. The FBI sends in rookie agent Julie Banner (Elizabeth Olsen), who clearly has never worked a homicide investigation before. Since Banner is unable to get her agency to send help, she hires Lambert as a tracker, with only reservation police head Ben (Graham Greene) to help guide her through a swiftly unraveling investigation.
If Sicario's narrative hinged on the complexities of intersecting law enforcement agencies requiring the recruitment of a naive rookie to establish a convoluted loophole, Wind River paints the reservation as a no man's land with the opposite effect. Laws are blurred and alliances are blindly made between the reservation police, federal law enforcement, and the Department of Fish and Wildlife. At the same time, the use of the fledgling female agent played by Emily Blunt in Sicario is an obvious counterpoint for Elizabeth Olsen's Jane Banner. But nearly all of Olsen's sequences are robbed of potency due to distractions with her characterization as well as the youthfulness of the performer.
While Jane Banner is supposed to be amateurish yet impassioned, several outbursts, including a painfully staged face-off with the coroner, read as incredibly false, and like several illogical instances with the earlier Blunt character, it would seem Sheridan may be less capable in developing sound personas for women ensconced in homosocial environments. The same goes for the bitter ex-wife of Renner's character played by Julia Jones, whose infrequent appearances seem too belabored, too cryptic. Renner's methodical hunter is seen on several occasions to guide and take over for Olsen's admittedly inexperienced FBI agent, which only enhances the nagging white male savior problem in Wind River, since even Graham Greene's crusty police chief seems overwhelmed by the unparalleled skills of Renner. Gil Birmingham, who had a memorable role in Hell or High Water, while granted several potent exchanges, also plays like a cypher against the heroism of the white hunter.
While at least Renner's character, whose uneasy inclusion in the Native American community is begrudgingly referenced by the drug addled brother of the dead girl, is not made to be mixed-race in the same way Val Kilmer's character in 1992's Thunderheart was concocted, Sheridan's film still recalls the old Hollywood hat trick of prizing the perspective of a white male protagonist unnecessarily. Still, despite Wind River's misfortune of being compared to the previous films Sheridan penned, it's an enjoyable, sometimes beautifully crafted genre piece. Nick Cave and Warren Ellis provide a phenomenal score for the film, filled with whispering voices which sometimes filter into a sequence as if riding in on the back of the wind and DP Ben Richardson, while capturing an awful lot of snowmobiles flying through the snow, also manages a fitting sense of isolation in the elements for its ambitious trio of crime fighters.
While all the metaphors concerning Renner's skills as a hunter protecting the flock from wolves, (which creates some problematic readings for the 'helpless' women in the community and the twin killings), begin to feel a bit heavy handed, Sheridan borrows from Demme's The Silence of the Lambs for the film's most palpable and intensely effective moment when it unveils the exact circumstances of the murdered woman's demise (and gives Joe Bernthal one of the most effective onscreen bits of his career). More predictable than it is a disappointment, Wind River may not be incredibly nuanced, but is more often than not enjoyable.
Disc Review:
Lionsgate gets the honors of presenting Wind River for home entertainment, the widescreen transfer in 2.39:1 with 5.1 DTS-HD MA working well with DP Ben Richardson's chilly cinematography and a superb score from Nick Cave and Warren Ellis. A pair of routine extra features accompany the release.
Deleted Scenes:
Two deleted scenes, about three minutes of screen time, are included.
Behind-the-Scenes Video Gallery:
Three segments, featuring Jeremy Renner, Elizabeth Olsen, and Taylor Sheridan comprise the ten-minute behind-the-scenes feature.
Final Thoughts:
A solid first attempt from Sheridan at bringing his own narrative treatment to life, Wind River is most effective when engaged with the parameters its creator knows best—masculinity and violence.
Film Review: ★★½/☆☆☆☆☆
Disc Review: ★★★/☆☆☆☆☆