Reviews
The Guitar Mongoloid | Review
People Are Strange: Östlund's Debut a Curio Set of Characters
Premiering domestically in late 2004 before snagging festival play at a handful of festivals, including Thessaloniki, Taipei, and Moscow (where it picked up a FIPRESCI prize),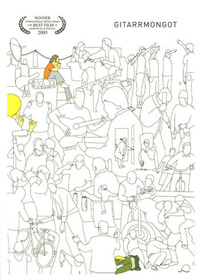 succinctly displays the director's offbeat sensibilities. A fixed set of recurring characters populate the stagnant possibilities of Gothenburg to mildly amusing, and sometimes increasingly uncomfortable effect, though without much to signify connectivity beyond merely being residents in a certain time or place.
Initially drawing comparison to the narrative free form of fellow Swedish filmmaker Roy Andersson's films, Östlund is hardly as bleak (at least in this first outing) and tends to focus on contemporary portraits of people navigating modern landscapes (whereas Andersson's characters tend to be older, decrepit, or fashioned by echoes of the near and distant past). The Guitar Mongoloid, which was filmed over the course of four years and as budgets became available, finds Ostlund's beginnings skewed towards youthful subjects, particularly adolescents with little to do beyond acts of delinquency. As part of the milieu, a stand out here, perhaps thanks to the title, is the guitar toting young boy being raised by his single father.
Like many of Östlund's homosocial correspondences, they are representative of the private strangeness of masculine interactions that we rarely see, at least so nonchalantly, on screen. Goofing off on public transportation or repositioning their genitalia to compare whose body would be more easily morphed into feminine form, they're a goofy pair, and exude a lightness not always evident in many of Östlund's interactions. Others, including a man whose face is blotted out, engage in more dangerous behavior, like drunken Russian roulette, or a pair of bikers overly obsessed with their vehicles, resulting in a scuffle where one cries "It's a matter of principle." Navigating, thus far, through Östlund's filmography, this would have also been a fitting title for his retrospective, as many of his characters are fascinated, confounded, or concerned with the principle of whatever 'matter' they're consumed with.
The Guitar Mongoloid also exemplifies Östlund's preference for fixed camera perspective, where the stationary apparatus seems to be recording whatever passes or transpires in front of it (which sometimes feels like a visual metaphor for his characters). Recurring motifs, such as fireworks, public transportation, and the socially inept figure prominently into the fabric of Östlund's mostly buoyant film, which ends on an item of whimsy with its lead guitar player fashioning a large balloon out of many black trash bags and setting it adrift over the city, where people stop to contemplate what it is they're looking at. There's beauty worth regarding in what is otherwise dismissed as mundane.
Reviewed as part of the In Case Of No Emergency: The Films Of Ruben Östlund Retrospective – January 10th, 2015.
★★★½/☆☆☆☆☆