Five Under The Radar Titles Gunning For Cannes 2022!
With less than a week until they announce the line-up for the Cannes Film Festival line-up (Directors' Fortnight and Critics' Week will unveil their sections the week after) there are plenty of unknown knowns and known unknowns. We took a deep dive into what we might see in all sections on the Croisette (here) and now, we take a closer look at five film titles among a whole bunch of options that were advanced by Cineuropa's Fabien Lemercier. Alexander Sokurov is a name we did not expect to see and apparently the Critics' Week folks were impressed by a Portuguese film (will it be Cristèle Alves Meira's Bruxa?) but there are a quartet of films that we are somewhat familiar with, that are a bit under the radar and that we decided to delve into and add more to the Cannes pre announcement(s) hype.
1976 – 🇨🇱
Manuela Martelli
You could say that Manuela Martelli has grown up on the Croisette (more specifically the Directors' Fortnight section) first as an actress with portraits of youth in Andrés Wood's Machuca (2004) and Sebastián Lelio's Navidad (2009) and then as a burgeoning filmmaker — the Chilean was a part of a quartet of directors in Chile Factory (2015) — the section's regional mandated series. Shot in March of 2021 and produced by other Quinzaine mainstays in Jonas Carpignano and Dominga Sotomayor, Martelli's first feature film debut titled 1976 takes place three years into Augusto Pinochet's bloody dictatorship — and focuses on a mother (Aline Kuppenheim) who, let's just say sees her life disrupted when she has someone "move in." While this horrible misstep in Chile's history has supplied storytellers with endless narratives (Tony Manero which also premiered in the Directors' Fortnight was an original take) we imagine this text looks at how political climate and class systems allow for a certain type of cocooning — an absence of accountability and/or acknowledgment of horrors that are taking place.
Sales: Luxbox.
El Agua – 🇪🇸
Elena López Riera
She has been collecting workshop experience via San Sebastian Film Festival's Ikusmira Berriak residence and Cannes' Cinéfondation (she won awards at both labs), Spain's Elena López Riera had instant acclaim with her first three short films – showcased at the Directors' Fortnight and Locarno respectively. El Agua (The Water) revolves around a legend that suggests some women are predestined to disappear when a small village gets flood. Petra actress Barbara Lennie and Nieve de Medina topline the co-production which filmed last summer. We figure that this falls into a love your homeland but hate your governing natural infrastructure, this would deal with ideas of loathing and loving identity especially when it relates to family and the future. Among the producing team we find the likes of Sylvie Pialat.
Sales: Elle Driver
Opponent – 🇸🇪
Milad Alami
Iranian born, Swedish-based filmmaker Milad Alami ended 2021 with a bang with his sophomore project claiming top awards at Les Arcs' Work in Progress Fest (the same event gave Cannes tickets to films as Clara Sola and Small Body in the previous year). Filming took place in January of last year on Opponent – it follows Iman, a professional wrestler, and his family who are forced to flee Iran in the aftermath of a devastating rumor and end up in a run-down hotel in Northern Sweden. We feel like there'll be parallels between physical grappling in sport with psychological grappling with a massive overall of beginning a new life.
Sales: TBD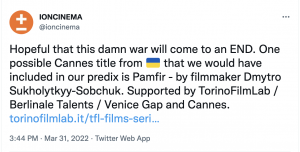 Pamfir – 🇺🇦
Dmytro Sukholytkyy-Sobchuk
Working-shopping his debut film since 2016, Ukrainian filmmaker Dmytro Sukholytkyy-Sobchuk developed his project through the Torino Film Lab (Script & Pitch), Berlinale Film Talents, KVIFF Midpoint Intensive, to finally be invited to Cannes' The Residence in 2019 and just recently the Venice Gap. Production on Pamfir took place in 2021 and was co-produced alongside France, Poland and Chile. The titular Pamfir is put between a rock and a hard place – providing for his family beyond putting found on his table he must find money to save his son's eye sight. Smuggling bootleg cigarettes across the border doesn't come without consequence. This might remind of what kind of a perpetual state how economic distress can lead to ordinarily unthinkable life choices – the gaucherie of capitalism. The importance of having an in-person film premiere for this filmmaker cannot be overstated. A co-production by Ukraine / France/ Poland / Chile. Here is everyone involved: Production companies: Bosonfilm, Mainstream pictures (Ukraine), Les Films D'Ici (France), Madants (Poland), Quijote (Chile). Produced by: Aleksandra Kostina, Jane Yatsuta (Ukraine). Co-produced by: Laura Briand (France), Bogna Szewczyk, Klaudia Smieja-Rostworowska (Poland), Giancarlo Nasi (Chile), Artem Koliubaiev, Alyona Tymoshenko (Ukraine).
Sales: TBD
Vanskabte Land – 🇮🇸
Hlynur Pálmason
Firmly planting the his flag as Iceland's most promising filmmaker with 2017's Winter Brothers and then Critics' Week masterwork A White, White Day (2019), Hlynur Pálmason's third feature film is slated for a domestic (scandi) release in December of this year. He just premiered a short film at the Berlinale, so a Cannes presence would unexpected and a real treat. Titled Godland, this was produced by Anton Máni Svansson who has been on board the Pálmason train. Filming could have taken place in Denmark and Iceland. We don't really have any take on the film but can imagine the outside elements take up some inventory in the narrative's thread and that usually has a wreckingball effect on the human condition in his first two film outings.
Sales: New Europe Film Sales