Can't Stop, Won't Stop: Bays Busts the Panic Button in Rambunctious Heist Remake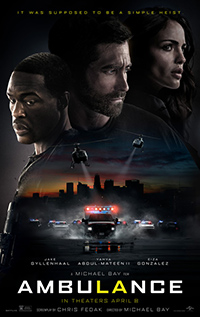 For a director who cut his teeth in music videos, Michael Bay's use of soundtrack is (one of many) deplorably off key elements in Ambulance, his latest garrulous attempt to escape his self-designed Transformers straitjacket. A booming, boisterous chase spectacle populated with over-the-top villains, passive protagonists, and demeaned women, Bay throws us down a two-hour plus trail of narrative debris to a television special finale—and for many, this may be exactly the escapist fanfare they seek.
To be fair, it's comparably easier to consume than much of the nonsense Bay has been peddling for the past twenty-five years, perhaps due to this being adapted from a 2005 Danish film of the same name directed by Laurits Munch-Petersen. Penned by producer and television writer Chris Fedak, making their narrative screenwriting debut, it's a pity Bay seemingly has little interest in demanding the same level of quality in storytelling (or properly directing actors) as he does with enhancing a production design hellbent on amplifying the chaos born from blowing shit up.
With his wife (Moses Ingram) needing an expensive surgery and his Veterans' benefits dangling beyond his reach, Will Sharp (Yahya Abdul-Mateen II) is forced to consult his brother Danny (Jake Gyllenhaal) for assistance. Only Danny takes after their father, the man who we're told took Will in when he was a child, which explains the racial disparity causing disbelief whenever they're introduced as siblings. And their father was a criminal mastermind, a man whose legacy Danny aims to best (despite having an education) since he's about to rob a federal bank in downtown Los Angeles just when Will is in need. Of course, their best laid plans gang aft agley, and when Will fatally shoots a police officer (Jackson White), they commandeer the ambulance dispatched seeing as its their only route of escape. Inadvertently, they take the wounded cop and a valiant EMT, Cam Thompson (Eiza Gonzalez) hostage. As a SWAT captain (Garret Dillahunt) directs the pursuit, they're joined by FBI Agent Anson (Keir O'Donnell), who just so happens to know Danny from college.
As it's marketing design indicates, you can't spell 'ambulance' without LA, and the end result of Bay's endeavor feels like a version of Speed (1994) grafted onto Paul Haggis' Crash (2004), and really nailing the superficial vibes of both those films as well (and technically, this should be called the plural version of this particular vehicle—-more than one is utilized in the plot). For all its self awareness of the bubbles constructed by certain Angelenos in a city designed for separation more than togetherness, Bay's film reveals itself as a product of the Hollywood bubble, (where the only genuine human experiences are reward oriented). The film's only real consistent aspect is showcasing a world where everyone runs around screaming ludicrous bits of dialogue in desperation to cram exposition and comedy in all the places it wouldn't organically flourish.
The pedal is to the medal immediately, with Roberto De Angelis' (making his narrative debut as DP) camerawork gunning for motion sickness as it spins around a faux fraught conversation between brothers to make up for the most lazily constructed semblance of fraternity ever conceived. Later, during the actual heist, the camera swoops from illogical angles, diving from the sky, to showcase how this is pure Bay spectacle, nothing more.
Somehow, Mateen's Will gets something of a shoehorned backstory, albeit something ripped from the headlines as a Veteran unable to receive necessary benefits (as his wife, Moses Ingram has the unfortunate task of being characterized as a simpleton, unfortunately). Recent films like The Contractor with Chris Pine and the based-on-a-true-story 892 starring John Boyega formulate the same sense of maligned men driven to criminality, albeit both in more cohesive ways than this, which reduces Will to a being merely a fool once we get a sense of just how unstable his brother is. In short, Ambulance solidifies a sense of Veteransploitation as a genre.
Gyllenhaal is, as in 2021's The Guilty (cribbing another hit from Denmark) and Okja (2017), brazenly miscast as a wild-eyed maniac, requiring the talents of an actor who knows how to rightly channel this energy (think Willem Dafoe or Dennis Hopper, ironically both villains in Speed films).
Meek attempts to destabilize his heterosexuality suggest his own characterization has been edited out, tethered as he is to an old college pal, Keir O'Donnell's elitist FBI agent (much ado is made of the age disparity between Dillahunt and O'Donnell, inanely) who we meet in a cliched couples therapy session (again, where women and femininity are scoff fodder) with whom he used to enjoy rosé (paired with an outburst about cashmere, it seems Danny is another character in a long line of gay characters shoved back into the closet during editing for the comfort of its presumed core audience).
Eiza Gonzalez does what she can in a composite which may have starred Megan Fox at one point, but the script makes a point to give her a regressive character arc, a health, boundary observant professional gaslit into being reminded she's a woman, and therefore, needs to inveigle herself personally into the lives of her patients.
If Ambulance seems kinda weird about the women, its racial characterization is on a whole other level, seeing as how the script pushes us to believe in such a strong bond between Will and Danny, yet the latter seems completely oblivious about the recklessness of comprising his Black brother's safety (re: police brutality), or, in a key sequence, for his employee played by the musician Wale. In his finale, Bay showcases how the strength of the blue line trumps all by presenting several Black law enforcement agents refusing to assist another Black man bleeding out on the concrete, who would die if not for the insistence of a woman determined to do the right thing. But, as the soundtrack suggests (including a score from Lorne Balfe which makes his The Tomorrow War efforts seem like a velvety symphony), it gives the audience the guiding crescendo of emotional triggers to bludgeon its formula all the way home.
★★/☆☆☆☆☆