2018 American Film Festival Dailies: Red, White and …. Blue | Day 1
IONCINEMA.com arrived on day number two of the American Film Festival in Wrocław (pronounced var-SHAV-uh). The ninth edition is chock full in American Indie offerings with Sundance offerings being complemented by select SXSW and Tribeca items with higher profile items being TIFF and Venice films such as The Mountain (Venice review) by Rick Alverson. I'll have ample chance to discover the city over the course of the next couple of days, but so far, I was charmed by the old Europe backdrop and the quick drive from the airport into the city (I had the chance to chat up docu editor turn filmmaker Scott Balcerek who comes to the fest with his two decade odyssey in Satan & Adam (Tribeca '18). The PURO hotel is less than a 120 second trek to the screening venue and multi-plex New Horizons Cinema hub: this us where all screenings take place and where IONCINEMA was there earlier this year with our Tommaso Tocci covering the New Horizons International Film Festival — so I'm retracing some of the sights and perhaps sounds experienced during that fest and I'm pleasantly surprised by the patronage and the paperless ticket booking system. I jumped into a screening of Julie Cohen and Betsy West's thoughtful portrait of RBG prior to hitting our main focus: American FF industry event we've been following from afar in the US in Progress.
Ulka Śniegowska who is the Director of the festival and shepherds the US in Progress program selected four projects in Marnie Ellen Hertzler's Crestone, Jennifer Reeder's Knives and Skin, Haroula Rose's Once Upon a River, and the team of Rania Attieh and Daniel Garcia's Initials S.G. US in Progress kicked off presenting the Polish Project Pitching sessions (think speed dating for Americans and Polish film folks) with False Positive by Kasia Płazińska, My Personal Jesus by Ewa Wikiel, Neon Tears by Karolina Bielawska, and Sara by Jan Komasa all at various paces in the pre-production process. The projects are all looking to connect with US producers for various components of their films.
After the pitch sessions, I took great pleasure in sitting in on the Experiences in Transcontinental Co-production Panel moderated by Steve Dollar. We had producers (miracle workers if you ask me) Sara Murphy (If Beale Street Could Talk), Ryan Zacarias (The Mountain), George Rush (Sorry to Bother You, Don't Leave Home) joined by ….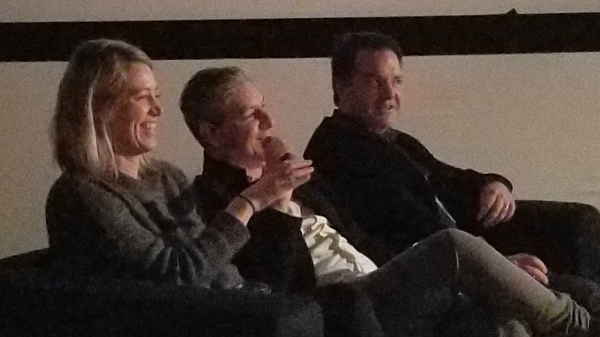 Ivan Eibuszyc (Kékszakállú) and Guillaume Benski (A Long Way from Home) trading war stories and giving real cases examples of the highs and woes, pros and cons, predictable and movie magic surprises involved in independent budget-building in European vs American film business. The following happy hour allowed me to touch base with all of these folks and other familiar faces.