Who's Wally?: Alverson Goes Retro with Punishing, Complex Period Drama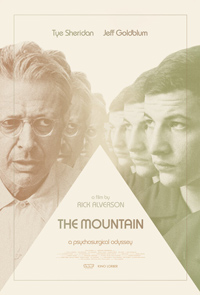 Always intent on making his audience do some of the work, American indie helmer Rick Alverson is back with a glacial road trip through the Pacific Northwest in the 1950s with The Mountain which is every bit as weird and challenging as his previous work but possibly even harder to approach due to the fewer opportunities for release, be it emotionally or merely nervous.
Tye Sheridan graduates here to a starring role after the clown that served as a foil to The Comedian in Entertainment. His Andy is also an unnerving mask (all vacant stare and rugged forehead), though of a different sort – a young man stymied by a harsh father (Udo Kier), he is constantly mortified and accused of being just like his mother, who was hospitalized due a mental condition. He is initially seen tending to his figure-skater father's ice ring, but while the older man gets to be at the center of it (and receives a deliciously deranged on-ice funeral wake when he passes away), Andy stops in front of the gate. Confined to tiny rooms and often framed against doors, he is made smaller and smaller by Alverson, who also uses low ceilings and the restricting 4:3 frame to push him down.
Interestingly enough, this doesn't extend to a sense of physical discomfort, as was the case with the protagonist of Entertainment, whose larger off-putting persona suggested through hair and costumes was so essential. In fact, Alverson makes Andy impeccable to look at, with a beautiful signature jacket that has more texture and vibrancy than we see on his face at any point in the film (kudos to Elizabeth Warn, costume designer on both films). And that's only right, considering Alverson is using the mythology of 1950s masculinity as a springboard to reach even higher ground in his critique of contemporary American social anguish. The one-two punch of The Comedy and Entertainment, savaging the lower fringes of today's culture to the point that many felt the director was indulging in them, probably exhausted that particular well. Through the prism of the past, he can reach even further and dismantle the idea of 'holding it together' now that he's done with that of 'letting go'.
Crucial to this is the character of Dr. Wallace Fiennes (Jeff Goldblum), who unassumingly approaches Andy at a garage sale to ask the price of a pipe. Revealed as a family acquaintance who once treated Andy's mother, 'Wally' is an enthusiastic practitioner and promoter of lobotomy. It's made clear that drugs are now available as an alternative and more humane treatment, which is probably why Wally has to travel from hospital to hospital to still find some work. Recruiting a now-alone Andy, who has nothing more to his name than a garage full of 10-cent pipes and other memories of a deceased father, is easy. It's just carrying suitcases and taking some pictures, after all.
Goldblum is excellent in the role, charting the trajectory from an affable and benevolent mentor to a deranged relic of destruction. It's particularly effective because Alverson's castings often emerge as the tip of an iceberg, as if the film they're part of were just the final station of a long journey. While not on the same level of complexity of Gregg Turkington/Neil Hamburger in Entertainment, Wally is also a commentary on Goldblum's unique persona; now that he's having a bit of a resurgence, the movies he appears in are perhaps satisfied with exploiting it, but Alverson goes deeper and deconstructs it to a previously unseen degree.
The already unsettling atmosphere is enhanced by the washed-out, bleached cinematography and rigorous compositions of DP Lorenzo Hagerman, who once again makes a crumbling world look even more eerie by framing it as if it were at a perennial standstill. With shades of PTA's The Master (the bone-chilling mix of perverse science, twisted mentorships and subversive reinterpretation of the past) and a certain proximity to Yorgos Lanthimos' American works, this is another provocative, original piece of filmmaking from Alverson.
Reviewed on August 30th at the 2018 Venice Film Festival – In Competition. 106 Mins.
★★★/☆☆☆☆☆