2019 NEXT Section Sundance Trading Card Series: #10. Rhys Ernst – Adam
Director Rhys Ernst from Adam is among the voices, faces and creative folks that are a part of the ten films selected for our favourite section at the Sundance Film Festival. Added to the fest at the beginning of the decade, over time, the NEXT section (formerly referred to as "<=>") has unearthed some of the best voices in micro American indie film projects with the likes of Sebastian Silva, Josh Mond, Rick Alverson, Anna Rose Holmer, Andrew Dosunmu, Craig Zobel, David Lowery and Janicza Bravo. We return with Sundance Trading Card Series focusing on the 2019 NEXT section selected films and personalities.
Eric Lavallee: Name me three of your favorite "2018 discoveries".
Rhys Ernst:
1. Glenn Copeland – Keyboard Fantasies (sometimes listed under his old name Beverly Glenn Copeland)
Trans musician Glenn Copeland's soulful 1986 cassette-only release was recently reissued and is the Casio keyboard masterpiece I had been waiting for my whole life. It hit me so hard I featured one of his songs in the opening titles of ADAM.
2. GLAAD / 5050×2020 Guide to TRANSform Hollywood
This groundbreaking document seeks to transform how Hollywood tells trans stories and to advance trans inclusion in Hollywood. Yay! (full disclosure: I was a contributor)
3. Xavier Schipani (artist)
Prolific artist and illustrator Xavier Schipani's poppy, sensual portraits reflect the contemporary trans-masculine zeitgeist, exploring the desire, dissent, heroes, and pop-cultural moments of our life and times.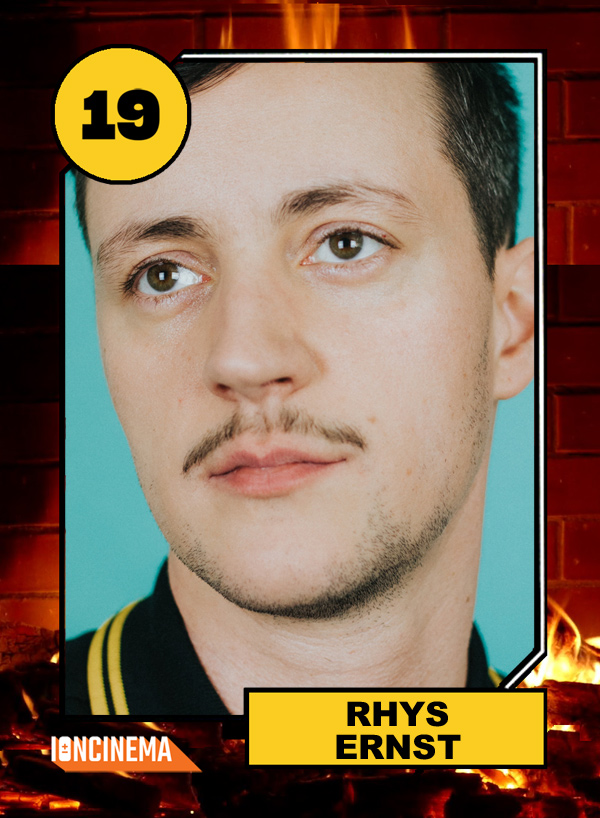 Lavallee: For those familiar with your work, is there an overlap with a specific prior example and if so, how does this relate to your concerns, obsessions, curiosities, and/or style?.
Ernst: I've been working to expand the boundaries of trans storytelling in my work for years, having employed diverse strategies including magical realism (She Gone Rogue), mixed-media documentaries on trans history (We've Been Around), and even deadpan comedy in which trans identity is almost incidental to the story the characters find themselves in (Transparent, The Thing). When I read the script for ADAM, I was floored by the inversion of the "trans deception" narrative. The story is a powerful Trojan horse: while it may seem like a playful addition to the heteronormative 'boy meets girl' canon, the protagonist is literally made to walk in a trans person's shoes and is forever changed by the experience.
ADAM employs many of the strategies present in my previous work: it's a deadpan trans comedy that isn't about 'being' trans (though it immerses the character and audience in a trans world). It also references trans history by way of Camp Trans, which is a piece of real-life trans history re-told in We've Been Around. And, it has at least one moment of magical realism (Adam and his love interest cross a threshold into uncharted territory when they visit a surreal art installation called The Vanishing Room). Those who are familiar with my very early work (The Drive North, Life Rocks) will recognize a scrappy queer youth comic-booky tone that I was very pleased to revive in ADAM.
Lavallee: What kind of visual ideas did you have prior to filming and how did it inform camera choice, color palette, prod design, lighting?
Ernst: ADAM takes place in the young underground queer scene in Bushwick, Brooklyn in 2006– a time and place I know well because I lived through it. It was a sweaty, gritty time: a pre-smartphone moment full of neon colors, over accessorizing, messy behavior, and oversimplified concepts of identity. I envisioned the movie as gritty yet poppy—real and complex but with a hint of a comic book tone. In addition to films and photography, my DP Shawn Peters and I looked at graphic novels, particularly Adrian Tomine's work. We used antique lenses that brought out rich, oversaturated colors. My production designer Nora Mendes and I focused on getting the subculture-specific details of the era right while also making these worlds playful and fun. These are worlds the characters are creating for themselves, after all. As the characters explore who they are, they begin to externally signify who they want to be, and their identities are visually projected all around them. Space became a visual metaphor for identity exploration.
Click to expand!