Film Festivals
Under the Radar: Nicholas' Top Five Picks for Sundance 2013
#5. Interior. Leather Bar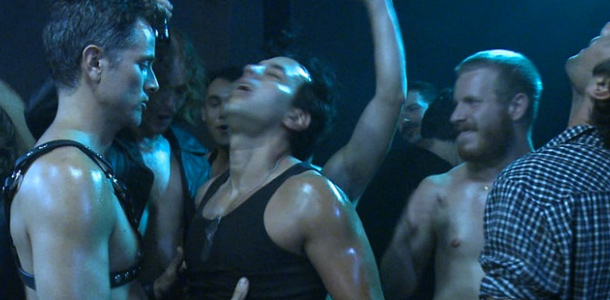 Who: While everyone may be familiar with actor/director James Franco, they not be as aware of the filmmaker he's paired with to direct Interior. Leather Bar, Travis Mathews. With a background in documentary, Mathews professes to use this and his Masters in Counseling Psychology to make films that focus on gay men and intimacy. He already has a series of short films about gay men and bedrooms and a well received 2012 feature film, I Want Your Love to his name.
What: His pairing with Franco on a project aims to recreate the lost 40 minutes of footage that William Friedkin was forced to cut from his controversial 1980 film Cruising.
Where: Franco's interview also features a clip, while Franco's co-director posted the trailer on his vimeo channel.
When: Shot in Los Angeles, CA over the course of a day in July, 2012, produced by RabbitBandini Productions as well as Franco and Mathews. Cinematography credit is split between five names, with documentary filmmaker Keith Wilson serving as DP.
Why: This project from Franco and Mathews seems audacious, experimental, and a hard sell for both a heteronormative audience still unconditioned to more risqué gay imagery as well as for an LGBT presence more eager and interested to break into the mainstream than challenging notions of representation.
From the Sundance Programmer: "The result is a provocative exploration of the importance of the radical and transgressive in society and the value of engaging with things that scare us."- S. F.
Play Dates:
1/19/2013 8:30 pm – Prospector Square Theatre, Park City
1/20/2013 Noon – Salt Lake City Library Theatre, Salt Lake City
1/23/2013 Noon – Temple Theatre, Park City
1/25/2013 11:59 pm – Tower Theatre, Salt Lake City
1/26/2013 10:00 pm – Redstone Cinema 2, Park City
#4. Metro Manila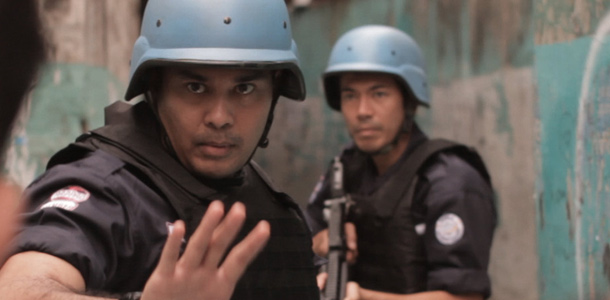 Who: After an Oscar nod for his 2004 short, Cashback (which he turned into a well received 2006 feature length film of the same name), UK director Sean Ellis directed a moody 2008 thriller, The Broken, which was unfortunately flew under the radar, even if it deserved to find a wider audience (and featured an excellent international cast with Lena Headey, Ulrich Thomsen, and Melvil Poupaud). We're glad to see him back, changing gears once more for his third feature length film.
What: Metro Manila is a Philippines set tale about a family that flees to Manila to make a better life for themselves but discovers quickly that city life has its own set of problems. Based on a story by Ellis.
Where: Here's the official facebook page where you'll find several goodies.
When: Filmed in Manila, Philippines, with Ellis serving as executive producer (as well as cinematographer) along with Chocolate Frog Films.
Why: With the exception of Brillante Mendoza's work, not a lot of film coming from this part of the world seems to get a lot of attention, and with Ellis' past two features, this should definitely be a title worth seeking out.
From the Sundance Programmer: "Director Sean Ellis's return (The Broken premiered at the 2008 Sundance Film Festival) vividly captures the desperation of life amongst the squalid Manila slums, then ratchets up the tension, creating an intense thriller with a poignant humanity and palpable dramatic stakes." H. Z.
Play Dates:
1/20/2013 8:30 pm – Prospector Square Theatre, Park City
1/21/2013 3:45 pm – Broadway Centre Cinema 3, Salt Lake City
1/22/2013 5:15 pm – Library Center Theatre, Park City
1/25/2013 11:59 pm – Egyptian Theatre, Park City
1/26/2013 12:30 pm – Redstone Cinema 1, Park City
#3. The Future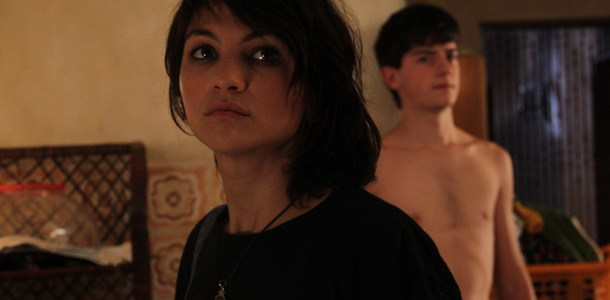 Who: Alicia Scherson was born in Santiago de Chile in 1974. After graduating as a biologist, she studied filmmaking in the Escuela Internacional de Cine y Television and then received a Master of Fine… » Arts degree from the University of Illinois at Chicago. Her first feature film, Play, was shot in Chile and premiered in 2005 at the Tribeca Film Festival, where it received an award for best director.
What: Based on a novel by Roberto Bolano, the film, set in Rome, centers on Bianca, whose parents die in a car accident. When her brother Thomas invites all his friends to live with him in their now guardian free home, they concoct a plan to use Bianca as sexual bait in a heist revolving around a blind hermit and ex B movie star played by Rutger Hauer.
Where: Indiewire recently premiered the trailer.
When: Filming began in July 2012 in Cologne Germany and Rome, Italy. The film is a four-way co-production between Chile's Bruno Bettati, Germany's Pandora, Italy's Movimento Film, and Spain's Astronauta Films.
Why: This is the first film based on the works of cult Latin American author Bolano and features what looks like it will be a WTF appearance from Rutger Hauer.
From the Sundance Programmer: "Alicia Scherson's striking third feature uses the streets of Rome to create a world both richly beautiful and unapologetically provocative—the very aesthetic reflecting Bianca's disorientation as the future becomes her present." H. Z
Play Dates:
1/19/2013 5:30 pm – Prospector Square Theatre, Park City
1/21/2013 4:00 pm – Redstone Cinema 2, Park City
1/22/2013 3:00 pm – Broadway Centre Cinema 6, Salt Lake City
1/24/2013 8:30 am – Prospector Square Theatre, Park City
1/25/2013 4:00 pm – Holiday Village Cinema 4, Park City
#2. Halley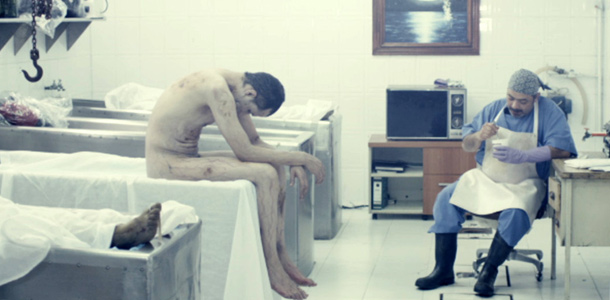 Who: Sebastian Hofmann was born in Mexico in 1980. He is a distinguished film editor with six feature films to his credit. Hofmann has written, produced, and directed numerous experimental short films as… » well as music videos for some of Mexico City's most acclaimed "underground" musicians. His work as a visual artist has been shown internationally in galleries and museums in New York, Sydney, Rio de Janeiro, Athens, Berlin, Santiago de Chile, Pasadena, Mexico City, and Prague. Silva has a BFA from the prestigious Pasadena Art Center College of Design.
What: Alberto is dead and can no longer hide it. Make-up and perfume can no longer conceal his quickly decomposing body. Dismayed, he decides to withdraw from the world. But before surrendering to his living death, Alberto forms an unusual friendship with Luly, the manager of the 24-hour gym where he works as a night guard.
Where: They'll be Rotterdam as well – so this is their official site, and you can find the poster on Visit Films (the sales agent).
When: Filmed from October to November 2011 in Greenland and Mexico City, Mexico, this has the distinction of being the first Mexican film to shoot (partially) at the North Pole. Frequent Carlos Reygadas producer Jaime Romandia helped back the project, among several others (Joakim Ziegler, Rune Hansen, Monica Reina, and Jorge Fong are all associate producers, while co-writer Julio Chavezmontes also serves as producer).
Why: Huddled away in the New Frontier lineup at Sundance, this promises to be existential body horror at its finest, and it doesn't hurt that it's produced by names associated with some of the most notable directors currently working in Mexico.
From the Sundance Programmer: "Hofmann's camera boldly exposes the grotesque details of Beto's physical condition while artfully depicting his isolated existence." – H. Z.
Play Dates:
1/18/2013 9:00 pm – Yarrow Hotel Theatre, Park City
1/19/2013 12:45 pm – Broadway Centre Cinema 3, Salt Lake City
1/21/2013 12:30 pm – Redstone Cinema 1, Park City
1/26/2013 5:30 pm – Holiday Village Cinema 1, Park City
#1. Mother of George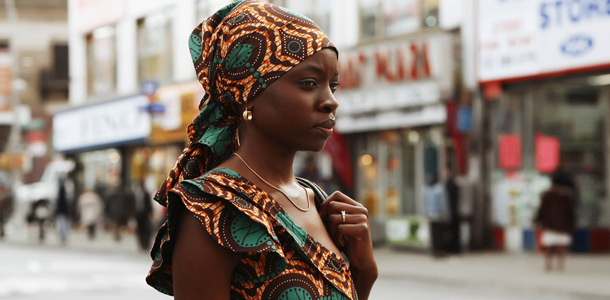 Who: Andrew Dosunmu was raised and educated in Nigeria and began his career as a design assistant at Yves Saint Laurent, where he eventually became a creative director and photographer. Dosunmu's first… » narrative feature, Restless City, premiered at the 2011 Sundance Film Festival in the NEXT program. His documentary Hot Irons (1999) won the best documentary award at FESPACO, the Panafrican Film and Television Festival at Ouagadougou, and the Reel Award at the Toronto International Film Festival. Dosunmu has also directed episodes of the widely acclaimed South African television show Yizo Yizo and many music videos.
What: Ayodele Balogen (Isaach De Bankolé) owns a small African restaurant in Brooklyn. His fiancée, Adenike Matashane, has waited six years to start a new life with Ayo in the US. Ayo and Adenike have a traditional Basotho wedding, culminating in a ceremony where Adenike is named for her yet to be conceived son, George. But as months pass, Ma George's pregnancy attempts fail and her loneliness intensifies. Torn between her Basotho culture and new life in America, Ma George struggles to save her marriage, stopping at no cost to give Ayo his much-awaited son.
Where: Here is Dosunmu on Sundance's Youtube channel.
When: Filmed in the first quarter of 2012, written by Darci Picoult and produced by Cunningham & Maybach Films' Patrick Cunningham and Chris Maybach, Parts and Labor's Lars Knudsen and Jay Van Hoy, Carly Hugo and Matthew Parker.
Why: Dosunmu's excellent 2011 sophomore film, Restless City, was made in frustration while he waited for funding to come together for this project. With Cesar award winning actor Isaach de Bankole and cinematographer Bradford Young (Restless City, Pariah), this should be on everyone's hit list for Sundance 2013.
From the Sundance Programmer: "Featuring soulful performances by Isaach De Bankolé and Danai Gurira, and opulent cinematography by the award-winning Bradford Young, Mother of George is a singular cinematic accomplishment that elevates this illustration of the complicated challenges of African immigrant life to a place of beauty and reverence." – S. F.
Play Date:
1/18/2013 2:30 pm – Library Center Theatre, Park City
1/19/2013 12:30 pm – Rose Wagner Performing Arts Center, Salt Lake City
1/20/2013 8:30 am – Prospector Square Theatre, Park City
1/21/2013 Noon – Sundance Resort Screening Room, Sundance Resort
1/22/2013 3:30 pm – Eccles Theatre, Park City
1/25/2013 9:30 pm – Redstone Cinema 1, Park City