Love in the Afternoon: Levin's Gallic Flavored Romantic Drama Lacks Sense of Amour Fou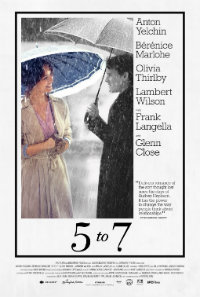 Writer and producer Victor Levin makes a patiently observed portrait of unconventional romance in the heterosexual realm with the warmly performed 5 to 7, so named for the French saying "Le cinq a sept," which basically means happy hour but carries playful connotations of extramarital romance in the hazy, undocumented hours afforded the working class before reporting for duties on the domestic hearth. Playful, observant, and provoking to those who've never considered the possibility (or worthiness) of such an arrangement as the romantic involvement suggested here, the film feels calibrated towards the type of American conservatism that can only begin to fathom such quandaries through the guise of a pronounced European influence.
Here, it is a French couple suggesting that monogamy has little to do with a successful marriage, and a series of intellectual Manhattan elitists seem every bit as buttoned up towards liberated love as their vintage counterparts in response to the output of the New Wave (think the attempted taming of the carefree prostitute played by Melina Mercouri in Dassin's 1960 Never on Sunday).
An aspiring novelist in modern day Manhattan, Brian (Anton Yelchin) is already accustomed to the likelihood of inherent rejection. A romantic at heart, he's fascinated with the inscriptions on park benches (cue close-up montage of some particularly compelling samples), all which point to powerful and emotional human stories behind each inscription. Catching a beautiful woman smoking a cigarette one day, Brian approaches Arielle (Berenice Marlohe), and they share a pleasant exchange. She informs him that she's generally free from five to seven every evening (a joke described later). Brian continues to meet Arielle during these hours and she suddenly reveals that she's happily married to an older diplomat (Lambert Wilson). But their relationship permits the possibility of such an affair, as long as they can abide by a certain set of rules. Brian balks at such a notion, but finds himself unable to put Arielle out of his mind.
Levin's collected an impressive series of names to round out his supporting cast, including Lambert Wilson as the willing (to a degree) cuckold, Glenn Close (merely around to provide warm support) as a malleable mother, and a father portrayed by Frank Langella as a staunch luddite on hand to voice the majority viewpoint. Eric Stoltz and Olivia Thirlby magically appear to conveniently usher Yelchin's novice writer into the bosom of literary success, with Thirlby's customary charming ability strewn about amid her pearls of wisdom pertaining to Brian's increasing distress over Arielle.
Berenice Marlohe, who starred as a minor Bond girl in 2012's Skyfall, scores her most significant role to date, and she is a striking presence. Anton Yelchin seems the go-to guy for all sorts of seemingly impossible romantic relationships, and 5 to 7 makes for an interesting counterpoint to the long distance follies he endures in 2011's Like Crazy. As a young, impassioned struggling artist, Yelchin manages to be believable, but when the narrative jumps ahead into the future for its forced poignancy in the final frames, the age progressed writer seems a contrived bit of fancy, maybe an awkward nod to the estranged lovers meeting by chance at the end of The Umbrellas of Cherbourg (1964).
As intelligently written as both Brian and Arielle are, their characterizations are consumed by the inherent awkwardness of their limited romance. Of course, their relationship seems doomed to fail from Arielle's initial explanation of just how exactly their affair is supposed to work, precisely because Levin never bothers to examine the possibility that it indeed could work (and for a number of people, whatever their sexual orientation, it is a scenario that isn't innately doomed to fail). However, considering Amy Pascal's leaked comments about the upcoming Cameron Crowe film and how Sony shouldn't produce films depicting married people engaging in romantic flings with others (because no one wants to believe that happens), makes even Levin's bourgeois depiction of pursuing love no matter what (at least for a moment) seem monumentally ambitious.
★★½/☆☆☆☆☆