A Bride for Rip Van Winkle | Review
(Not So) Bright Future: Iwai's Returns with Troubling Portrait of Modern Love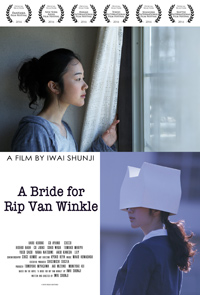 At the beginning of Japanese director Shunji Iwai's latest film, A Bride for Rip Van Winkle, its main protagonist finds herself balking at the ease of getting into a relationship. Even using what is eventually discovered to be a less popular social networking app, ruefully called Planet, she stumbles into an efficiently streamlined, perfectly banal romance with a man who shares the same profession and extolls the same cliched, superficial passions about teaching. She likens the relationship, and its eventual mutation into marriage, to online shopping. He was "an easy find." The consequences of her flippant approach to love and companionship burst violently into bloom, spiraling into a variety of increasingly dire yet soap operatic scenarios, each beating her over the head with the passivity and apathy she subconsciously suffers from in a world supposedly designed to come closer together but drifting even more precariously apart.
A difficult film to digest, though at three hours in length Iwai gives us much to mull over, there is little sustenance or succor to be offered here in a narrative which may reach to hysterical twists but is nevertheless a cynically moderated character study on identity and the 'authentic' self.
Nanami (Haru Kuroki) is a part-time junior high-school teacher who doesn't seem invigorated by the profession. Manipulated by her students, she suddenly finds herself without a job in an increasingly competitive market. To her delight, she meets Tetsuya (Go Jibiki), who is also a teacher. Surprised at the ease with which they interact, a lukewarm whirlwind romance eventually finds Nanami facing marriage to a man she hardly knows (much less cares for). When asked to release her guest list for the wedding, Nanami worries she isn't impressive enough, and turns to her on-line friend Amuro (Go Ayano) for assistance in hiring people to pose as her relatives. Little does Nanami know the danger she's put herself in, but after finding she's the victim of a 'relationship destroyer' scam, she checks herself into a hotel and finagles her way into becoming a maid. Still depending on the assistance of Amuro, who confirms the dissolution of her marriage was a scam perpetrated against her, she is led to work with the vibrant and friendly Mashiro (Cocco) in a mysterious mansion where the owners keep strange aquatic pets. But not is all it would seem with Mashiro, come to find.
In truth, A Bride for Rip Van Winkle is a stellar about-face for Iwai, perhaps still best known for his 2001 film All About Lily Chou-Chou. After making his little seen English language debut in 2011 with Vampire, Iwai embarked on animated film The Murder Case of Hana and Alice (2015), which served as a prequel to his 2004 film Hana and Alice, a drama about two schoolgirls infatuated with the same boy (Lily Chou-Chou, it should be noted, is a singer whom two boys are obsessed with). Iwai perverts his usual formula of fixation with the characters of Rip Van Winkle by showcasing an environment where obsessions and desires are no longer concerned with fixed objects but concepts and illusions of past traditions which have become antiquated in a digital age of constant stimulation.
Haru Kuroki's performance as Nanami Minagawa seems a novel contemporization of famed literary heroines like Jane Eyre or Madame Bovary, women whose feeble attempts at agency (or their idea of romance) become their ultimate undoing. Nanami is an infuriating figure of passivity, a silent witness to her own experience, who finds a price must be paid for the 'ease' she enjoys. Of course, Iwai's title is an obvious nod to the iconic Washington Irvine figure, about a man whose shirking of responsibility leads to a magical sleep of twenty years, from which he reawakens to find a culture he no longer recognizes or comprehends. Nanami seems to have woken up into a new world of interconnectedness, but one which she doesn't know how to navigate.
Eventually, we do finally learn about Amuro's intentions with Nanami, but not until a protracted third act involving Cocco (who headlined Shinya Tsukamoto's Kotoko, 2011) as a secretive porn star in significant trouble and an affinity for the same bygone emotional connections as Nanami, dominates the film. When Nanami cries for her new-found friend in a tender moment, Cocco's Mashiro cries, "I could give anything for these tears. I could even give you my life."
A tangential motif concerning exotic but poisonous aquatic animals stored in the palatial estate recalls those glowing jellyfish of Kiyoshi Kurosawa's Bright Future, in which two men become violently intertwined—the prospects for Mashiro and Nanami are equally dire. It's eventually revealed Nanami has been an unwitting participant in a complex, bizarre plot of emotional manipulation—yet it's something she could have avoided the pitfalls of had she cared to dig beyond the surface and get to know people, or question their intentions. When her mother-in-law scoffs at her reason for hiring fake relatives at the wedding as an attempt to 'do the proper thing,' Nanami never really realizes that proper thing would have been authenticity, a concept she has forgotten.
As Mashiro is described when her actual profession as a porn star is revealed, "She is an actress, in a way." And so, the increasing alienation and emotional stagnation of social media and networking has also made us forget the necessity of 'acting' in the daily experience of our human lives, which has allowed for Nanami's vulnerability (or predisposition) to a series of untoward happenings. Compelling as it is ultimately disheartening (and endlessly bleak), Iwai's A Bride for Rip Van Winkle is a momentous return to form for the auteur, and an occasion to ponder the predicament of foregoing sincerity for the sake of ease in human interaction.
★★★★/☆☆☆☆☆