Long Day's Journey: Seong-hoon Reaches Amoral High Ground with Spry Action Flick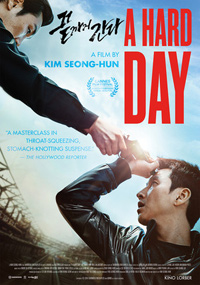 If anything, South Korean director Kim Seong-hoon's sophomore film A Hard Day certainly delivers the promised depiction of the title, tossing his antihero into a veritable maelstrom of predicaments taking on the surreal stuff of what nightmares may come. Walking a fine line between despicable thrills and jet black comedy, there's equal measures of pleasure as far as laughs and tingles of genre go. A few fantastic instances from its expressive first half tend to out shadow the trappings of a familiar scenario in its final stretches, but this is offset by Seong-hoon's fine sense of pacing, even with an increasingly ludicrous stack of occurrences.
Detective Ko (Lee Sun-kyun) is having an epically bad day, beginning with the precarious drive to his mother's funeral. His wife's divorcing him, he's an inattentive father, and in order to avoid running over a beagle, he hits a man standing in the street instead. Rather than report the incident, he drags the dead man's body into his trunk shortly before he gets pulled over for a DUI by a gaggle of rookie traffic cops nearly forcing their way into his vehicle before discovering he's a detective. And then, although he's late to mom's funeral, he discovers it's an excellent opportunity to, you know, dispose of an extra body. Though his villainy is a success, it turns out someone out there happened to see what the good detective did that night and aims to make him pay.
Actor Lee Sun-kyun, star of several Hong Sang-soo films, is initially the energetic force revving A Hard Day into the realm of tense, physical comedy, aided by a score tipping the film into an amusingly debauched portrait of corrupt law enforcement we've seen many times before. But Seong-hoon doesn't seem interested in constructing much of a characterization for the detective, simply tossing him through a never ending obstacle course representative of those inescapable consequences for heinous actions. Or so it initially seems.
While a delightful twist transpires in the last gasps of its final frames, A Hard Day is basically a plain Jane blackmail picture, dominated in its second half by the appearance of the roughly hewn villain played by (Cho Jin-woong), a hardened super-criminal who evades death for an extended bloody face-off. First time DoP Kim Tae-sung manages to capture strangely arresting frames of Seoul amidst all the criminal activity, though Mok Jin-Young's score fluctuates a bit rapidly between levels indicating pulsating thrills with smug bits of silliness.
Curiously, the stakes aren't raised high enough following the film's early spurt of tension because we never really feel invested in Ko's blandly drawn personal life. He's just another crooked cop working the system for his own benefit. However, A Hard Day's lack of moral fiber, clearly evident with its refreshing conclusion, is a welcome reprieve from the conservative censorship lording over other avenues of Asian themed crime capers (think Johnnie To's excellent Drug War, 2012).
★★★/☆☆☆☆☆