My Left Fist: Fuqua's Sports Drama a Familiar, Emotionally Charged Comeback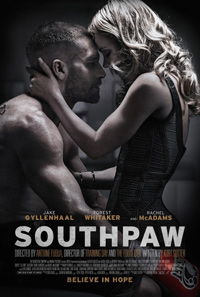 After another recent dalliance in action genre schlock, director Antoine Fuqua returns with the type of cinema he does best—gritty, explosively violent dramatics carried on the weight of strong central characters portrayed persuasively by notable performers. Though this condensed, streamlined character study eschews typical grandiose third act fireworks, and a refreshing lack of a rushed romantic entanglement, its protagonist's challenges often feel easily overcome. This enhances the narrative's predictability and familiarity, even though it's emotionally potent and well-written. Television scribe Kurt Sutter of "The Shield" and "Sons of Anarchy" proves to be as equally adept in his stellar concoction of provocative central characters. However, a handful of supporting figurers played by notable actors are barely introduced, as if they're promised tangents that would've been returned to in longer form narrative.
Boxer Billy "the Great" Hope (Jake Gyllenhaal) is at the top of his game. Holding the top title in his class, married to his beautiful wife Maureen (Rachel McAdams), they live in a colossal home with their precocious daughter, Leila (Oona Laurence). Billy and Maureen grew up together in the brutal foster care system of Hell's Kitchen, with no one but themselves to depend on. Maureen makes all the major decisions for Billy, and she's asking him to take a longer break from fighting, something his manager (Curtis "50 Cent" Jackson) is not keen on. But Billy's world comes crashing down when Maureen is accidentally shot due to a scuffle caused by overly eager rabble-rouser and potential opponent Miguel Escobar (Miguel Gomez). Without Maureen to guide him, Billy spirals out of control, losing all that's dear to him, his home, career, and custody of his daughter.
A striking, muscle bound Jake Gyllenhaal enters the film and tears through it with unbridled fury, and the paltriness of the narrative is easily overwhelmed by his zeal. However, it's an impressive transformative performance, recalling a heyday of adult American cinema, when actors like Pacino and De Niro were dominating conversations on such metamorphic capabilities. Coming off an equally unnerving portrayal in 2014's Nightcrawler, Gyllenhaal continues to surprise and reinvent, turning the nearly laughably named Billy Hope and ripping at our sympathies with brooding, animalistic intensity.
While even the film's trailer gives away the tragic fate of McAdam's character, it's nonetheless a well-orchestrated sequence, followed directly with Billy's requisite fall from grace and inevitable reinvention. But instead of focusing on vengeance or glory, Sutter and Fuqua hone in on his relationship with wounded daughter Leila. Child actress Oona Laurence manages to be Gyllenhaal's on-screen equal here, a performance that should instantly mark her as performer of note. No stranger to dark, foreboding material, having starred in Ross Partridge's indie feature Lamb, as well as Sarah Silverman's daughter in the equally arduous I Smile Back, she's makes a memorable impression.
Forest Whitaker provides solid support as Gyllenhaal's 'saving grace' trainer, though he's not as well attenuated, not terribly far removed from a tradition of magical wise men presented solely to rehabilitate the protagonist. McAdams, with her brief screen time, proves to have considerable chemistry, but often seems more angelic than human. Others flutter about as stock characters, including the capable Curtis "50 Cent" Jackson and Beau Knapp, while the likes of Naomie Harris and Skylan Brooks get handed utterly thankless material to work with.
Fuqua collaborates with DoP Mauro Fiore (who nabbed an Oscar for his work on Avatar) once again, hot off their 2014 rehabilitation of genre fodder The Equalizer. But there's something rudimentary and underwhelming in Southpaw's visual dynamic, a film that only feels alive with any kind of intensity during significantly choreographed boxing matches. But even if the trajectory of Southpaw is limited, this is a welcome return to the Fuqua of the underrated Brooklyn's Finest (2009) and his eternal calling card, Training Day (2012).
If Olympus Has Fallen (2013) and The Equalizer (2014) are guilty pleasure cheese, this sports drama calls to mind his penchant for serious minded sweat and blood, another navigation into the dangerous, unchained territory of untenable masculine aggression, with characters struggling to find a way to control its ebbs and flows.
★★★/☆☆☆☆☆