To the Lighthouse: Aloupis Crafts Woefully Sluggish Tale of Truck Stop Tendencies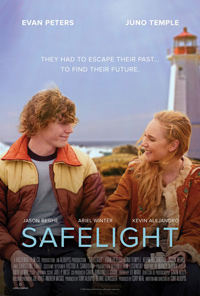 Serving up a generous helping of outsider character study with teenage romance tinged by a demure, rosy hued examination of prostitution is director Tony Aloupis' debut, Safelight, a film collecting a surprisingly talented cast considering its rather tepid platitudes. A 1970s era slice of nostalgic beats, the truckstop set film is neither a notable throwback to the era it wishes to recall nor an engaging examination of disparate souls coming together across the aching chasms of abuse and cruelty they've suffered through.
Disabled teen Charles (Evan Peters) struggles to get through a rather humdrum existence. His mother abandoned him when he was a child, and he's now stuck caring for his ailing father (Jason Beghe) while he works at a truckstop counter under the caring eye of Peg (Christine Lahti). He has a passion for photography, and about the time he enters a high school photo contest, he also comes into the orbit of truck stop prostitute Vicki (Juno Temple), intervening one night as she's being abused by her drunken, shirtless redneck pimp Skid (Kevin Aljeandro). The two become close and help each other realize there's a great big world out there, one that gets better.
Aloupis awkwardly bookends Safelight with a bit of schlocky omniscient narration from Charles, repeating his wisdom about life via photography with the quip "In a darkroom, film comes to life," and "photographs don't lie." Well, actually, they can, at least if context factors into the equation. But Aloupis favors easy, breezy motifs, hence the addition of Charles' photographic adventure involving a tour of local lighthouses, those beacons of 'guiding light' allowing him the time and space to fall in love with Juno Temple's hooker with a heart of gold.
The ever so slightly disabled Evan Peters doesn't quite register as believably handicapped, sporting a slight limp his bullies bellow about so vociferously one would expect him to have leprosy. Had this starred an actual actor with cerebral palsy (the condition Charles is supposed to have, at least in early synposes of the film), perhaps Aloupis would have reached the offbeat 1970s rhythym he's so obviously going for (maybe explaining a mention about a last house on the left?), one of those offbeat, sexually provocative romances, like a pair starring Liza Minnelli, including The Sterile Cuckoo (1969) or Otto Preminger's bizarre Tell Me That You Love Me, Junie Moon (1970). Instead, we have Juno Temple as another waifish, woebegone fallen woman, a transparent photocopy of her more aggressive work in something like Dirty Girl (2010). Her attempts to reconnect with her troubled mother and pampered sisters bogs the film down with unnecessary tangents, especially when the film initially seems to focus on Peters' character finding his voice.
The wonderful Christine Lahti is ever engaging as Peters' caring, soothing boss, a warm maternal figure whose sequences play much more naturally than when he's caring for his ailing father, played by Jason Beghe (who was much more unnerving as himself in Alex Gibney's Scientology doc, Going Clear, 2015). Tiringly familiar, Safelight doesn't do anyone any favors, particularly for Tony Aloupis, lead singer and guitarist of the band Shadows of Dreams.
★½/☆☆☆☆☆