Reviews
A Merry Friggin' Christmas | Review
Blight Christmas: Shapeero's Debut is Not the Most Wonderful Time of the Year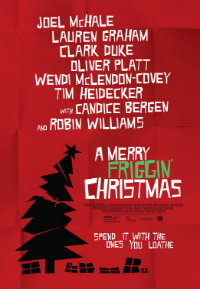 There's a reason why Tristram Shapeero's film debut A Merry Friggin' Christmas isn't premiering around the same holiday it's titled for, and that's mostly because it isn't destined to be regarded as noteworthy even in this built-in celebratory regard. Languishing in the same euphemisms denoted in its title, Shapeero, a seasoned television vet, makes it clear that sights are set in family friendly mode, though this script from first time writer Michael Brown would have been better served on network television with a less aggressive title, so it could be marketed to an appropriate audience of lackluster milksops that require nothing more than tuning in to watch items littered with faces they recognize regardless of the neutered content coming out of their mouths.
Estranged from his father (Robin Williams) for years, hedge fund manager Boyd Mitchler (Joel McHale), is determined to raise his son differently, which means helping the boy (Pierce Gagnon) believe in Santa Clause as long as possible. While life with wife Luann (Lauren Graham) seems reasonably comfortable, a call from Boyd's younger brother Nelson (Clark Duke) causes the Mitchler's to pack up and visit Boyd's family for Christmas, which their mom (Candace Bergen) is thrilled about.
Featuring a very impressive list of notable cast members, overshadowing them all is the presence of recently deceased Robin Williams, here a cantankerous old patriarch that runs a Porta Potty business, and whose alcoholic tendencies blighted his children, apparently irreparably scarring his son by confirming a lack of Santa Clause at a younger than reasonable age. The mere fact that this is the dramatic thrust of the tale says volumes about the cardboard characters Brown has created, lightly spackling on familiar issues to pad out screen time, such as the Mitchler's lagging sex life, which takes a back seat to Boyd's wish to keep his son believing in Santa Claus as long as possible. Of course, it turns out that Williams isn't such a bad father and McHale's son is a bit unreasonable, so everyone ends up happy, years of familial discord healed conveniently by one mad dash to pick up presents left behind.
The high profile cast often works against the film quite violently. Fans of Williams will have to wait for the theatrical release of Dito Montiel's Boulevard to catch a final glimpse of a varied performance from Williams (as it certainly won't be in that final Night at the Museum installment), and a rare appearance from Candace Bergen is shockingly wasted (even if watching her get drunk in an attic with Lauren Graham as they examine Boyd's childhood paintings of Bea Arthur stands as the film's most entertaining moment).
Wendi Mclendon-Covey and Tim Heidecker play the familial weirdoes, though both of them have already appeared in similar scenarios in way too many B-grade efforts already. The increasingly one-note Clark Duke, here a PTSD suffering nitwit who catalyzes the reunion (not unlike how he's used in A.C.O.D. 2013), is insufferable. Tired and uninspired, there's a lot of mileage to be milked from dysfunctional family holiday films, but A Merry Friggin' Christmas is just too F'in lazy and milquetoast to register as more than mere background noise.
★★/☆☆☆☆☆