Peeping Tom: Vigalondo's Virtual Voyeurism Thriller Too Wrapped Up in Tech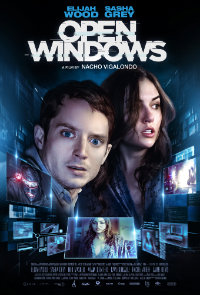 In the barest possible sense, Nacho Vigalondo's latest film, Open Windows, can perhaps be described as Hitchcockian due to the fact that it concerns a voyeuristic male utilizing an opportunity to secretly observe a beautiful female a la a modernized Rear Window sort of set-up. Whether homage or coincidence, parallels with Hitchcock die out past Vigalondo's log line and instead the film becomes yet another vehicle for an Elijah Wood protagonist to be manipulated in highly unlikely and increasingly silly fashion. Though Vigalondo has a rather inspired visual template for the unfolding of the narrative, much like the earlier release of technologically inspired Dutch film App, it's a design that will only serve to hopelessly date the film which relays its tale via webcams in rudimentary form, making it also reminiscent of that multiple simultaneous perspective Mike Figgis film, Time Code (2000).
Nick Chamber (Elijah Wood) runs a website devoted to his favorite celebrity, actress Jill Goddard (Sasha Grey). Having won a promotional contest, he travels to interview the star at the premiere of her new franchise installment in Austin, Texas. But while the press conference transpires for the film, Nick, watching it via laptop in his hotel room, receives a call from a mysterious person named Chord (Neil Maskell). It turns out Jill Goddard, perhaps in her frustration over a sex tape rumor that's being spread as a publicity stunt for her new film, has cancelled the interview. Chord seems eager to influence Nick to take revenge on the ambivalent actress, and actually hacks into her cell phone and cameras at the press conference as Nick watches. Slowly, Chord begins to reveal access to many other aspects of Jill's life, including the hotel room where she is about to meet her lover and agent, directly across from where Nick is staying. Eventually it appears that Chord has a sinister plan, though Nick isn't sure whether he should play along in order to help an actress soon to be in peril.
Vigalondo, with the help of some expert editing from Bernat Vilaplana (who often works with Guillermo Del Toro as well as J.A. Bayona's The Impossible) manages to make Open Windows a uniquely stylized film, to be certain (even if eventual pixelated images meant to grant us visual access to items and people locked in certain places strain the aesthetic), but it seems that style clearly dominates substance.
Wood, often a vulnerable target when he's playing good (one can't forget his turn as the pianist manipulated by John Cusack's sniper in Eugenio Mira's Grand Piano, a film as equally silly but with a certain camp quality), seems mostly unnecessary here, even as concerns the illogical plot. Neil Maskell's (a regular in Ben Wheatley's films) voice has considerable menace, but one has to laugh when he turns to a camera at one point and exclaims with glee "I'm going to make Jillgoddard.com the most famous website in the world!"
Sasha Grey, the infamous porn star that's dipped into narrative cinema thanks to Steven Soderbergh, seems to be the victim of yet another round of stunt casting. Jill Goddard is a hopelessly underwhelming, superficial role, though Grey seems especially wooden when forced to become a spluttering, coy captive in an effort to gain an attempt at escape.
Vigalondo, whose 2007 debut Timecrimes has a definite cult following, is capable of more complicated, fleshed out scenarios. His 2011 alien abduction rom-com follow-up, Extraterrestrial also had actual characterization stapled into its genre façade. But Open Windows is a stretched out gimmick, one hiding its predictability in its flashy visual innovations.
★½/☆☆☆☆☆