Reviews
The Theory of Everything | Review
Scenes From a Marriage: Marsh's Distilled Look at Physicist Stephen Hawking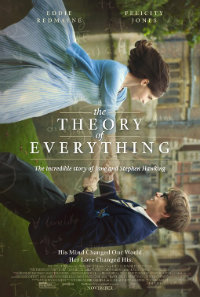 Spanning twenty five years in their lives together and based on the memoir Travelling to Infinity: My Life with Stephen by Jane Hawking, The Theory of Everything is the first major motion theatrical release to explore the life of one of the world's most celebrated physicists, Stephen Hawking, a man with a compelling foothold in the cultural lexicon. As an arena for poignant and impeccably calibrated performances, the film is bound to be highly notable, not unlike a pair of names that overshadowed the significant shortcomings of last year's The Dallas Buyers Club. As directed by James Marsh, the film is something of a crowd pleaser from a filmmaker that vacillates between arresting documentaries (Man on Wire; Project Nim) and brooding cinema (Shadow Dancer and a portion of the BBC Red Riding trilogy). Standardly told, yet executing the complicated parameters and perils of the biopic quite satisfactorily, it may not be as brilliant as its subject, but it's a moving piece of cinema nonetheless.
Beginning in 1963 at famed UK University Cambridge, Stephen Hawking (Eddie Redmayne), a young cosmology student, is considered one of the brightest young minds in the field, mentored by Professor Dennis Sciama (David Thewlis). Just as Hawking begins a tentative romance with arts major Jane Wilde (Felicity Jones), and begins to formulate his first major theory concerning time and black holes, he receives the devastating diagnosis that he suffers from motor neuron disease and has less than two years to live. With Jane's help, Hawking perseveres, marries Jane, pursues his theories, and has a family.
In a performance that's comparable to that of Daniel Day Lewis in 1989's My Left Foot, Redmayne's a shoe-in for major awards contender this season. Though his pal Benedict Cumberpatch has actually portrayed Hawking before (in a 2004 eponymously named BBC film), Redmayne will be the name associated heretofore with the renowned genius. And deservedly so, for it's a well execute portrait of a mind struggling against phsyical deterioration, working against all odds to communicate and sans the forced melodrama of this year's earlier Hilary Swank ALS drama, You're Not You (though a dinner scene with old friends is used in nearly the exact same fashion). And though it often strikes off into the thorny, unpleasant territory of what life can look like in a state of decline, The Theory of Everything still plays somewhat like a nicely dressed example of the ever popular dramatic subgenre, the disease film (Julianne Moore's performance in this year's Still Alice is in a similar vein, and should figure strongly in the actress side of the Oscar house).
Marsh and screenwriter Antony McCarten take great pains to show the actual wear and tear the disease has on the Hawkings' marriage, with both parties growing closer to other individuals as they slowly drift, emotionally, apart. It would be beneficial to have a decent grasp on Hawking and his notable works, such as A Brief History of Time, as the film doesn't spend much time going into his theories, with his mathematical quest to solve the disparity between Einstein's theory of relativity and quantum physics reduced to a demonstration at the dinner table using potatoes and peas.
Otherwise, the film's strengths reside within its incredible emotional finesse and surprisingly enigmatic visual flourishes, Benoit Delhomme's cinematography seeming as if we were awash within the own yellowed memories we're witnessing. Jones, the mistress in Fiennes' The Invisible Woman and the wife in Doremus' Like Crazy (which similarly explores the life and death of a passionate heterosexual relationship) captures Jane Hawking's complicated feelings for her husband, a performance that would generate more attention if it weren't destined to be so overshadowed by the physicality required by Redmayne.
Ending on a rather disappointing crescendo of schmaltz, which has Hawking deliver an eloquent speech followed by a standing ovation of stampeding jubilee, distracts from the overall fine tuning of Marsh's film, but not enough to see the film hailed as anything but a triumph from most camps.
★★★½/☆☆☆☆☆