Reviews
A Night in Old Mexico | Review
Siesta Fest: Aragon's English Language Debut Incredibly Forced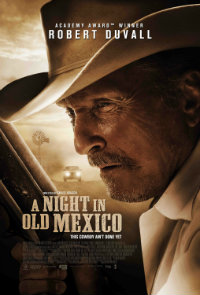 The one discernible reason to watch Cuban director Emilio Aragon's English language debut, A Night in Old Mexico, would be to see star Robert Duvall front and center dancing circles around the cringe worthy supporting cast. To be fair, his is the only character granted any kind of depth, as written by screenwriter William D. Wittliff, reteaming with Duvall for the first time since the memorable 1989 television miniseries, "Lonesome Dove." It's a project that's reputed to be nearly 35 years in the making, but the end product can't quite justify the means with this reunion that feels akin to Duvall's last stint as director, 2002's Assassination Tango (an effort that feels far superior in comparison).
About to lose the property that's been in his family for generations, Texas rancher Red Bovie (Robert Duvall) is contemplating suicide to avoid being forced to live in a trailer park community when his estranged grandson Gally (Jeremy Irvine) strolls into town. Attaching himself to the old man despite the old man's obliviousness attitude towards him, the two take an unexpected road trip into Mexico, where it's questionable who may be babysitting who. Picking up and then ditching some sketchy hitchhikers, Red discovers a stash of cash in a backpack they leave behind in the vehicle, a parcel being trailed by Cholo (Joaquin Cosio) for his sinister boss, Panama (Luis Tosar). But as grandpa and grandson cavort about a border town, they win over Patty Wafers (Angela Cepeda), a bitter singer moonlighting as a stripper to further her stalled career.
As we meet the querulous Red about to lose his property, muttering to God up above just moments before being reuniting with an estranged relative, the film reminds one oddly of the setup of the Bette Davis vehicle, Hush Hush Sweet Charlotte, which saw a similar character feign craziness to hold onto her property, forcing her to collude with her spinster cousin in order to keep the family home. Too bad the similarities end there, for as An Old Night in Mexico trudges forward, a little camp value would have helped relieve the banal predictabilities and unrealistic finale.
While Duvall manages to be entertaining as a sharp-tongued old codger, his Red Bovie is viciously unsympathetic, the kind of patriarchal dinosaur of traditional white privilege that should have died out long ago. If Clint Eastwood's bitchy racism disguised as comedy offended you in Gran Torino, you'll balk at Duvall's barking at a peddler who approaches the duo on the street speaking Spanish. Demanding the man speaks English and not "gibberish," Duvall's Red offers him five dollars if he'll go slit his own throat. Never granted any sort of redeeming factors, despite what we presume is a reckoning moment upon finding out tragic news, we're led to believe this is the man that captures the heart of Cepeda's beautiful chanteuse within mere minutes of meeting.
After watching him bust a few heads in a bar, awestruck singer/stripper Cepeda says, "I've never met anyone like you," and proceeds to attach herself to the senior citizen, telling his grandson that he's the only man that's ever let her feel like herself, or some such awkward drivel which is silly and demeaning (especially after a scene introducing the character in which she has to bare her breasts to a roomful of men that blatantly disrespect her). Duvall feels, at the very least, a decade too old for this romance to be believable.
On top of all this drudgery, Jeremy Irvine of War Horse (2011) fame gives an incredibly forced performance as the grating Gally. There's not one onscreen moment including Irvine that feels comfortable or even natural. Pretentiously opening with the eternal words of Dylan Thomas, A Night in Old Mexico does not go gently into anything, and while Duvall will always be a welcome screen presence, this isn't a vehicle worthy of his time or ours.
★½/☆☆☆☆☆