Paradise Then: Ayouch's Drama Imagines the Making of a Terrorist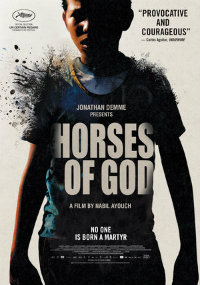 Examining a fictional decade in the life of a group of young Moroccan men that attempts to explain how they came to engage in a terrorist attack in Casablanca in May of 2003, killing thirty three people, director Nabil Ayouch premiered his Horses of God (a euphemism) at the 2012 Cannes Film Festival in the Un Certain Regard sidebar. Now, with director Jonathan Demme's name attached to champion it, the title receives a limited theatrical release in the United States. Likely to remind many of Hany Abu-Assad's 2005 film, Paradise Now, Ayouch and screenwriter Jamal Belmahi take pains to adapt a novel from Mahi Binebine to grant an in-depth understanding of what such a process looks like. Told with care and understanding, it's a believable portrait of the dangerous brainwashing of fundamentalist religion used as a trap for those broken down by harsh realities.
Beginning in 1994, we meet a group of street kids from poor families. Initially, we focus on Hamid (Abdelilah Rachid), a drug dealer who can't seem to make any money because he has to pay off the police so they won't arrest him. Eventually landing in prison, he's no longer around to protect his quiet younger brother, Yachine (Abdelhakim Rachid), who has to give up selling oranges without someone looking out for him. Luckily, Yachine's best friend Nabil (Hamza Souidek) gets him a job working for a shady character named Ba' Moustaffa. During a drunken episode, the mechanic makes a pass at Nabil, which eventually ends in the two youths killing the old man. Frantic, they involve Hamid, who since his release from prison has become eerily serene due to his religious zealotry. Hamid and his brotherhood clear up the corpse, and suddenly Yachine and his friends find themselves getting roped into attending self-defense lessons. It's not long before they too feel at home in an embracing community.
The scenario outlined in Horses of God makes perfect sense, conveying the lack of love and support amidst the toxic hopelessness of a harsh society that causes the anger and bitter results we see here. Religious fundamentalists operate similarly to other cults or hateful groups of humans, easily able to amass new recruits from the broken, abandoned and betrayed masses. Surely, this isn't the scenario that explains the background of every radical or every terrorist out there, nor is it trying to do so.
Wisely, Ayouch's close focus on two brothers lends the film a necessary intimacy, especially as played by a pair of real life siblings. The film tends to falter in other regards, particularly with its unease at the sexual dynamics happening in the narrative periphery. Nabil is portrayed as a rather effeminate young man, and is actually raped by Hamid early on in the film, something never referenced again. Likewise, it's the drunken advances of another closeted gay character that results in the event that finally puts Yachine in harm's way, and, ironically, into the realm that would see him usurp his brother's zealotry (one wonders if the swarthy mechanic hadn't already been having his way with Nabil—but in the presence of Yachine, the only resolution was brutally beating the man to death).
And so, Ayouch seems either uninterested or fearful of properly examining the necessary sexual dynamics that goad the narrative from a distance. Lacking a close examination of these catalysts hinders rather than helps convey a clear understanding of what's exactly at stake for several of the film's supporting characters.
★★½/☆☆☆☆☆