Natural Selection: Shawky Shackled by Straight Story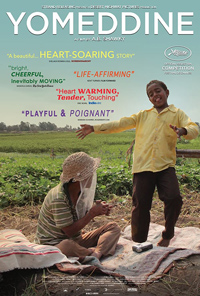 Tackling notions of identity in both a figurative and transfigurative sense, Yomeddine teeters ever so lightly into fable terrain with a spirit akin to Miracle in Milan (1951) and proportionally Tod Browning's Freaks. The antithesis of throw the baby out bleakness of a Bahman Ghobadi's Turtles Can Fly, under the guise of the roadtrip buddy comedy (donkey is the favored mode of transportation here), we could coin Abu Bakr Shawky's feature debut has "hopeful" miserablism, a sincere, well-intention film with an attached quasi cathartic denounement that is simply too rough around-the-edges, formulaic to elicit any kind of emotion response, and cuffed by an overbearing score.
Totally embracing the novel idea of casting leprosy as is, non-actor Rady Gamal as Beshay and Ahmed Abdelhafiz known as a child without an identity but fly-by pseudonyms (the name Obama does stick), are thankfully introduced with what is a pre-established relationship. Doing away with the key motivation to our hero's journey, based on the filmmaker's 2008 short docu The Colony, and working with a title that translates as "Day of Judgement," the idea of orphans is doubled here with this pairing. Despite the age discrepancy, it's a friendship that painstakingly evolves into something a bit more symbolic, perhaps the treasure to be found on garbage mountain is human connection.
The limited range of the key actor is apparent once the novelty of casting in the image of the character wears thin, scenes feel forced and lack the naturalism or the addition of a certain docu-realism aesthetic would have added more depth or better serve sequences that are short in length. While the film does look handsome in parts, Shawky works hard at adding commentary on beauty as unflinching, bureaucracy woes and the Egyptian society of the past as reflected today, but these ideas come across as undernourished.
Look for comparisons to be made with a pair of David Lynch's films in The Elephant Man (facial deformity) and The Straight Story (slow trek with handouts), but for this you-don't-have-to-travel far to find a family narrative to have worked, perhaps contextually reconstituted families deserve more than sugar-coated treatment.
Reviewed on May 9th at the 2018 Cannes Film Festival – Competition. 93 Minutes
★/☆☆☆☆☆