Together Again: Koreeda Unveils another Bittersweet Carefully Constructed Familial Melodrama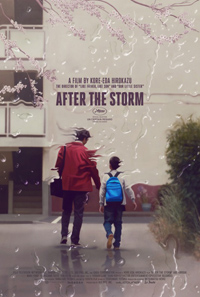 For the past decade or so, Japanese auteur has conquered the market on sharply observed social dramas often featuring families torn asunder by a variety of circumstances, whether beyond their control or due to their own innate human flaws. A perennial festival favorite, sometimes his prolific output is subjected to unfavorable comparison to his more esteemed offerings, and his latest, the quiet but emotionally potent After the Storm is likely to be less well remembered and revered than something like 2008's Still Walking or 2014's Like Father, Like Son. His latest is another portrait of reunion, or, at least the desire for one by a disgraced father struggling against circumstance to convince the ex-wife he loves to give him one more chance. A variety of generously attenuated supporting characters enhances the often amusing yet bittersweet, melancholic endeavor of strong arming one's way into the life they desire.
Once a promising novelist and now struggling to make ends meet as a private investigator (an occupation apparently viewed with notable disdain), divorced dad Ryota (Abe Hiroshi), professes to use his current employment as a ruse to research his next novel but gambles away his earnings. In reality, he's not published anything in fifteen years, chasing a non-lucrative dream which was one of many reasons which led to the dissolution of his marriage to Kyoko (Maki Yoko), a woman he still loves. The recent death of his father and Kyoto dating other men forces Ryota to reconsider his options. Attempting to make a more valiant attempt to reconnect with his twelve-year-old son Shingo (Yoshizawa Taiyo), and aided by the well-meaning manipulations of his mother (an endearing Kiki Kilin), Ryota seizes a chance opportunity to remain with his family as a typhoon sets down and drives them all under one roof, forcing them to remember good times, and allowing father and son to bond.
Those familiar with Koreeda's cinema will instantly recognize the similar themes, fleshed out by actors he's used before. A bedraggled Abe Hiroshi (who starred in Still Walking) provides the film its shining hour as a sensitively and poignantly rendered father trying to pursue his creative dreams and keep his family together. When he's not stealing moments with his wife or son, Hiroshi's Ryota struggles through the denial of his current state at work, forced to engage in acts and the exchange of information which only serve to drive other families apart rather than keeping them together. These passages are sometimes cynical, yet upbeat, and provide After the Storm with insight into his character's struggle to keep going. "Every year men are becoming less manly," he observes in response to his boss's (a streetwise Lily Frankie) derisive outlook, his way of rationalizing the modern state of things, their business, and perhaps his own lack of motivation in a world which hasn't seemed to dole out many favors. Exchanges with fleeting characters reveal his celebrated novel, The Empty Table, was a familial drama about a troubled family, and Ryota was praised for his realism, although an interaction with his bitter sister suggests this was what his upbringing was actually like. Unable to properly secure his own familial unit, he wasn't able to write a sophomore novel because he failed at the very stage he was trying to draw inspiration from.
As Kyoko, Maki Yoko (of Like Father, Like Son) is shown to be more pragmatic, her interactions with her ex-husband based solely on monetary exchange. His withholding of child support only means more interactions he can steal with his son, much to her chagrin. Yoko's best moments are shared opposite Kiki Kilin (who recently gave an equally poignant performance in Naomi Kawase's Sweet Bean, and has starred in a number of Koreeda's film, including I Wish and last year's Our Little Sister), who treats her like a daughter. Most of Kilin's moments are graced with a mischievous nuance ("New friends at my age only makes more funerals," she flippantly observes).
Typhoon season provides After the Storm with a fitting metaphor. Peripheral conversation implies it's been an unusually blustery time of year, with so many typhoons they've merely been assigned names as residents routinely batten the hatches and hunker down. Much like the stormy exchanges between loved ones, there are, at times, too many to count or record properly. But as Koreeda's title indicates, it's those moments shortly after the deluge, in the hopeful glow of getting back to a semblance of comfort and normalcy, even when it's not entirely the desired outcome, these are often the poignant, memorable moments.
Holed up in an outdoor children's playhouse, just as his own father used to do with him during storms, Ryota, Shingo, and Kyoko share a meaningful exchange. While none of them may have achieved the outcome they've set out for, it's a testament to enjoying spontaneous moments, those bits of life happening in-between the displeasure with the present and the fantasy of the future. Surely one of Koreeda's subtlest exercises on the tenuousness of family to date, it is also one of his best.
★★★★/☆☆☆☆☆