Fallen Leaves | 2023 Cannes Film Festival Review
All the Leaves Are Brown: Kaurismaki's Song for the Lonely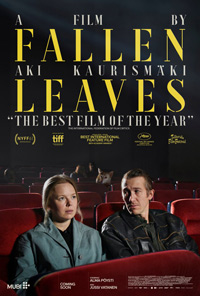 Finnish auteur Aki Kaurismäki adds a fourth chapter to his thematic Proletariat Trilogy with Fallen Leaves, a deadpan love story imbued with all his customary trembles of curt communications he's known for. It is perhaps his most generously romantically upbeat film since Shadows in Paradise (1986). Paying homage to several classic films, Kaurismäki folds some fresh faces into his milieu as the leads, including Jussi Vatanen and up-and-coming star Alma Pöysti (Tove, 2020) alongside a handful of usual suspects.
The story is customarily simple, two alienated, lonely people finding each other by chance and then repeatedly pulled apart in the bleak, cruel working class world of modern day Helsinki (though a calendar suggests the year is 2024, these folks still listen to radios and use rotary phones). Kaurismäki tends to write love stories like haikus, measured in short, staccato beats while utilizing sparse gestures to convey the universality of these experiences. More droll than ever, it's a hopeful film about finding help and being seen in the world of lengthening shadows.
Ansa (Pöysti) is a single, reclusive supermarket employee in Helsinki. Caught taking home expired goods, her zero-hour contract is immediately terminated. She uses her last eight euros at an internet cafe to find an opening as a kitchen aid at a sketchy watering hole called the California Pub, but the owner is arrested for drug dealing before she gets her first check. During these transitions, she has a chance meeting with Holappa (Jussi Vatanen), a depressed alcoholic who keeps getting fired from various factories for drinking on the job. But they share a mutual attraction, and a movie date finds Ansa leaving Holappa her phone number. He immediately loses it and they never exchange names. As fate would have it, they meet again, both routinely stopping by the theater where they'd last seen each other. An ensuing dinner date ends disastrously when Ansa confronts him about his alcoholism. As time passes, and Holappa's circumstances worsen, he decides to sober up. However, their reunion is not one destined to be effortless.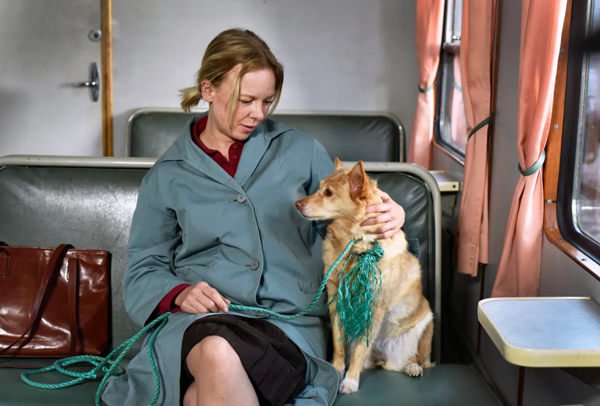 A little bit Lady and the Tramp (1955) meets Leo McCarey's Love Affair/An Affair to Remember films, Kaurismäki opens up the palette of cinematic influences to characterize Ansa and Holappa. Their first official date finds them at a screening of Jarmusch's The Dead Don't Die (2019), a director who shares a mutual reverence for Kaurismäki (and even appeared in 1989's Leningrad Cowboys Go To America), but the couple is seemingly immediately cursed by the leering poster art of David Lean's Brief Encounter (1945). Bresson's L'argent (1983) and the late appearance of a rescue dog named Chaplin adds to this stack of reference points.
And yet Fallen Leaves is most assuredly a greatest hits culmination for Kaurismäki, utilizing the sterile, dehumanizing backdrops of the grocery store and various laborer/industrial positions as the breeding grounds for desolation. Much like the immigration crisis framing Le Havre (2011) and 2017's The Other Side of Hope (Sherwan Haji, the lead in that film, shows up in a supporting role), contemporary miseries frame the bittersweet storyline, namely the ongoing war in Ukraine. Janne Hyytiäinen of Lights in the Dusk (2006) and Kaurismaki regular Sakari Kuosmanen are also on hand for customarily droll support. Adding to this is the lovely Maria Heiskanen (of Jan Troell's 2008 Everlasting Moments) making an appearance. Karaoke aș a dramatic catalyst and a live musical performance are integrated admirably, including a handful of old Finnish love songs, often with fascinating lyrical content ("leave your scabby wounds alone" might be the winner).
But it's successful simplicity rests with Jussi Vatanen (a dead ringer for a young David Lynch) and an incredibly touching Alma Pöysti, nailing Kaurismaki's tone of emotive performances flourishing in the film's silent moments.
Reviewed on May 22nd at the 2023 Cannes Film Festival – Competition. 81 Mins.
★★★★/☆☆☆☆☆