Au Pair Affair: Thompson and O'Sullivan Present Warm Debut with Body Positive Dramedy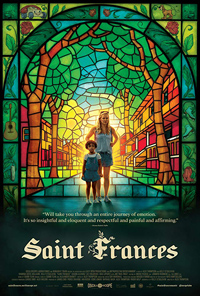 There's much to be said for an authentic, well-calibrated scenario, whether or not its message or narrative formula are familiar or predictable. A stellar example of this is the directorial debut of Alex Thompson, Saint Frances, the title a gender switch on Catholic saint, Francis of Assisi. Penned by and starring Kelly O'Sullivan, their final product is a formidably cathartic and meaningful portrait of a thirtysomething young woman whose post-collegiate drift finally comes to an end one summer as a reluctant babysitter. Universal issues on class, gender and the continuing importance of women's rights over their own bodies craft a meaningful, albeit familiar light melodrama.
Bridget (O'Sullivan) seems to be in a rut. Defined by all the things she hasn't accomplished by the age of thirty-four, little does she know the transformative summer in store for her when she accepts a nanny position for Maya (Charin Alvarez) and Annie (Lily Mojekwu) to look after their daughter Frances (Ramona Edith Williams) as they tend to having their second child. At the same time, Bridget discovers she's pregnant after a tryst with twenty-six-year-old Jace (Max Lipchitz) and has an abortion. As the summer progresses, Bridget begins to tune into her body and emotions through the relationships she develops with Frances and her parents.
O'Sullivan has fashioned a standout characterization for herself, and Bridget's evolution from embittered thirtysomething to a more fully realized persona helps smooth over the film's slight shortcomings (as the titular Frances, Ramona Edith Williams is a cute screen presence but often becomes another cliched precocious child stereotype). Brief but meaningful characterizations for Charin Alvarez and Lily Mojekwu are understated and affirming, as well as newcomer Max Lipchitz as Bridget's younger potential love interest. All in all, Saint Frances compares favorably to Gillian Robespierre's Obvious Child (2014) and will hopefully be greeted with the same enthusiasm as its premiere at SXSW in 2019 where the title took home the Audience Award and a Special Jury Award.
★★★/☆☆☆☆☆