If I Want to Whistle, I Whistle: Porumboiu Goes Mainstream with Neo-noir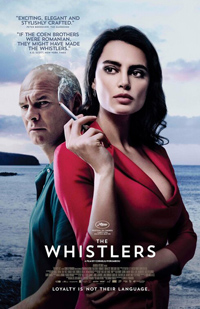 Romanian New Wave alum Corneliu Porumboiu makes a marked departure with his latest feature, The Whistlers, a jaunty neo-noir exercise about a corrupt policeman ensnared in a tricky scheme, albeit one presented as more complicated than it really is. Known for his significant word play from past titles such as Police, Adjective (2009), When Evening Falls on Bucharest or Metabolism (2013) and 2015's The Treasure (review), his latest (co-produced by Maren Ade, among others) replaces his loquacious ruminations with a non-linear, constantly back-tracking chapter narrative which forces the audience to piece together a puzzle which sometimes seems to be missing some pertinent information. While the jazzy editing prizes style over substance (like a character in Quentin Dupieux's Deerskin presents an off-handed comment on how re-editing Pulp Fiction into linear order would remove its novelty, to say the least), Porumboiu sketches a fast-paced genre exercise with snatches of his droll humor allowing for several stand outs sequences.
Cristi (Vlad Ivanov), a Romanian police officer who works as a whistleblower for the local mafia, has landed himself in a peculiar situation. A gorgeous, mysterious woman named Gilda (Catrinel Marlon) has tapped him to help Zsolt (Sabin Tambrea) escape from a prison on the island of Gomera, which requires he accompany her to the island to learn their complex local language, which consists of whistling (he must also learn to how whistle in both Romanian and Spanish). Quickly we learn there's much more to the story here—Gilda is Zsolt's girlfriend, and his mattress company was a front for laundering. They work for mobster Paco (Agusti Villaronga), who is none too happy to learn the couple had been planning on absconding with his cash before Zsolt was nabbed by the cops in a sting which Cristi had a hand in orchestrating. Unfortunately, Cristi's boss Magda (Rodica Lazar) also has an idea of what he's been up to.
Vlad Ivanov, the noted Romanian character actor perhaps best remembered as the cruel abortionist in 4 Months, 3 Weeks and 2 Days (2007) is well-cast, for once, as a lead protagonist. At the same time, his allegiance to certain parties in the film's myriad of competing players is sometimes questionable (or, vice-versa, their affinity for him), which leaves a desire for the revelation of some missing sinews. But no matter—he's just a regular guy looking out for himself who gets a bit hung up on a lethal femme fatale, the aptly noir-named Gilda, played by the incredibly striking Catrinel Marlon (sometimes a dead ringer for Nina Hoss). Marlon is joined by two other delicious female characters in Porumboiu's script, including his well-intentioned mother and his crooked boss, Magda (a flame haired Rodica Lazar). With the exception of director Agusti Villaronga (of In a Glass Cage fame) as Paco, the veritable head of the snake, the male supporting characters pale vastly in comparison to the flashy female characterizations in The Whistlers.
A pop-infused soundtrack paired with DP Tudor Mircea's vibrant cinematography adds to a lavish exoticism with the film making excellent use of La Gomera, which we're told is the hidden jewel of the Canary Islands. And yet, the most pronounced aspect of the film is the island's local language, a sort of Morse code through whistling, which Cristi must learn in record speed in order to assist in breaking Zsolt out of prison. One wishes there had been more painstaking focus on the more innovative aspects of elements in Porumboiu's plot, which unfolds so rapidly and switches back and forth intermittently enough to sometimes disguise plot holes.
Entertaining but somewhat of Porumboiu's usual prized idiosyncrasies and self aware to a fault, The Whistlers is certainly Porumboiu's most mainstream offering to date, as well as the first bona fide art-house Romanian genre exercise. Ask it no questions, and it well tell you no lies—however, as going beyond its superficial narrative will reveal, it's merely a gorgeously photographed noir exercise mounted on genre staples.
Reviewed on May 18th at the 2019 Cannes Film Festival – Main Competition. 97 Minutes.
★★★½/☆☆☆☆☆