Follow the Celluloid Road: Philippe Explores the Magnificent Ozsessions of David Lynch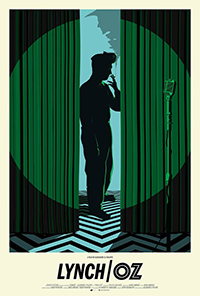 The next best thing to a new David Lynch project has to be a deliberation or meditation on the director's body of work, which is exactly what documentarian Alexandre O. Philippe presents in his latest cinematic exploration, Lynch/Oz. Tracing parallels with and references to Victor Fleming's enduring 1939 classic The Wizard of Oz as a sort of rudimentary road map through the progression of Lynch's filmography, it's an often compelling, always engrossing recap of the auteur's penchant for exploring the inherent nightmares lurking somewhere over the rainbow.
Although making more generalized statements reflecting on the inherent meta textual connections Lynch has built into his own enigmatic oeuvre, there's a lot to chew on thanks to the love and admiration of the fellow filmmakers and enthusiasts clearly excited to share their reverence for an idiosyncratic master.
At first, Lynch/Oz promises to be a more rigid examination on specific motifs thanks to the opening segment on "Wind" narrated by Amy Nicholson (who also happens to sound the most scripted, though she's clearly come fully equipped with evidence to guide us through her connective tissue), more along the lines of Philippe's breakthrough doc 78/52: Hitchcock's Shower Scene (2017). But there's no containing the world of Lynch, at least not as far as simplistic thesis statements go.
Like a Russian doll of labyrinthine subtexts, we have to approach his filmography from all sides, despite a suggestive yellow brick road of sorts where elements from his first several features swirl into the feverish diegesis of Wild at Heart and then blow up through nightmare regurgitations of Dorothy and Oz in Twin Peaks, Lost Highway, Mulholland Drive, Inland Empire, and at least as one narrator puts it, a sort of apotheosis in Twin Peaks: The Return (2017) – which is convenient seeing as Lynch hasn't delivered anything since.
While Nicholson settles into wind as the harbinger of psychogenic fugues, Rodney Ascher continues with "Manifestations," citing extra textual examples, like Arthur Penn's The Miracle Worker (and although it's not stated, the suggested connection of Anne Bancroft in The Elephant Man), Kubrick's Lolita and Robert Zemeckis' Back to the Future (1985) as Lynchian texts.
The effervescent and droll John Waters explores "Kindred," drawing, perhaps unconsciously, parallels with the messaging of his own connectivity to Oz and the mutated innocence of Lynch's femme protagonists. Perhaps most touching is Karyn Kusama with "Multitudes," excitably recounting and exploring her responses to Mulholland Drive, what she sees as the direct inverse of Oz and Lynch's continual fascination with 'the story outside the story.' Also compelling are Justin Benson and Aaron Moorhead, tackling "Judy," and inserting a sense of reception theory between Judy Garland as Dorothy and how her star persona has furthered readings of not just Oz but the perverting power of Hollywood.
Citing Lynch as a director who's 'remixing Oz' with its underlying noir elements (the forgotten 1941 Betty Grable led film noir I Wake Up Screaming and its borrowing of the Oz theme provides interesting evidence of cultural subconscious merit), they also compare Coppola and Scorsese cornerstones. But what's most interesting is how Lynch fosters a bizarre intersection between the queer reverence for Garland (whose death is rumored as fostering the indignation which fueled the Stonewall Riots in 1969) and an adjacent heterosexual obsession with Garland, Dorothy and the Land of Oz.
David Lowery also throws in his thoughts in the segment "Dig," exploring his own fascinations with Oz (which he originally experienced on television in black and white), and how Lynch explores the same sense of wonder Victor Fleming delivered, only from a nightmare shaded lens. Ever the auteur obsessive, Philippe ends with a montage of clips from the films of Jane Campion, Abbas Kiarostami, Spike Lee, Alfred Hitchcock, Wong Kar-Wai and Michelangelo Antonioni to suggest our subconscious connections, inspirations and reconfigurations are ever present.
Reviewed on July 16th at the 2022 Tribeca Film Festival – Spotlight Documentary section. 108 Mins.
★★★½/☆☆☆☆☆