Tell Me That You Love Me, Nora Moon: Song Explores Destiny and Longing in Potent Debut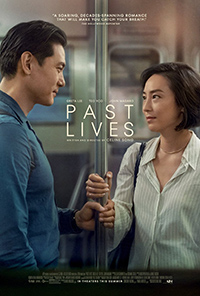 Romance cut short before it reaches full bloom is often more powerful than love allowed to run its inevitable trajectory, where unsatisfied yearning is crystallized into powerful projections. Such is partially the essence of playwright Celine Song's simple but emotionally affective debut, Past Lives, playing with the Korean notion of in-yun, where even the slightest interaction between two people indicates an association shared in a previous existence. While on paper, Song's film would appear to be a love triangle, it's instead a strongly characterized portrait of two people whose initial attraction creates a vortex of longing in their lives.
Song's beautifully crafted script is balanced on the shoulders of lead Greta Lee, whose navigation of this yearning is both universal and specific to the complexities of being Korean-American. Neither melodramatic nor maudlin, Song's poetic precision conveys experiences we may all be familiar with but are often the most difficult to express so astutely, if only because we are so inarticulate in the communication or processing of such emotions.
Na Young and Hae Sung are childhood sweethearts in Seoul whose relationship abruptly ends when Na Young's parents immigrate to Canada. Twelve years pass, and Na Young has become Nora (Greta Lee), living in New York as a playwright. On a lark, she happens to look up Hae Sung (Teo Yoo of Kirill Serebrennikov's Leto, 2018) on FaceBook and is pleased to see he'd also been trying to find her. They enthusiastically embark on a flirtation, but neither of them really has the time to drop what they're doing for a visit. Hae Sung is studying engineering and must spend time in China to learn Mandarin. Nora has been accepted at an artist residency in Montauk. The situation allows for the dissipation of their reunion. Twelve more years pass, and Nora, now married to Arthur (John Magaro), a writer she met in Montauk, is finally about to see Hae Sung face to face while he visits New York. But both their current circumstances complicate things.
While Past Lives may present a scenario we've seen plenty of times before, rarely has it been navigated so soberingly from a woman's perspective who is not an object to be obtained. Nora Moon is presented as ambitious, but pleasantly even-keeled, having worked hard to get where she's at, and whose sensibilities are partially why it's been twenty-four years since they last met in person. Likewise, Hae Sung, as he commonly refers to himself, is ordinary and responsible. The film opens with a magnetic scene as offscreen outsiders amuse themselves by pondering the relationship of three people at a bar, a sequence we return to much later aided with compounded emotional baggage. Song presents the childhood sequences of Na Young and her artistic parents with equal warmth and detail, Leonard Cohen's "Hey That's No Way To Say Goodbye" a sort of foreboding clue to the essence of the film.
The first jump to twelve years later lays the groundwork for their vibrant virtual reunion, a montage of sequences where they Skype and call one another daily, taking care to fit one another in despite the time change. But they're both committed to studies which would delay either of them meeting in the near future, leading Nora to suggest they take a break until meeting in person is feasible. Both of them primed for a romance they cannot have with each other leads to the inevitable, and relationships with partners in their propinquity develop.
The film's most powerful moments arrive when they finally meet, now no longer children and both with something to lose. Song constructs two incredible sequences in the third act, the first between John Magaro and Greta Lee, where an anxious husband expresses quite endearingly his feelings for his wife. The second is where we return to the bar, with Nora and Hae Sun conversing in Korean, mourning a love that could have been but wasn't meant to be. It's where Past Lives delivers the same level of potency found in David Lean's eternal classic, Brief Encounter (1945), at least as far as doomed romance goes.
But there's an additional level of yearning, as well, thanks to other cultural specificities. Goran Stolevski's recent Of An Age (2022) does something similar between two gay men whose formative romance is cut short. And not unlike a more agonizing turn from Park Ji-min in Return to a Seoul (2022) as a French-Korean woman who seeks out her birth parents to address a similar sense of 'what could have been,' Greta Lee's Nora taps into unexpected aspects of her identity. Since the tension Song builds is never predicated on whether Nora will actually leave Arthur as she's committed to loving the one she's with, an entirely different apprehension exists in the final frames, which blossoms into its own kind of bittersweet experience.
Reviewed on February 19th at the 2023 Berlin International Film Festival – Competition section. 105 mins.
★★★★/☆☆☆☆☆