Almost Interesting: Sam Neave's Latest Technically Impressive, Dramatically Impotent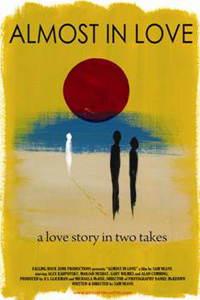 Coasting along on a matter of style over substance is Sam Neave's latest film, Almost In Love, in which the indie director pulls a Rope (1948) and presents us with a film shot entirely in two continuous 40 minutes takes. Of course, similar feats have been done recently, such as both versions of the recent Silent House (2010, 2011), which were both filmed in one continuous take, and, to greater success, Aleksandr Sokurov's Russian Ark (2002). But for all of the technical prowess on display here and in other mentioned titles, more often than not, we tend to focus more on flaws and sometimes awkward flourishes that would have been more easily avoided in multiple takes.
Sasha (Alex Karpovsky) is in the midst of holding a dinner party at his Staten Island apartment, which boasts a glorious view of the Manhattan skyline ("What is this, Cannes?" asks an incredulous guest) from a spectacularly proportioned plateau of a balcony. Banal and overtly pretentious conversations ensue as the sun sets, including discussions on baseball and Ted Williams. A guest pining for an old flame in Florence references Kramer Vs. Kramer. Meanwhile, Sasha is still stuck on Mia (Marjan Neshat), who is set to arrive any minute. Drama quickly flares when Kyle (Gary Wilmes) gets invited innocently by another guest. It turns out Sasha and Mia never worked out because she had a fling with Kyle….who has since moved on to another woman, as is his tendency. With passion and alcohol aspirating, arguments flare and Sasha declares his continuing love for Mia.
Fast forward a year and a half later to Sasha's wedding party late at night somewhere in the Hamptons. While Mia is there, she's not the bride, as he instead married Faye (Gretchen Hall), who has passed out before coitus. Trundling down the stairs to the remaining inebriated guests, Sasha interacts jovially with all, including Kyle and Mia's new beau, Hayden (Alan Cumming). Rambling conversations ensure, culminating in an awkward moment where Sasha attempts to push Mia and Kyle into a romantic entanglement once again.
Beginning like a Whit Stillman scenario, the lazily drifting camera work recalls Woody Allen and even Robert Altman, picking up snippets of camerawork from the party attendees. However, the likeness ends there, specifically when each take runs out of steam. While Daniel McKeown more than surpasses a vicious test of his cinematography skills, one cannot overlook the excellent performances of the cast, who, for the most part, manage to appear quite naturalistic. Neave wrote a screenplay, but it's clear that there's also quite a bit of improvisation going on as well. But even with talents like Karpovsky, Neshat, and Cumming in a brief stint all doing their best, no one's embodying a character worthy of any particular interest, and they're not allowed to build characterizations beyond the limits of the social gatherings they're sewn into.
While the first half of Almost In Love does hold considerable promise, it falters significantly in the second half where we simply are privy to annoyingly drunken people having conversations we wouldn't want to listen to even if we were there with them.