The (Ex)perience of Love | 2023 Cannes Film Festival Review
Let's Talk About Ex Baby: Balboni/Sirot Need A Lot More Lube for Rom Com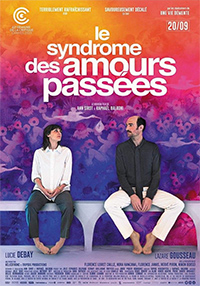 Containing enough notable moments that when stacked together would have worked wonders in the short form, Belgian filmmaker tandem Ann Sirot and Raphaël Balboni's sophomore feature has trouble maintaining a funny bone-type erection for the film's entire runtime. Exploring a zany double account of sexual history revisited, Le Syndrome des Amours Passées (aka The (Ex)perience of Love) reminds us of sub-genre film narratives about couples in dismantle mode due in part to unique or ethically bizarre therapy premises a la works of Gondry and Sophie Barthes. Two-stepper birthday suit-wearing thesps Lucie Debay and Lazare Gousseau do commendable jobs with the one-note off-kilter rom-com but the net result is a thin storyline that is too dependent on quick improvisational-like edits to maintain the laughs.
Not quite middle-aged, yet in a bit of a stagnant rapport, Rémy and Sandra are trying to add a new member to their household but for whatever reason the sum is zero. According to their fertility clinic doctor/specialist they have PLS which is short for Past Love Syndrome. The solution comes not in pill form or requires some medical intervention but rather, they must find sleep with your execs. Every single one of them. After joggling the memory let's just say that one has more homework than the other – or so it might seem and hence we are presented with this clueless twosome who are apt at driving a wedge within the couple. Feelings are hurt, multiple truths co-exist and they haphazardly return to why or if conceiving a family was even a sound idea to begin with. The idea of wearing zoology-type masks further pushes the idea of wearing multiple personalities.
In the same style as the 2020 comedy Madly in Life, Sirot and Balboni's working methodology consists of leaving a bit more creative space and comedic timing experimentation for their players. This employed with a handheld shooting style and abrupt editing allows the schtick of Debay and Gousseau to bathe in the natural and possibly unscripted which only means some funny moments are segued alongside dry spells – essentially the silly switch is unbalanced.
There is certainly a nice subtext about the definition of family and modern societies' larger acceptance of recomposed families, but this appears late in the film and a bit rushed – and though inventive and owning its small scale feel (the filmmakers particularly like to dream up what sexual partners looks like and use extreme low-budget interpretive dance for other types of pairings), it feels like Le Syndrome des Amours Passées meanders along, recycling itself rather than working towards a satisfying orgasmic crescendo.
Reviewed on May 20th at the 2023 Cannes Film Festival – Critics' Week (Special Screening). 89 Mins
★½/☆☆☆☆☆