Aurora Borealis | 2017 Warsaw Film Festival Review
Daughters of the Dawn: Meszaros Examines Painful Period with Reconciliation Drama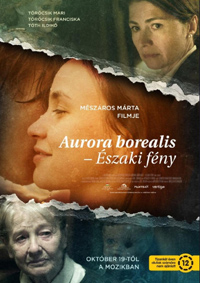 Hungary's cinematic canon can't be discussed without a deliberation on the importance of Marta Meszaros, credited as the country's first woman director (with 1968's The Girl), and until Ildiko Enyedi's 2017 On Body and Soul, was the only Hungarian Golden Bear winner out of the Berlin International Film Festival with 1975's Adoption. A trailblazer since beginning as a short film director in the 1950s, Meszaros has quite the prolific filmography, taking home the Grand Jury Prize at the 1984 Cannes Film Festival for Diary for My Children, as well as major awards out of San Sebastian (1978's Just Like Home) and Venice (1995's The Seventh Room). For her first feature in five years, Aurora Borealis, Meszaros delves into the dark period of post-WWII dealing with Soviet sired children in Austria, who were born either as the result of rape or illegal relations between Red Army soldiers and women trapped in occupied zones. Framed through the lens of her favored platform, a complex familial melodrama, Meszaros paints a sobering portrait of painful reconciliation, a solid addition to the auteur's sixth decade of filmmaking.
Successful attorney Olga (Ildiko Toth) is a successful lawyer and woman of independent means living in Vienna. When her mother Maria (Mari Torocsik) unexpectedly falls into a coma, Olga must return to Hungary to deal with the situation. Quickly, she realizes something amiss after her mother's muttering about a letter. As she begins to dig through Maria's belongings, Olga starts to uncover a traumatic past relating to her birth. Having been told she had been born in a convent after her father had been killed, Olga is able to piece together a much more complex puzzle with the help of Maria, who wakes up from her coma and acquiesces to facing the past.
Although war-time atrocities related via flashback has become the gold standard in contemporary considerations of characters grappling with and comprehending the experiences of their elders, Meszaros (writing alongside debuting screenwriters Jancso Zoltan and Pataki Eva) manages to strike at the heart of the matter thanks to some stellar work from Hungarian icon Mari Torocsik. Having taken home a Best Actress win at Cannes in 1976 for Mrs. Dery Where Are You? and a special mention for her work in Karoly Makk's revered Love (1971), Torocsik has been a notable screen presence for as long as Meszaros has been a director. Their union here is notable achievement, and Torocsik's subtle moments shared with Olga Toth (who resembles a Hungarian Dana Delany) in the film's third act are among the film's strongest. Less ambitious are the 1950s set sequences which thrust Franciska Torocsik, (no relation to the elder actress, but who might be recognizable to US audiences as the captive girl in Fede Alvarez's Don't Breathe) playing the younger version of Maria, whose harrowing journey is unveiled simultaneously to Olga and the audience.
Aurora Borealis aims to weave subtexts through its titular use of the astronomical phenomenon (which gets its own fantastic set-piece late in the film), by referencing the Roman goddess of the dawn, a deity whose lineage varies across sources. If the film is sometimes a bit orthodox in its presentation, it is also never overtly sentimental.
In a glut of recent international renderings of WWII reminiscences infecting the troubled subconscious of the modern age, Aurora Borealis lies somewhere between the exploitational pull of a Sarah's Key (2010) and the gold standard of Pawel Pawlikowski's Ida (2013). Like Anne Fontaine's recent The Innocents, which focuses on a group of French Red Cross workers assisting a group of pregnant Polish nuns as they near childbirth following liberation in 1945, Aurora Borealis reveals the considerable taboo of sexual trauma as a casualty/reality of war and its ripple effects, here examining a specific place and time where many members of a surviving generation struggled with undiscussed woe and resulting 'children of the enemy.' Meszaros makes good use of a scenario juxtaposing both sides of this dilemma (relying on a genre twist which recalls the Mary Higgins Clark novel The Cradle Will Fall), but is perhaps most interesting as a conversation piece with her 1980 film The Heiresses, a Cannes competing title which remains unavailable in the US. Starring Isabelle Huppert and Lili Monori as two women who develop an interesting exchange with Jan Nowicki (in the John Steinbeck Burning Bright or Amy Poehler/Tina Fey Baby Mama way), Meszaros focuses inversely on the troubling emotional scenarios of women and their children thanks to the crushing onslaught of wartime realities specific to the Nazis and then occupying Soviet soldiers.
While deserving of a splashier berth which would have ensured it a better chance at US distribution (playing in festivals out of Luxembourg and Poland before a domestic release in Hungary), Aurora Borealis is a welcome new venture from the Hungarian vanguard.
Reviewed on October 13th at the 2017 Warsaw Film Festival – Special Screenings Program. 104 Mins.
★★★/☆☆☆☆☆