Reviews
Before I Disappear | Review
The Sting Called Love: Christensen's Debut Rife with Melodramatic Cliché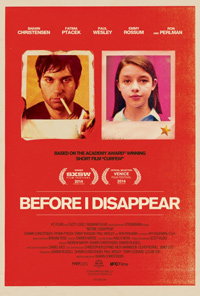 Shawn Christensen, who won an Academy Award for his 2013 short film, Curfew, expands his award winning triumph to feature length with Before I Disappear. Something gets a little lost in the translation, however, in this tale about a vagabond hipster loser who actually inspires less empathy the more time we experience his dilemma on screen. It takes the right blend of melancholy personality to strike the correct balance of the loveable, love-struck loser (i.e., Joaquin Phoenix in Her) and Christensen, who casts himself in the lead, doesn't feel quite right, though character and narrative development are partially to blame for the ambivalence as well. It's a tale that requires a strong, emotional component to be successful, and its glaring absence only becomes more and more apparent as it shuttles us off into the vacuum of the hopeful ending.
A recovering addict who works as janitor in a seedy bar run by Bill (Ron Perlman), the down and out Richie (Shawn Christensen) is on the cusp of hitting rock bottom, all alone after a fizzled out relationship with Vista (Isabelle McNally), the love of his life. After discovering a dead girl in the bathroom stall early one morning at work, which is hushed up by Bill, Richie, whose debt is plaguing him, decides to slit his wrists in the bathtub. But before he can complete the job, a phone call from his estranged sister, Maggie (Emmy Rossum), who he hasn't spoken with in years, changes his mind. It seems Maggie, a high strung go-getter whose teenage pregnancy resulted in the now preadolescent Sophia (Fatima Ptacek), is in some kind of mysterious trouble with the law, and she needs her deadbeat brother to go fetch Sophia from school. As the day wears on, it's apparent Maggie will not be returning for the evening, and a strange blonde woman trying to get into the apartment requires Richie to take his niece out of the complex. Basically strangers, the precocious Sophia is at first annoyed with her deadbeat uncle. But the boyfriend of the dead girl Richie found comes asking questions and soon uncle and niece are forced to get acquainted much more quickly.
What might have worked in the short film format doesn't function completely here. While it's unnecessary to go into exact details about the traumatic childhood Richie and Maggie apparently experienced, various vagaries about how they both came to be where they are (not to mention the catalyzing plight of Richie's lost love with Vista, who appears only as a phantom) lessens the credibility.
A late exchange between brother and sister has Maggie shrilly criticizing her brother for a life of bad decisions, explaining that her teen pregnancy forced her to grow up quickly, yet no exchange about the bad decisions that led to an unexpected teen pregnancy or how exactly a single teenage mom from an abusive home life came to be in her white collar dream job today seemed equally worthy of exploration. Also, Christensen sets up an annoying amount of non-sequiturs, attempting to amp the tension and keep Maggie's predicament secret while we're left to wonder who that strange blonde woman was that necessitated Richie removing Sophia from the apartment, which leads to a whole host of quirky experiences, including a synchronized dance number and an all too convenient fight sequence where Richie tries to beat up Sophia's dad (Fran Kranz) for being an asshole. Once all is revealed, it all seems horribly silly.
And while Richie only becomes more hopelessly pathetic as the film wears on, Ptacek's performance (she also starred in the short) only becomes more gratingly precocious, belonging to that overly manicured style of child acting we've begrudgingly had to accept in many an independent film. Christensen, an actor and screenwriter (he wrote the 2011 Taylor Lautner headliner, Abduction) does happen to have a nice taste as far as soundtrack goes, snippets of Carmen and Lakme drift into sequences between nicely placed tracks like Happy Hollows' "Endless." But check your reality at the door, because Before I Disappear may as well be in an alternate dimension.
Reviewed on March 10 at the 2014 SXSW Film Festival – Narrative Competition.
★★/☆☆☆☆☆