Mother, Jugs, and Laxatives: Sampson and Mahony's Curious Exploration of Strange Case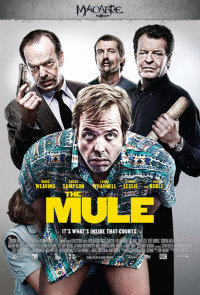 Based on its poster and other marketing materials for Angus Sampson and Tony Mahony's directorial debut, The Mule, one would assume the film would be a zany, goofily comedic treatment of its 'based on a true story' crime from the early 80's. Surprisingly, the film is much more sobering than that, as well as nicely shot and performed, imbued with a pedigree hardly evident in the materials being used to draw an audience in to a film starring a trio of known Austrialian names, including Leigh Whannell and Angus Sampson (writer and co-star of Insidious) as well as Hugo Weaving. That said, Mahony and Sampson don't structure the film advantageously, lumping us right away into the dramatic thrust before plateauing into a countdown hinged on its protagonist's bowel movement.
In 1983 Melbourne, Ray Jenkins (Angus Sampson) is something of a momma's boy, living at home with mother and her second husband while wasting away at a TV repair shop. He's also part of a football club, and we meet him winning the player of the year, bestowed upon the befuddled simpleton by the owner (John Noble). As a prize, he's being sent to Thailand with his best bud, Gavin (Leigh Whannell). But there's really another reason for all this pomp and circumstance—the club owner wants Gavin and Ray to smuggle heroin back into the country, with Ray being used as the mule. At first Ray declines the offer, but the club owner puts the heat on Ray's family—it appears his stepdad has some considerable gambling debt. But Ray is immediately detained at the airport for suspicious activity. He has the right to decline an X-ray, but it means he can be detained by law enforcement (Hugo Weaving and Ewan Leslie) for seven days or until he has two bowel movements. Let the countdown begin.
At the center of the tale is the rather likeable Angus Sampson as the poor sod, Ray, and it would have been nice to develop his character a bit more, perhaps through an extended prologue of his relationship with Gavin. Instead, he's just a poor bastard with a harpy of an overbearing mother, shackled into a bed for nearly the entire running time.
Subplot's involving Leslie's crooked Detective Paris are treated rather curtly, revisited again for a nifty cap to a tale saturated with the exploits of Ray's bowels—except that we have no feelings whatsoever about these happenings because they were presented to us as the kind of twists appropriate for a goofy comedy. Weaving is on hand for some surly one-liners, and female characters, including Georgina Haig as Ray's lawyer, are used merely as conduits for examples of the rampant gender based discrimination considered appropriate at the time.
Whannell doesn't get much to do at all, which seems a wasted opportunity considering how entertaining he was with Sampson in Insidious (granted, in comic relief bits that some criticized took away from the tension in that film, but in this film, it's a folly not to grant us a more cohesive portrait of their bond). Generally interesting and with a decent production value, The Mule is worth a look, but would have excelled if it had compressed the shit countdown to a montage in the second act rather than extending it interminably to numbing effect.
★★½/☆☆☆☆☆