Superintelligence [Video Review]
Artificial Significance: Falcone & McCarthy Go Through Motions in Brainless Comedy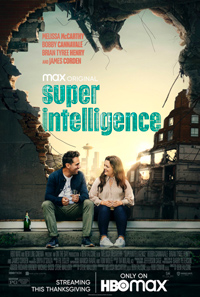 For some filmmakers and their muses, an entire body of output results in a string of masterful, maybe even culturally meaningful achievements. If the cultural achievement is merely escapist, derivate comedy for audiences to forget the trenchant ills of the universe, there's nothing innately wrong with such aims, supposing there's at least some success in the pursuit of this objective.
For his fourth time directing Melissa McCarthy, director Ben Falcone's Superintelligence suggests their collaboration is moving aggressively into an opposite, rudimentary direction, two notables with a platform who perhaps have run out of anything interesting to say, at least evidenced in this 'content' which connotes the opposite of its title. Filmed two years prior to finally seeing a release, it is, by far, the most inane offering from the director and actor, which may still be moderately more enjoyable than the self-indulgence of Adam Sandler's perennial comedic gaseous emissions but inevitably feels pointless for all involved.
Carol Peters (McCarthy) is an average woman. While attempting to pursue employment as a digital strategist with a new fangled Seattle-based dating app, a form of artificial intelligence which has been monitoring Carol decides she is the human who will be selected for an experiment said entity has concocted. Speaking to her through home appliances using the voice of James Corden, which the computer knows soothes her, she is given a Tesla, ten million dollars and told the A.I. would just like to follow her for the next three days to better understand human behavior. Carol introduces the intelligence to her best friend, Microsoft employee Dennis (Brian Tyree Henry), who discovers something sinister about the entity, bringing it to the attention of the federal government (where he eventually provides assistance to none other than POTUS, here played by Jean Smart). Meanwhile, Carol is convinced she should try and rekindle the flames for her past love, George (Bobby Cannavale), who is about to embark on a year-long position teaching in Ireland. Throwing herself back into George's orbit, it seems there's actually hope for the couple, but the result of this courtship has extremely dire consequences on what the super intelligence has planned for the entire planet.

If we're comparing Superintelligence only to McCarthy's previous roles under Falcone (which includes Tammy, The Boss and Life of the Party), one recognizes a theme of at least allowing for her vibrancy, usually a larger than life persona who at least can deliver some chuckles even when the material tends to feel like a cobbling together of improvisations from a sketch which was never really fashioned into scripted material.
At their zenith, Life of the Party (2018) tended to at least hit all the sweet spots, generating some poignancy and subtext for her characterization as a middle-aged woman going back to college after divorce. This latest venture depends on featuring her as so average, so decidedly milquetoast, an insidiously minded computer program chooses her to test out whether or not humanity deserves saving if given even the most rudimentary of tests designed to showcase their ability to act in their own self-interests (not unlike the search for good peoples in the biblical fairy tale about Sodom & Gomorrah). But by neutering McCarthy into a 'straight man' role and then pairing her with the James Corden voiced A.I., there's no chance for organic laughs within this established formula.
Anytime it seems Superintelligence veers towards something novel in its own inverse cliches (like using Octavia Spencer as the 'trusted' voice for Brian Tyree Henry, wasted in this throwaway role), it's immediately dismissed. McCarthy, whose penchant for physical comedy allows for a couple brief moments of mirth, feels like the center of a dying universe populated with glossy automatons as Bobby Cannavale, Jean Smart, Michael Beach and Sam Richardson are all dimmed by the waning energies of a flaccid story which steers clear of the kind of doomsday apocalypse framing it, considering they're all about to enter the same world heralded at the end of Escape from L.A. (1996).
Not above a shameless celebrity sports cameo (Ken Griffey Jr. assigned the tired responsibility here) and a lazy attempt at showcasing humanity's worth through the most basic example of overriding one's self interests for the well-being of others, as if trying to tack on some Frank Capra poignancy, Superintelligence (lensed by Barry Peterson of the Tina Fey/Amy Poehler comedy Sisters, 2015; Central Intelligence, 2016) feels like a long-winded commercial featuring basic, empty-headed humans consumed with having shiny products in the sunniest presentation of Seattle one might ever see.
★/☆☆☆☆☆