De Winter of Our Discontent: Wheatley Wavers with Empty Remake of Du Maurier Classic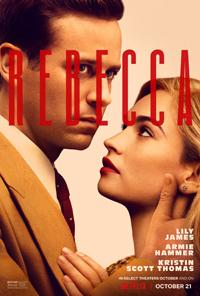 Remaking a property which was previously adapted by none other than Alfred Hitchcock, and one which netted him an Academy Award for Best Picture at that, would seem to be a recipe for failure. And such is unfortunately the case for the latest film by the sterling Ben Wheatley in his revamp of Daphne Du Maurier's classic 1938 Gothic novel Rebecca.
Hitchcock's 1940 version (read review) is a celebrated technical achievement, as well as a superb mastering of tone, headlined by Laurence Olivier and Joan Fontaine, plus the iconic Judith Anderson as repressed lesbian Mrs. Danvers. It was the second of three Du Maurier adaptations mounted by Hitchcock, the ill-received Jamaica Inn (1939) and then the genre classic The Birds (1963). Wheatley has the freedom to explore all of Du Maurier's traumatic themes (censorship issues found Hitchcock changing significant happenings, such as Rebecca's murder) and yet, with this sun dappled version of the famous ghost story, back peddles on the milquetoast energy of Lily James and Armie Hammer.
An unassuming young woman (Lily James) works as a lady companion for aging American socialite Mrs. Van Hopper (Ann Dowd). While vacationing on the French Riviera, Mrs. Van Hopper takes ill shortly after her machinations bring her ward into the orbit of famous widower Maxim de Winter (Armie Hammer), owner of the Manderley estate, whose first wife, Rebecca, died recently under mysteriously tragic circumstances. While her employer convalesces, the young woman is swept up by the charming and intense handsome man, who abruptly proposes marriage rather than see her carted off to New Your City in Van Hopper's wake. Upon arriving at Manderley, the second Mrs. de Winter finds a staff still in thrall of her dead predecessor, especially the stern Mrs. Danvers (Kristin Scott Thomas). While Maxim's behavior suddenly changes, his new wife finds herself increasingly alienated. On the brink of despair, the actual body of Rebecca surfaces from the sea, reawakening questions which had been laid to rest with the false corpse in her grave.
Wheatley, one of the few directors to successfully mount a J.G. Ballard property (2015's High-Rise), can't seem to plumb the subtexts of Du Maurier, considering Rebecca is all about the presence of a significant absence. Employing his usual DP Laurie Rose, there's no real difference in visual tones from sun-dappled Monte Carlo to the brooding confines of Manderley, and the tenuous middle class trapping of the unnamed second Mrs. de Winter, who much like Jane Eyre or the poor governess in The Turn of the Screw, represents an ambiguous station between working class and the elite, an aspect never deftly explored (despite three scribes tackling this version, including Jane Goldman, Anna Waterhouse and Joe Shrapnel).

Initially, James, despite her underwhelming pedigree across a variety of studio film properties, seems inspired casting. She is, after all, filling the shoes of the waifish Joan Fontaine, an actress whose filmography was populated with similar presentiments of female passivity (Jane Eyre; The Women). Unfortunately, neither her joy nor anguish amount to anything in a monotonous performance which finds her browbeaten by a red flag factory of a husband and then his imperious house manager. Judith Anderson's Mrs. Danvers is an iconic villain, and Kristin Scott Thomas is sublime casting—but one wonders why, without the fetters of censorship, Wheatley and his scribes refused to push the envelope with her characterization.
As the combustible Maxim, Armie Hammer (decked out in some ill-colored mustard suits which resemble the owner of Curious George) seems dead behind the eyes. Only Clint Mansell's score seems serviceable, and besides Scott Thomas, small kernels of menace glint across the screen through the beady eyes of Ann Dowd as a noticeably more menacing Mrs. Van Hopper, and Sam Riley as the sinister Jack Favell, the cousin/lover of Rebecca. One can see the attraction with revisiting this Hitchcock staple, but wouldn't it be more fun (hello someone, somewhere out there) to pick up the gauntlet of Hitch's last incomplete project which was meant to star Catherine Deneuve (who is still resplendently alive)? Perhaps its time for us to stop creating new dreams of Manderley.
★★/☆☆☆☆☆