Criterion Collection: 'Round Midnight (1986) | Blu-ray Review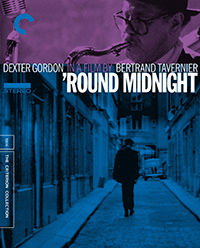 George Gershwin surmised "Life is a lot like jazz, it's best when you improvise." In keeping with the spirit of this given, Bertrand Tavernier's 'Round Midnight succeeds as a composite of jazz and its tormented originators thanks to the inspired casting and improvisational skills of real-life bebop musician Dexter Gordon, who was nominated for an Academy Award as Dale Turner, an amalgamation of Black expats and jazz legends who fled to Europe during the mid twentieth century.
A smoothly attenuated film which plays like elevated fan fiction from an outsider's perspective, it's a de-romanticized portrait of the jazz musician, artists whose contributions to their craft were exploited, but their well-beings disregarded during their professional tenure and eventual legacies erased or tarnished.
Tavernier, who recently passed away in 2021, was a director who cut his teeth alongside the icons of the French New Wave, initially invoking the path of Claude Chabrol with his early mystery thrillers before exploring more dramatic, social issue narratives in the 1980s. But Tavernier, no matter the genre, was often incorporating compromised American ideals and gestures in his work.
Whether adapting Jim Thompson's Pop. 1280 as Coup de Torchon (1981) or exploring the ugly heirlooms of racism in his post-Katrina neo-noir In the Electric Mist (2009), an English language production in which the auteur seemingly butted heads with star Tommy Lee Jones, his fascination as an outsider and witness invoked matter-of-fact condemnations as well as celebrations of resilience. Tavernier accomplished this perhaps nowhere more eloquently than his 1986 international breakthrough named for the Thelonious Monk track and allowing Gordon his chance at a spotlight always eclipsed by more tragic, more acclaimed jazz musicians.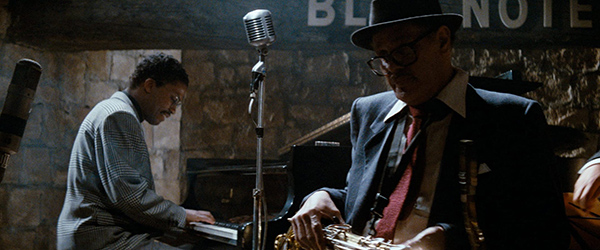 In 1959, New York, celebrated saxophone player Dale Turner (Dexter Gordon) finds himself at a crossroads. With jazz on the wane and a frequent performing colleague irreparably disabled, he flees his substance abuse issues and professional stagnation for the Blue Note jazz club in Paris. However, part of his contract means abstaining from alcohol, and he's immediately infantilized by the local barkeep and landlord Buttercup (Sandra Reaves-Phillips). But single father Francis Borler (Francois Cluzet), who often listens at the window of the Blue Note because he can't afford to go inside, immediately recognizes Turner, and his fandom paves the way for a beneficial friendship between both men.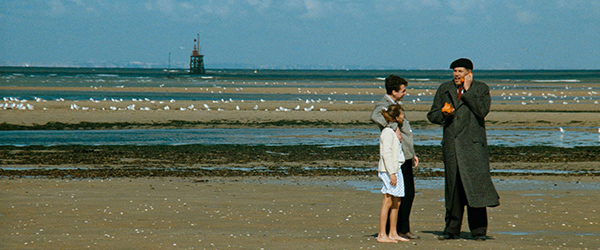 Arriving on the heels of Tavernier's first real critical embrace with 1984's A Sunday in the Country, this project reflects an extension of interests documented in the 1983 documentary Mississippi Blues, co-directed by Robert Parrish. Screenwriter David Rayfiel collapses Tavernier's own persona with Francis Paudras as a model for Cluzet, considering Paudras' 1986 memoir La danse des infideles documented his friendship with jazz pianist Bud Powell. In his essay on the film, "Return from Exile," Mark Anthony Neal highlights how Tavernier's goal with this film was to make a statement in opposition to the celebratory and glossy Paris Blues (1961), the Paul Newman-Sidney Poitier headlined Martin Ritt melodrama (which featured a young Diahann Carroll as well as Louis Armstrong), a goal he certainly accomplishes. As Turner, Gordon plays like a textured documentary subject, holding his own with the more mannered, expressive performance from Cluzet, a jazz super fan who has an epiphany about enabling his hero's addiction to alcohol. While not stumbling into a white savior narrative, it's a subtle expression of friendship, with Cluzet's Francis documenting the performances of Gordon/Turner, which we're treated to footage of during the film's final moments.
Singer and actor Lonette McKee, fresh off The Cotton Club (1984) makes an appearance as the ex-love interest of Dale, though she's decades younger, and Tavernier allows her to showcase her own skills in a performance of "How Long Has This Been Going On?" from the Gershwin Bros.
Other cameos include Tavernier regular Philippe Noiret as a French producer and Martin Scorsese guiding Francis and Dale on a New York tour. Shot by Bruno de Keyzer, who worked with Tavernier several times, including on A Sunday in the Country and some of his later works, like Mist and The Princess of Montpensier (2010), they capture a sense of a moody, late 50s Paris, trolling the seedy confines of down and out clubs (even if some of the exterior night time sequences convey an elaborate set piece), where Black Americans were welcomed in exile though not always celebrated or appreciated for their worth.
Dale Turner is representative of a particular experience, maligned strangers in a strange land, whose own cultural and culinary interests weren't necessarily available and had to be created from scratch (the absence of okra is an off-the-cuff remark in an early sequence). Both generationally and racially defined, these are specific, creatively defined and lavishly regarded experiences, but ultimately a lesser of two evils situation in which living abroad provided escape, and 'Round Midnight captures this strange duality of displacement and devotion.
Disc Review:
Criterion presents 'Round Midnight as a new 4K digital restoration with 2.0 surround DTS-HD Master Audio soundtrack, presented in 2.39:1. A new interview with jazz and culture critic Gary Giddins and a new conversation with music producer Michael Cuscuna and author Maxine Gordon (widow of Dexter Gordon) included in the extra features. Maxine Gordon and Michael Cuscuna are, along with Tavernier and jazz scholar John Szwed, part of a 2014 panel discussion moderated by jazz critic and broadcaster Mark Ruffin. Additionally, a behind-the-scenes documentary from director Jean Achache, Before Midnight, shot in 1986, is also part of the supplemental features, plus a 1969 performance of "Fried Bananas" from Dexter Gordon, directed by Teit Jorgensen.
Film Rating: ★★★½/☆☆☆☆☆
Disc Rating: ★★★★/☆☆☆☆☆