The Killing Kindness: Semans Explores Love as a Deadly Splendored Thing in Exceptional Psychodrama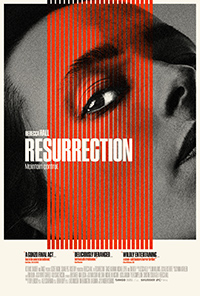 "You're Nobody till Somebody Loves You," a popular 1940s tune made famous by Dean Martin's 1960 cover, might be one of the most succinct misconceptions about how and what romantic love is supposed to look like, one of countless melancholically inclined lies dealing with what amounts to more of a transitional (waxing and waning) emotional facade. Rarely do we see the warping, perverted realities spawned by these frivolous but harmful conditionings or the inherent normalized trauma of relationships, both toxic and tempered, which is why something like Andrew Semans' long awaited sophomore film, Resurrection, feel like a sharp slap. But despite its exaggerated details, it's a significantly intelligent examination on how love and romance sometimes crossover into harmful obsession, weighted squarely on a formidable, often alarmingly unsettling performance from Rebecca Hall, playing a woman who felt like a nobody until somebody loved her.
Single mother Margaret (Hall) has what appears to be a perfect, tranquil life in Albany, NY, working a high level position at a pharmaceutical corporation who dotes on her 17-year-old daughter Abbie (Grace Kaufman) and engages in convenient but pleasurable sex with the married Peter (Michael Esper). Following Abbie being struck by a car while riding a bike, Margaret is shaken to the core when she sees David Moore (Tim Roth) at a work conference. Suddenly, David seems to be popping up everywhere, each time causing Margaret to recoil in terror, even going to the police to request a restraining order. Twenty-two years prior, Margaret had been in a relationship with the much older David, a man who wooed her away as a teenager from her biologist parents one summer in Canada. Their romance quickly became a despairing game, with David gaslighting Margaret into subservience. An unexpected pregnancy led to her birthing a son, Ben. Sent to the store one day by David, she returned to find all but two fingers left of the child, with David claiming he ate him, keeping him safely in his belly in order to further control Margaret. However, she escaped David's clutches, reconstructing her life from scratch. But now, fearing for Abbie, who is about to move away to university, Margaret finds herself playing David's games again, who claims the infant Ben is still crying for his mother, imprisoned inside him.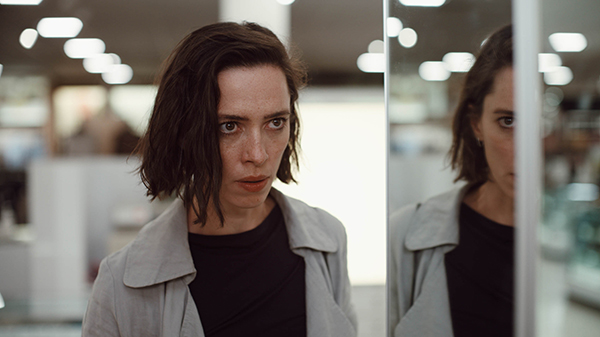 Semans is clearly attuned to the powerful allure of memory and the sometimes spellbinding power we transpose onto objects. It's somewhat the basis of his underrated 2012 debut, Nancy, Please, in which a man believes he cannot complete his thesis without obtaining his copy of Dickens' Little Dorritt, currently in the possession of his impossible titular ex-roommate.
On paper, it sounds like Semans is going off the deep end in Resurrection, but this is hardly the case, instead showcasing the ease with which all of us potentially create our own lugubrious realities when we scurry away from society on the sweeping tidal waves of amour. Initially a sinister slice of Pinteresque menace, Margaret's bizarre ten-minute monologue (a testament to not harboring dysfunctional secrets for decades only to douse the uninitiated and naive with eroto-manic fervor they can't compute) does court Zulawski's Possession (1981) territory at least in the heights of hetero madness, but this is more the nightmare version of the pretend child holding Albee's precarious George and Martha together.
Hall slips so quietly and irrevocably into survival mode, it's a marvel to contemplate. She's become a creature determined to protect her daughter from all ills (we all know how those children tend to backfire, and this is another case in point), and during the early appearances of Roth's David, a department store doubles as the jungle, Margaret removing her daughter from danger in a terror stricken escape. But Margaret has created a new love trap for herself. In fleeing David, she's now trapped by her love for Abbie, positioned as a corporate Mildred Pierce who gnashes her teeth at the world but won't defend herself against her kid's overt disdain. How Margaret has chosen to interpret weakness is another irony which has resulted in her vulnerability to David, and the meatiest theme of Resurrection is how simply moving on from trauma is hardly processing it.
Roth is a greasy emotional strangler (looking a bit like Michael Smiley), showing up like an ogre in a fairy tale who has Margaret immediately in the palm of his hand. The irony of the manipulative 'kindnesses' he assigns Margaret doubles down on the dark duality of what 'love' really entails for some. Although there's not much of a psychological portrait for Roth to delve into, he's a menacing metaphor, the insane notion of the baby Ben clanging around in his stomach for decades is a nod to Greek mythology, where Cronos (aka Father Time) liked to eat his little god babies for fear they would overthrow him (and fittingly conveys the essence of all-consuming time).
David underestimates Margaret's hard-won prowess over the two decades they've been apart, which results in a grisly gender reversal of what Beatrice Dalle performs in À l'intérieur (2007), but a final scuffle between the old lovers adds another mad dash of mythology which nails, both literally and figuratively, the notion of the Achilles' Heel.
Like Secretary meets Sleeping with the Enemy, Semans conjures a whole slew of scenarios but lands on something uniquely itself, thanks in part to the jittery Hall, who recalls Sigourney Weaver's ex-political prisoner confronted on her doorstep by torturer Ben Kingsley in Death and the Maiden (1994). As Margaret, Hall nails the resonance of iron willed people who catapult into turmoil trying to solve every problem on their own, foregoing the creature comforts of commiseration yet offering themselves to the service of others. It's a portrait of anxiety, burnout, panic, survival, and the eventual madness we resort to when all other mechanisms fail to assist us.
★★★½/☆☆☆☆☆